Rejection is hard. And, no matter who you are, when you send a cold email you're bound to face a lot of it. But that does not mean you shouldn't send them. Because cold emailing is one of the best ways to put your plans for career advancement into overdrive!
You just have to know how to write them well enough so that they get opened and responded to. This takes some work and practice. But it's 100% doable. And I want to show you how.
That's why, in this post, I'll be sharing 6 of my favorite cold emailing tips! Here's a quick preview:
Understand why you're really sending a cold email
Write an email subject line that gets your email opened
Make it immediately clear why you're contacting the other person
Demonstrate that you've done your research
Ask one question that's extremely easy to answer
Offer something of value for their time
Following those tips, I'll also share a cold email template you can use for inspiration. But before we get into any of that, I want to make sure you know what a cold email is and what makes them so great. So, let's start there!
What Is A Cold Email?
A cold email is any email you send to someone with whom you don't currently have a connection. Similar to a cold call, this type of email is typically used to ask the other person for something. Like what? Their time, money, advice, insights, or whatever else you may need.
Cold emailing is a popular outreach technique for people who work in sales. But there are so many examples of cold emails leading to job opportunities, mentorships, clients for side hustles, and so much more!
If you've ever tried cold emailing, you may already know one of the worst things about it. No, it's not hunting down the other person's work email address. That's easy — just use a free tool like Mailscoop.
It's that you have no idea if the other person even opens the email! That doesn't have to be the case though.
Using Email Tracking Software
If you use an email tracking software, like Yesware, you can do a lot to help make cold emailing easier. For example, you can do things like:
See when and how many times the other person opens your email
Create your own templates to do cold emailing at scale
Make sure your email doesn't get sent to spam
No, this software isn't free. But you can get a free trial. And, if you're serious about getting the amazing benefits from cold emailing, a paid subscription could be worth it.
How To Write A Cold Email
It doesn't matter if you're looking to learn how to write a cold email to find a job opportunity, a referral, a potential mentor, or anything else. The people who write the best cold emails tend to use the 6 tips I'm about to share.
Tip #1: Understand why you're really sending a cold email
What you want the other person to do after reading your email needs to be clear. Because if not, you know what they'll do? Scan. Trash. Move on. But you can avoid writing an email that gets that type of response by getting clear on your intention before you even start writing.
For example, are you hoping to get the other person on a call for an informational interview? Or do you just need one piece of advice that can be given over email? Even if you just want to build new connections, why? How does that help you in the long run?
With these questions answered, your writing will be much more succinct. And this is good because you also need to be brief!
Tip #2: Write an email subject line that gets your email opened
You likely get bombarded by tons of emails every day. Well, so does this new person you're trying to contact cold. So, your cold email subject line has to stand out and pique their interest.
In fact, according to Convince and Convert, 35% of people decide whether to open an email based solely on the subject line.
Here are a few of my favorite subject lines that typically achieve high open rates:
Quick question
[Name] said we should connect
Question about [Company]
[Name], can we connect?
Tip #3: Make it immediately clear why you're contacting the other person
If you followed the first tip, this one should come naturally when you start writing. But it's still worth mentioning. Why? Because you only have so long to capture the other person's attention.
The first few lines are like a short elevator pitch. Because the other person needs to know right away who you are and why you're sending them an email out of the blue. So, just say it!
Is it because someone in your network said they'd be a good person for you to connect with? Do you have a question about something they recently wrote or said online? Are they a few steps ahead of you on your desired career path?
Tip #4: Demonstrate that you've done your research
You've found their email address. You've written an intriguing subject line. You know why you're contacting them. Now, it's time to make your ask.
But before you do, make sure you're not wasting the other person's time with a question that could easily be answered with a little research. To avoid doing that, revisit what you've done to attempt to solve the problem, or answer the question you have before emailing them.
For example, have you already spoken to one of their colleagues who didn't quite know the answer to your question? Have you taken a course related to their field but are stuck on something more advanced? Have you studied their LinkedIn profile but still don't understand how they made the jump from their current field to the one they're in now?
Tip #5: Ask one question that's extremely easy to answer
Your cold email has one goal: to start a conversation. You may have bigger goals than that down the line. But that conversation is the first goal. And one of the easiest ways to accomplish that goal is by asking an A or B question.
For example, you might ask them whether they would recommend attending conference A or conference B for the best networking opportunities. Go all-in on skill A or skill B to change careers. Speak to person A or person B about a potential role at your dream company.
Why does this work? Because it limits the amount of work the other person needs to do. They could literally just reply A or B. And that would be great. Because then you can send a follow-up email with your progress later and keep the conversation going!
This is also known as "The Advice Triangle."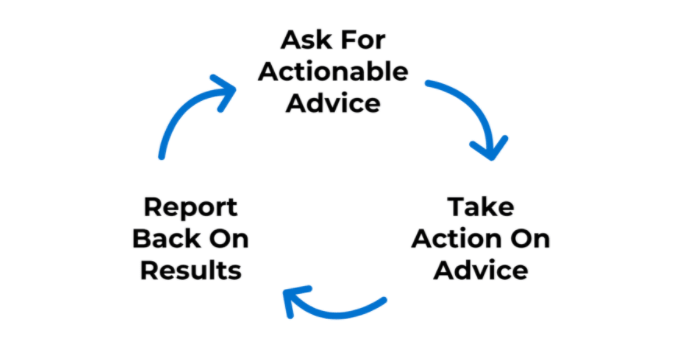 Tip #6: Offer something of value for their time
To boost your response rate, it can also help to make this new relationship mutually beneficial. And you do that by giving them something of value.
For example, you might send them an article recommendation, connect them to someone important in your network, or share a Value Validation Project related to their company.
If whatever you share is truly valuable to them, they'll be inclined to return the favor. Because reciprocity is a part of human nature. Use it to your advantage!
Cold Email Template
Here is a cold email template that follows the tips I just shared. You can copy and paste it. But that could also feel generic — especially if everyone else reading this post does the same thing.
So, instead, use this template as inspiration. Or, at least, adapt it to fit your needs and writing style.
Cold Email Template

Email subject line: Quick question

Hi [Name],

I recently came across your profile on LinkedIn while searching for people who have done [x]. I'm currently trying to do [something similar to x], so I'm wondering if you may be able to give me some advice.

So far, to attempt accomplishing [x], I've done [y]. But, now, I'm stuck. Based on your experience do you think it would make more sense for me to:

I'm sure you're busy. So, if you can, feel free to just respond A or B. It would help me so much and be greatly appreciated!

Best regards,

[Your Name]

P.S. While learning about [x], I came across this interesting article from [name/company]. Have you read it? If not, I highly recommend!
Final Thoughts
Writing cold emails — the kind that get responses — can be challenging. But the only way to get really good at it is to just start! Use the tips I've shared in this post to help you along the way.
And if you're looking to use this technique as a way to find job opportunities and inside referrals, be sure to also check out my comprehensive guide on How To Get A Job Without Applying Online!