Your cover letter opening can make or break your chances of scoring the interview.
Problem is, most job seekers don't really understand what hiring managers are looking for when they start reading a cover letter!
That costs them job interviews that they probably would have won if they'd written their cover letter opening the right way.
That's where this article comes in!
As a job seeker, I wrote hundreds of cover letters. I A/B tested virtually every aspect of those letters to see what worked and what didn't. I doubled down on the successful strategies and wound up scoring interviews and offers from places like Google, Microsoft, & Twitter.
As a career coach, I've worked with thousands of job seekers on thousands of cover letters. These people came from all sorts of backgrounds, levels of experience, and geographies. Through them, I was able to gather more data on my cover letter strategies to refine them.
In this post, I'm going to share the exact strategies that have worked for me and my clients (and I'm going to show you why most conventional cover letter advice doesn't work anymore!).
We'll be covering:
What exactly a "Cover Letter Opening" is and why its important
The two mistakes 99% of people make when starting their cover letter
The 3 parts of a highly effective cover letter opening
3 examples of cover letter openings for different roles and industries
By the end of this post, you'll know exactly how to write a job-winning cover letter opening that stands out from the crowd and gets you hired.
What Exactly Is A "Cover Letter Opening?"
We can break down pretty much every cover letter into a few distinct parts.
Most cover letters including a Heading, Greeting, Intro, Body, and Closing. Here's a visual example of each of those woven into a fully formed cover letter: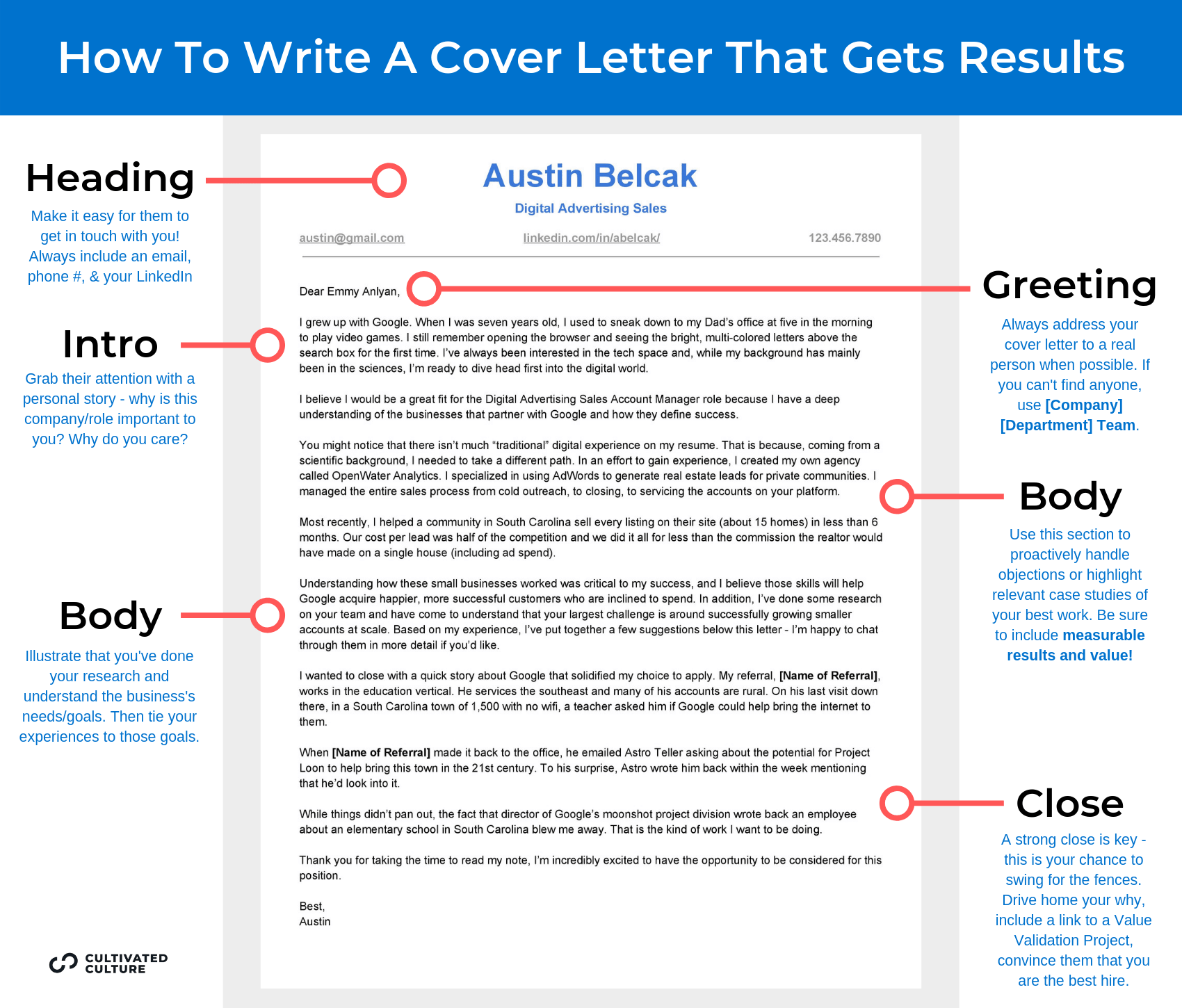 The "Cover Letter Opening" is made up of the first three parts – the Heading, Greeting, and Intro.
These are the first sections that recruiters and hiring managers will be reading, so we need to make a strong first impression if we want to land the job. That's what this post will be focused on.
If you're a fan of learning via video, I recorded this overview of everything we're going to cover in this article (mistakes, strategies, and examples). Check it out and then read on for a step-by-step breakdown of the process we're going to use to help you start your job-winning cover letter:
The Two Mistakes That 99% Of People Make When Starting Their Cover Letter
Before we dive into the right approach to starting your cover letter, I want to talk about two mistakes I see in the vast majority of cover letter openings so you can avoid them.
When it comes to hiring, companies only care about one thing:
Finding the person who will bring the most value and ROI to the role.
As candidates, it's our job to position ourselves as that person. We do that by showing the hiring team that we understand the company, the team, and the needs, goals, and challenges for this specific role.
It all starts with relevance!
Problem is, most job seekers do the exact opposite.
Instead of investing time into personalizing the opening to their cover letter, they take a generic approach that they saw in some random blog post or template.
This leads to two major mistakes that cost people interviews and job offers:
Mistake #1: Not Being Specific With Your Greeting
If our goal is to show the reader that we know them and we understand their needs, starting our cover letter with "Dear Hiring Manager" or "To Whom It May Concern" is just about the worst we can do.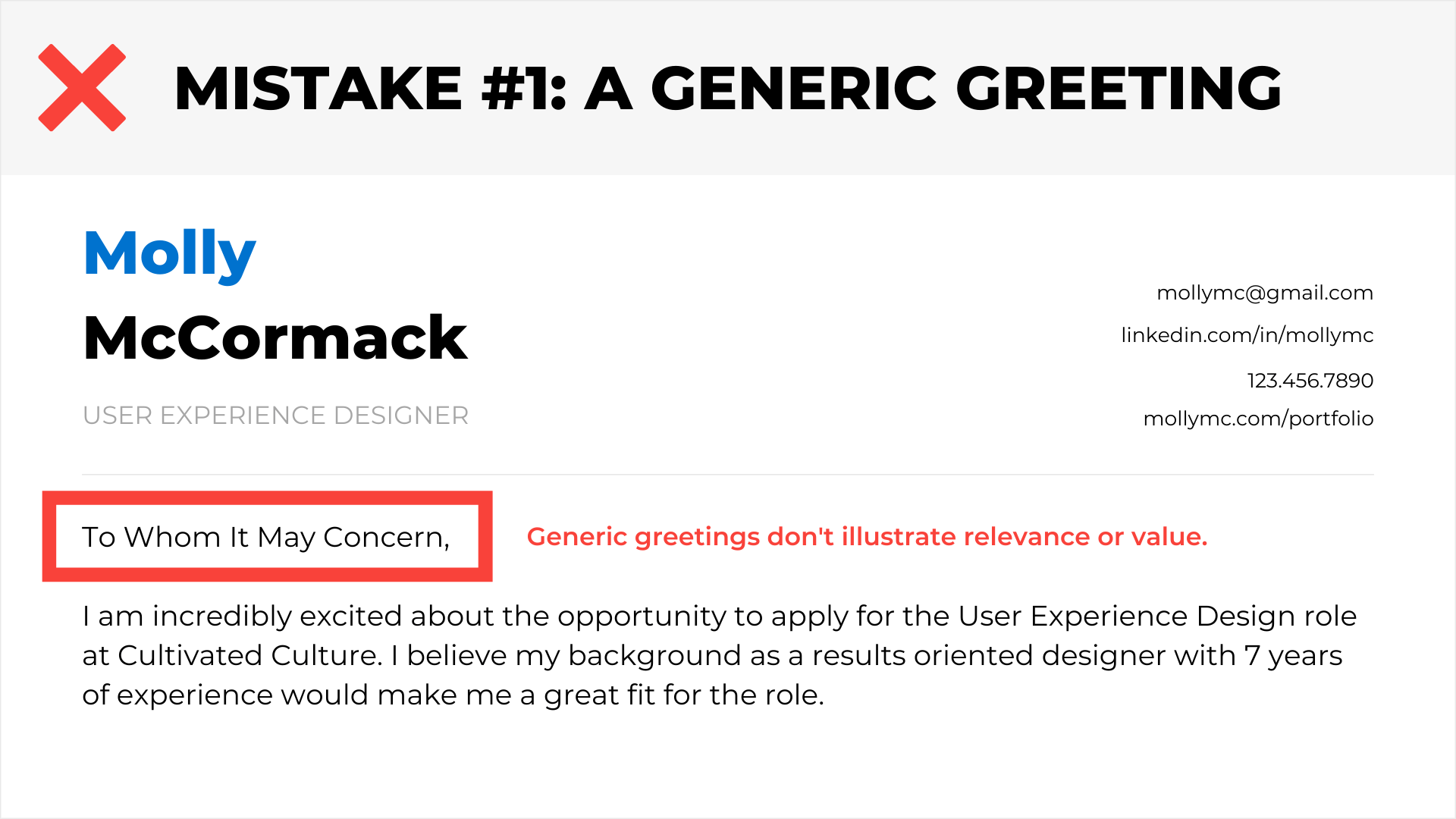 Neither of those greetings inspire any excitement nor do they convey any sense of expertise and knowledge around this role.
But so many candidates do this! In fact, the majority of cover letters that have come across my desk as a career coach and when I was interviewing candidates for our team at Microsoft had this greeting.
We need to do better if we want to stand out (I'll show you how in a sec!).
Mistake #2: Making It All About You
The second mistake most people make is using the opening lines of their cover letter to speak about themselves.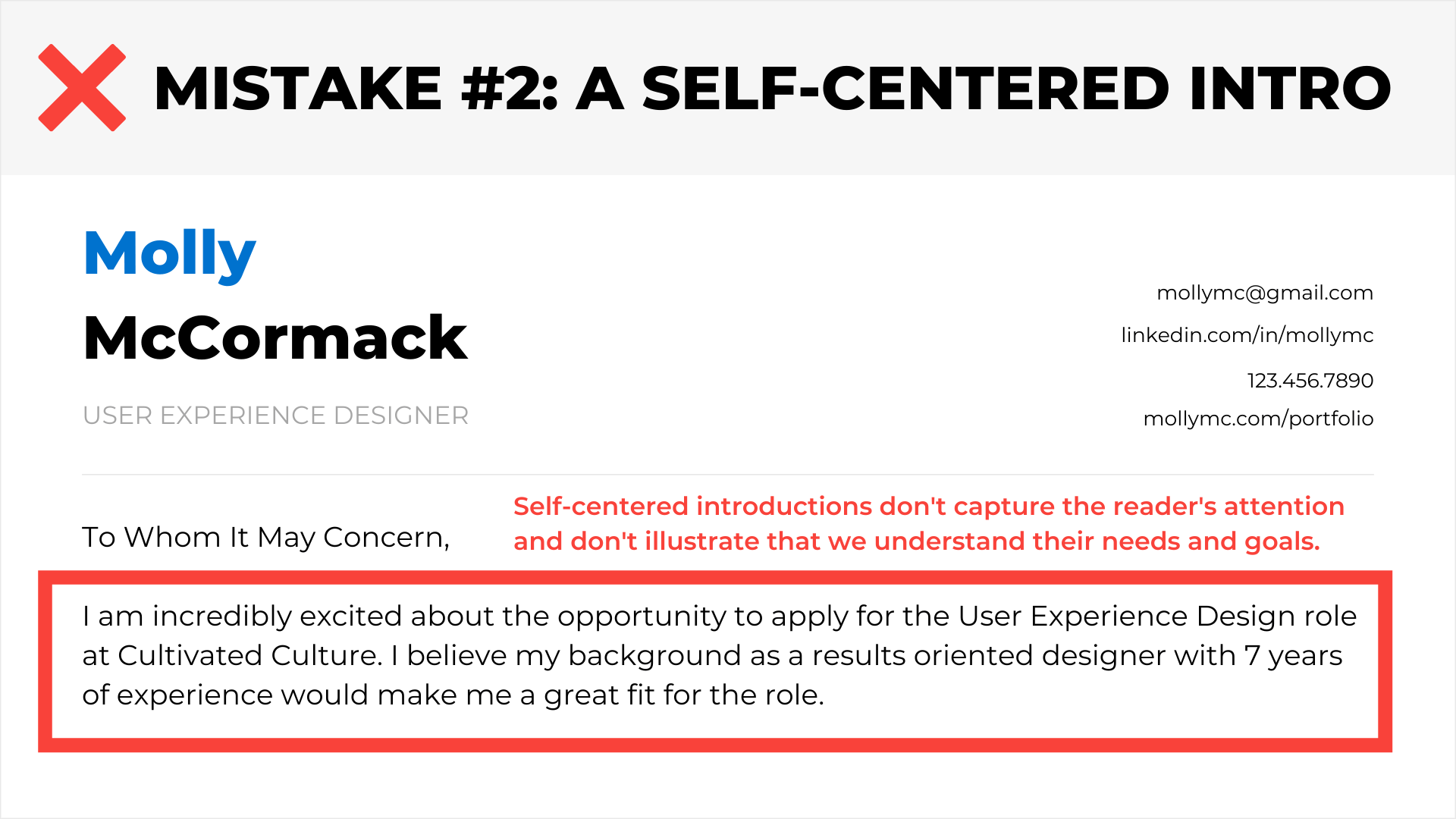 Conventional advice has told job seekers to use this space to talk about their experience, the titles they've held, and the excitement they have for this opportunity.
Problem is, that conventional advice simply doesn't work.
Why?
Because the company doesn't really care about you. They care about whether or not you're the person who will bring the most value and ROI to the role, remember?
When you talk about yourself and your background, you don't illustrate that you understand the company's needs, challenges, or goals.
You're also competing with all of the other candidates who are only talking about their backgrounds, which means the only thing you have to compete on is, well, your background!
When you're applying for roles at highly sought after companies, there's going to be a lot of competition and chances are good that someone else vying for this role has better "on paper" experience.
If we want to stand out and win more interviews, we need to show the reader that we understand the specific goals, challenges, and needs for this role.
So how do we avoid both of these mistakes and craft a job-winning cover letter opening?
The 3 Parts Of A Highly Effective Cover Letter Opening
I've spent a total of 7 years writing hundreds and hundreds of cover letters.
The first two years were in my own job search, where I applied to over 500 jobs and eventually landed interviews and offers from Google, Microsoft, and Twitter. The last five have been focused on coaching thousands of job seekers spanning the full range of experience, industries, and geographies.
From the results gathered from literally thousands of cover letters, I've found this 3-part cover letter opening to be the most effective when it comes to landing interviews and job offers.
Part #1: Personalize Your Cover Letter Greeting
To avoid Mistake #1 (covered above), we want to personalize our cover letter greeting.
This simply means that we want to make the cover letter as relevant to the person reading it as we possibly can. There are two ways to do this:
1. Use The Hiring Manager's Name
The first, and best, is by including the hiring manager's name. Let's say that you discovered the hiring manager's name from a post on LinkedIn or via an informational interview.
This is the jackpot! All you need to do is use their name in the introduction, like this: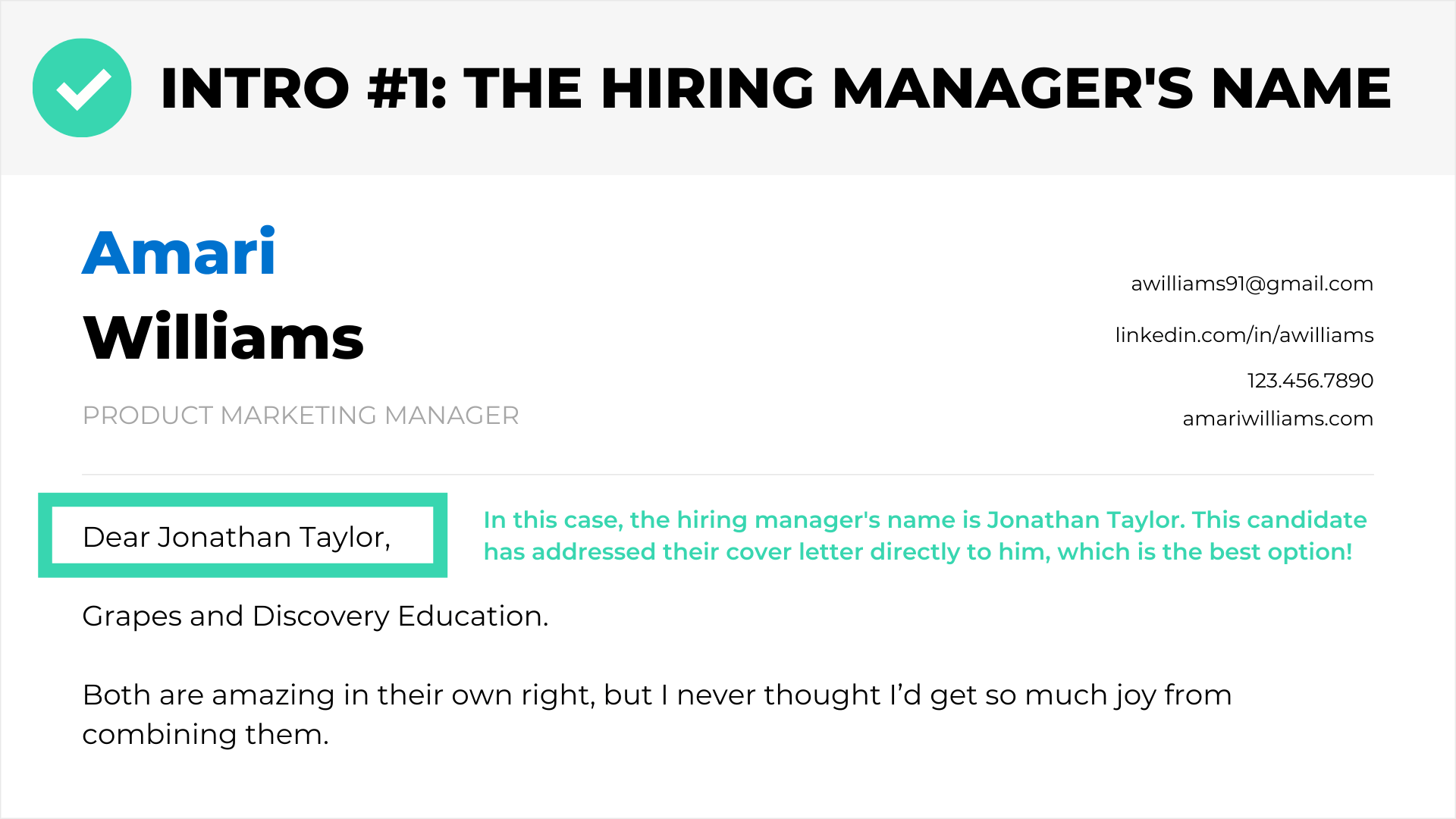 But we won't always have the luxury of knowing the hiring manager's name. Here's what you do in those cases:
Use This Formula: To The [Department] Team at [Company]
If you don't have the hiring manager's name, no problem! You can address your cover letter to the team that you're applying to.
For example, if you're applying to for a Product Marketing Manager role at Discovery Education, you might start you cover letter like this: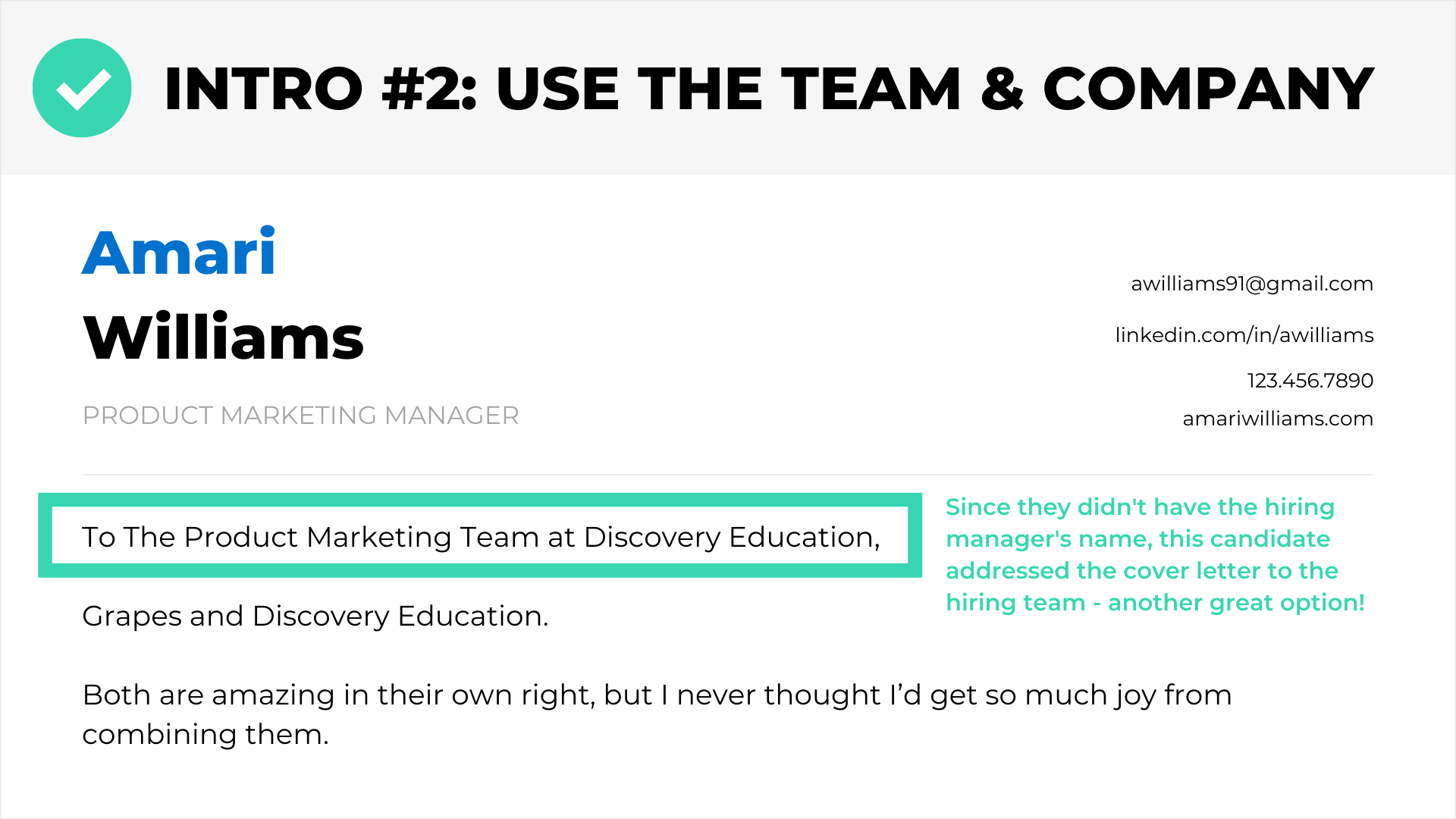 This shows the reader that this letter has been written specifically for them and the content inside of it will support that.
It's much more relevant and personal than "To Whom It May Concern!"
Part #2: Start Your Cover Letter With An Attention Grabbing "Hook"
Here's some tough love:
If you're doing the same thing as everybody else, you can't expect better results than everyone else.
I see way too many job seekers heading to Google, searching for "Cover Letter Template," and then just playing Mad Libs to slot in their experience.
The problem with that?
Your cover letter is going to look just like everyone else's!
When recruiters are on their tenth cover letter that starts with, "I'm incredibly excited for the opportunity to apply for the Account Manager position at [Company]…," their eyes start to roll back into their head.
The key to writing a job-winning cover letter is to immediately grab the reader's attention and suck them into your story.
In fact, there's research showing that humans (like your recruiter) are more likely to remember you and connect with your experience when you share that information with them in the form of a story:
When starting your cover letter, you should have one goal: to use each sentence to convince the reader that they have to read the next sentence.
Let's take a look at a real example from a client of mine.
She was a high school Spanish teacher hoping to land a job in marketing at a company called Discovery Education.
Instead of using the same old introduction, she decided to tell a story about how Discovery Education's products had helped her as a teacher. Here's what she wrote:
Dear [Hiring Manager],

Grapes and Discovery Education.

Both are amazing in their own right, but I never thought I'd get so much joy from combining them.

I currently teach high school Spanish and I set aside time each class to teach my students about Spanish culture.

A few weeks ago, we watched the "Virtual Viewing Party: Holidays from Around The World" video by Discovery Education. My students particularly loved the segment on the Spanish New Year's 12 grapes tradition. This got my students interested in other aspects of Spanish culture. Now, we're working on a culture project where students research a Spanish tradition and create a 3D representation of it. I've never seen so much energy in my classroom.

Amazing stories like these are why I want to work for Discovery Education.
Now find me a hiring manager that isn't going to read that very first line and have to read more!
My client included something seemingly irrelevant (grapes) to grab the reader's attention. Then she masterfully turned that hook into a story that showed she was familiar with the company, its products, and its mission.
That's how it's done!
Part #3: Close The Start of Your Cover Letter With A Performance-Based Value Proposition Statement
Now that you've personalized your greeting and hooked your reader, it's time to illustrate your value.
You should close your cover letter opening with a value proposition statement that covers three things:
It shows that you understand the needs and goals for the role
It provides supporting evidence from your past (using measurable results)
It ties your results directly to the goals of the role
The goal of your value proposition statement is to show the reader that you understand their needs and you have experience driving similar results in the past. Here is the formula you want to use:
The Value Proposition Statement Formula

I believe that the X+ years of experience I have [Insert Results That Align With Goals] for companies like [Insert Companies / Clients] makes me an ideal fit to help [Company Name] achieve their goals for this role.
Here are a few examples of that formula in action:
Example #1: Value Proposition Statement for User Experience Designer
Let's say you're applying for a User Experience Design role at a hospitality-focused tech startup that's hoping to improve their website conversion rates. Your value proposition statement might be:
I believe the 6+ years of experience I have boosting site conversion rates for clients like AirBnB, Verbo, and Hotels.com make me a strong candidate to help [Company] achieve their goals for this role.
Example #2: Value Proposition Statement for Partnerships Manager
In this case, you're applying for a Partnerships role at a disruptive direct-to-consumer company whose goal is to drive more product sales through partnerships. Your value proposition might be:
I believe the 4+ years of experience I have creating partnerships that have driven $10M+ in ARR for brands like Harry's Razors and Warby Parker make me an ideal fit for this role.
3 Examples Of Job-Winning Cover Letter Openings
Awesome! I hope you feel like you have a solid grasp on the three parts that make for a job-winning cover letter opening.
Now let's check out some examples to see how these concepts apply to different roles and industries.
Example #1: User Experience Design in eCommerce
In this cover letter opening example, we have Jasmin who is applying for a User Experience Design role at FitWorld, a fitness-focused eCommerce company.
The company's main goal is to improve their customer's support experience (making it easier for their customers to get the help they need, while reducing the amount of hours support spends manually handling issues):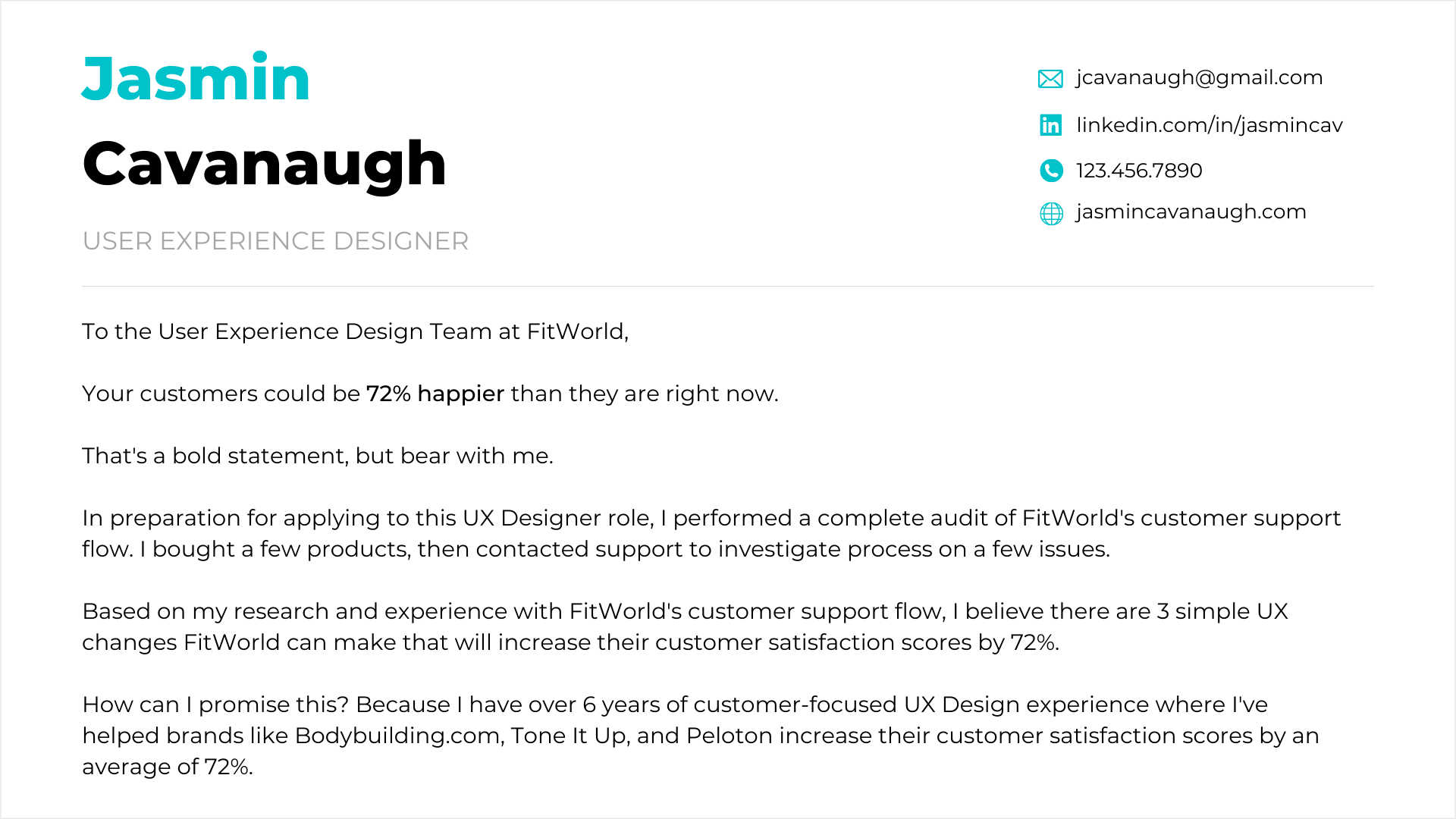 Example #2: Sales in Technology
This cover letter opening example focuses on Chris, who is vying for an Enterprise Account Executive role at Expand.ly a SaaS company in the tech space. The company's latest initiative is expanding into the enterprise sector and they're looking for a salesperson with a track record of enterprise sales success:
Example #3: Software Engineer in Healthcare Technology
This cover letter opening example is about Tameka, a software engineer eyeing up a role at a healthcare technology company called Wellify.
The health tech company is looking to build integrations with major healthcare systems and wants someone who has experience working in real healthcare settings:
Key Takeaways: Cover Letter Openings
You made it! I hope this article helped you rethink how you're going to write your cover letter.
Remember, you want to make sure to avoid robotic, templatized greetings and intros. Instead, you want to address your cover letter to the hiring manager or to the specific team at the company you're applying for.
Then you want to hook your reader with a story. Your goal for each line in the opening of your cover letter is to get the reader to feel like they absolutely have to read the next line.
Finally, you want to tie your experience into the goals for the company and the role!
If you do that, you're going to have the start of a job-winning cover letter on your hands. When you're ready to flesh out the rest of it, check out my comprehensive guide on writing a job-winning cover letter.