What if there was an easy way to boost the visibility of your LinkedIn profile, land more job interviews, and have more prospects reaching out to you?
There is. And you can do all of the above with the right LinkedIn Summary.
Your Summary is one of the most important parts of your LinkedIn Profile. It's the place where you get to tell your story, share your value, and get other people excited to reach out!
But crafting a great Summary is easier said than done.
Where do you even start? What exactly makes a LinkedIn Summary great? How does that differ for job seekers, professionals, entrepreneurs, and thought leaders?
That's exactly what we're going to break down in this post. Here's a summary of what we'll cover:
Why Your LinkedIn Summary Matters
LinkedIn Summaries For Job Seekers: Templates & Examples
LinkedIn Summaries For Entrepreneurs: Templates & Examples
4 Tips To Maximize Your LinkedIn Summary Results
But first, I think it's important to share a bit about me and why I'm qualified to share this advice…
Who Am I To Give LinkedIn Advice?
Great question!
There are a LOT of LinkedIn "experts" out there with all kinds of opinions. Why should you care about what I have to say?
This article is focused on everyone who might be using LinkedIn — job seekers, professionals, thought leaders, and entrepreneurs — so let's cover them all:
If you're a job seeker, I've coached thousands of other people (just like you) to leverage LinkedIn in their job search. My systems have helped them go on to land jobs at places like Microsoft, Google, Tesla, Facebook, Goldman Sachs, Deloitte, and thousands of other companies.
If you're a professional, I've leveraged LinkedIn to help drive tens of millions of dollars in new business as a Director of Partner Development for Microsoft.
If you're an entrepreneur or thought leader, I've used LinkedIn to create a profitable business with a pipeline that's bursting at the seams. I don't do outbound promotion, all of my leads reach out to me (typically after reading my LinkedIn Summary)!
On top of that, I grew my LinkedIn following from 3,000 people to over 100,000 in 12 months and continued to go from 100,000 to 850,000+ in the past two years. Here's a quick look at my profile views for the past 90 days:

My goal with this article is to teach you the same LinkedIn Summary tactics that have helped me (and thousands of my clients) achieve those results!
Why Does Your LinkedIn Summary (a.k.a LinkedIn About Section) Matter?
Your LinkedIn summary is the largest freeform text area on your profile.
If your LinkedIn Headline is your hook, your LinkedIn Summary is where you expand on your story, your value, and where you drive your reader to take action.
It's one of the most important sections of your profile, but it's also one of the most intimidating. When you click "edit" on your Summary for the first time, all you get is a blank box with a blinking cursor. You can say anything! Which leads to all kinds of questions:
"What do I talk about?"
"How long should this be?"
"Should this be polish and professional or casual and personal?"
It's super overwhelming!
But when you get it right, a great LinkedIn Summary can completely change the game.
It can differentiate you from the competition and compel your target audience (recruiters, followers, prospects, etc.) to reach out to you. You'll turn your LinkedIn profile into an inbound lead generating machine, no matter what your goals are.
How To Edit Your LinkedIn Summary
Easy! All you need to do is go to LinkedIn and head to your profile.
On your profile, scroll down until you see the About section. When you're there, click on the pencil icon in the upper right of that section:

That will open up the text editor where you can add or update your Summary / About.
LinkedIn Summary Limits: LinkedIn recently expanded the limit for the Summary / About section to 2,000 characters. I recommend writing your Summary wherever you're most comfortable, then paste it into a tool like WordCounter to make sure you're within LinkedIn's limits.
LinkedIn Summary For Job Seekers
As a job seeker, how awesome would it be to have recruiters and employers constantly reaching out to you? That's the dream, right?
That's exactly what can happen when you tailor your LinkedIn Summary the right way. This is your chance to focus on your story, your skills, and the value you bring to the table!
After coaching thousands of job seekers through this process, here's the LinkedIn Summary template that I've found works best for job seekers:
My LinkedIn Summary Template For Job Seekers

[Compelling Action Word] [Insert Job Title Keyword] with X+ years of experience in [Insert Field / Job Title]. I help companies do [Insert Pitch Or Value Proposition With Metrics Or Social Proof].

Some examples include:

Case Study Bullet #1
Case Study Bullet #2
Case Study Bullet #3
Case Study Bullet #4
Cultural Fit / Extracurricular Bullet #1
Cultural Fit / Extracurricular Bullet #1

I get excited about opportunities where I [Insert Specifics About What You're Looking For In A New Role].

I love connecting with new people, you can reach me at [email protected]
Let's break down each of those sections!
Intro Line – You're leading off with a line that tells the reader what field you're in, how many years of experience you have, and the specific value you bring / have brought to other companies.
For example, you might say, "Award-Winning Sales Manager with 11+ Years Experience Helping Early Stage SaaS Companies Grow From <$5M to $30M+ ARR."
Case Study Bullets – Next, you're cherry picking specific examples and results that support the sentence above. These bullets should including compelling language and measurable results (check out our free tool ResyBullet.io to score and improve your bullets).
For example, here are a few case study bullets that supports the opening example above:
Sold $10M in new business in 12 months for [Company], a cloud-based SaaS payment system
Won OneTeam Award for largest annual deal ($7.75M) at [Company] a marketing SaaS platform
These bullets provide the specific, supporting evidence for your value.
Closing With Opportunities – The last section of your summary should speak directly to the opportunities you're looking for…without specifically saying you're looking for new opportunities.
Picture this. You're at a bar having a drink with both your current manager and a recruiter at your dream company. You want to tip off the recruiter without your manager getting suspicious.
How do you do that?
You talk about the opportunities you're excited about!
If you say, "I love applying my SaaS-experience to help new companies with products that specifically impact the finances of SMBs" then any recruiter looking at your profile will know exactly what you want without you actually saying it.
LinkedIn Summary Examples For Job Seekers
Now that you have the overarching template, let's take a look at a few examples of that template in action for job seekers in different roles. I'll use the same color coding as above so you can see how to fill in specific aspects of the template.
First up, we have Amari who works as a marketer in the fintech SaaS space and also edits a marketing-focused publication on Medium:
LinkedIn Summary Example #1 – Fintech SaaS Marketing

Innovative Marketing Manager with 7+ years in the fintech SaaS space. I help early-to-mid stage companies like BitFloss and Profitly add 50,000 users per year.

Some examples of my results include:

Spearheaded new referral-based growth system at BitFloss, resulting in 87k+ new users in 8 months (without spending a dime on ads)
Led content management overhaul for Profitly, boosting site traffic from 8k users / month to 100k+ users / month in 12 months
Editor at Better Marketing, a Medium.com publication with 10,000+ monthly readers where marketers share and discuss innovative strategies
Fluent in English and Spanish, currently learning Italian

I get excited about opportunities where I'm able to work with highly creative people to develop innovative marketing solutions in the fintech space.

I love connecting with new people, give me a shout at [email protected] or here on LinkedIn!
Next, let's look at Taylor who is a data analyst in the healthcare space who has also combined their passion for basketball and analytics on the side. Given the technical nature of their role, we added a line for "Technical Skills & Tools" at the top so future employers can see they are proficient with those tools:
LinkedIn Summary Example #2 – Data Analytics in Healthcare

Award-Winning Data Analyst with 3+ years in the healthcare space. I help healthcare systems like HCA Healthcare and New York Presbyterian Hospitals use data to lower readmission rates by 30%+.

Technical Skills & Tools: Python, R, SQL, mongodb, Tableau, & PowerBI

Here are a few examples of my work:

Analyzed 100,000+ patient records to identify specific procedures with the highest readmission rate, resulting in 15% decrease in patient readmission for the following calendar year
Developed visualization of readmission rates and total costs per procedure for HCA health system, enabling executives to report out and act on rising readmission rates and costs

Additionally, I am a big college basketball fan (go Georgetown!). In that vein, I created a site called AnalyzedMadness.com where I build predictive models for the annual NCAA Basketball Tournament based on current and historical stats.

I get excited about opportunities where I'm able to leverage big data to discovery insights and identify patterns that have real human impact.

I love connecting with new people, give me a shout at [email protected] or here on LinkedIn!
Those are just two examples for job seekers in different industries.
Keep in mind that a template is simply something to work off of. If you're following our foundational principles and focusing on value, you can structure your information in whatever way feels best to you!
LinkedIn Summaries For Thought Leaders & Entrepreneurs
If you're an entrepreneur and / or thought leader on LinkedIn, your goals are probably similar.
You want more people to find your profile, follow along, and then reach out about / find their way to your offerings. An endless funnel of inbound leads!
While your LinkedIn Headline can help (here's how to write a great headline), it's only the tip of the iceberg. Most people want to learn more about the person they might be spending money with.
That's where the Summary comes in.
I've spent years A/B testing my own Summary. I've also coached hundreds of entrepreneurs and thought leaders on LinkedIn Growth.
Here's the template that I've seen work best:
My LinkedIn Summary Template For Thought Leaders & Entrepreneurs

[Website] // [Your Elevator Pitch]

My strategies/products have been featured in [Insert Social Proof] and they've helped [Number] of people (just like you) [Insert Achievement Or Benefit].

Reach out to me for:

[Insert Service #1]

[Insert Service #2]

[Insert Service #3]

Here's what a few of my clients/customers have to say about me / my products:

[Insert Testimonial #1]

[Insert Testimonial #2]

[Insert Testimonial #3]

For more information, feel free to send me a note at [email protected]
Let's break down each section here.
Website & Pitch – As an entrepreneur or thought leader, the basis on your LinkedIn presence should be creating content and the goal should be to capture those profile eyeballs somewhere. As a result, I like to put my website right up front so people can easily checked it out for more info.
Right after the website, you want to include a pitch that sums up who you are and what results you (or your product) help people achieve. Your audience wants to see what you can do for them so if this is front and center, it makes for a great hook.
Social Proof – Social proof is one of Robert Cialdini's Six Principles of Persuasion.
Cialdini says, "the principle of social proof says so: The greater the number of people who find any idea correct, the more the idea will be correct." This is furthered by the type of people who are finding the thing "correct." If the person or entity is highly reputable, their recommendation is more likely to be trusted.
That's why we might look at someone who is regularly published in the New York Times as "more reputable" than someone who is regularly published in Johnny's Weekly Blog.
Including the names of the places you've been featured, the companies you've worked with, or the # of people you've helped is a great way to add social proof to your LinkedIn Summary.
Services / Products – The goal is for us to convert profile views into something tangible like sales or clients. By including your services, you're showing people exactly what you offer so they know what to reach out to you for!
Testimonials – Adding to our social proof, testimonials at the bottom of your profile tell people two things. First, that you've worked with other folks and you're not just making this stuff up. Second, that your work or products are good enough for people to publicly praise them. That's powerful!
Contact Info / CTA – Finally, you want to make it as easy as possible for people to contact you or to find a way to convert. Including your info or a CTA at the bottom of your Summary is the best way to make that happen.
LinkedIn Summary Examples For Thought Leaders & Entrepreneurs
Now let's take a look at a few examples of that template in action! We'll be using my profile as well as my friend (and fellow entrepreneur) Miloney as examples in different spaces.
Again, the examples will be color coded to match the template above.
First, we'll start with the LinkedIn Summary from my profile. I operate in two spaces, the career coaching space and the SaaS space:
LinkedIn Summary Example #3 – Career Coaching & SaaS Apps

CultivatedCulture.com // I teach people how to land jobs they love in today's market without traditional experience and without applying online. Want "insider" career advice? Text me here 👉 201-479-9511

My strategies have been featured in Forbes, Business Insider, Inc., Fast Company, & The USA Today. I've also helped thousands of job seekers (just like you!) land offers at Google, Microsoft, Salesforce, Amazon, Facebook, Apple, Twitter, Uber, Spotify, Deloitte, Accenture, Sequoia Capital, Tesla, SpaceX, ESPN, The NFL, & more.

If you're ready to accelerate your job search, here are my best tools and resources (they're all free!):

✅ CultivatedCulture.com/JobSearch/ – My super comprehensive guide on landing a job without applying online

✅ Mailscoop.io – My free email lookup tool to help you find anyone's email address in seconds

✅ ResyBuild.io – My proven job-winning resume builder with free, super effective templates

✅ ResyMatch.io – My resume optimizer to help you identify keywords/skills for your resume & LinkedIn profile

✅ ResyBullet.io – My resume bullet analyzer to help you write crazy effective resume bullets that sell your value

✅ Get the 5 most effective strategies my clients use to land jobs without applying online (for FREE): CultivatedCulture.com/DreamJob/

Here's what a few of my clients have to say about my job search strategies:

"I recently left a job with nothing else lined up. My visa was tied to that job so I had 60 days to get hired and land visa sponsorship. Then COVID-19 hit. Austin helped me land a Program Manager role at a leading tech company, a 30% raise, AND H1-B sponsorship during the pandemic." – Jasleen

"I was looking to get back into the workforce after taking 8 months off to pursue a startup idea. Austin helped me land multiple $100,000+ job offers within 3 months." – Ben

"Austin helped me make the jump from a VP role in finance to a Program Manager role at Amazon with a $300,000 compensation package – a 30% increase over my previous salary." – Amish

"I spent years struggling to take the transition from vendor to full time employee. Austin helped me land a job in Product Marketing at a Fortune 30 tech company with a $40,000+ raise." – Amyr

"Austin helped me make the transition from Minneapolis, MN to Europe. Making the transition from the US to Europe was not easy. But with Austin's help, I landed multiple six-figure roles and ended up accepting my dream job in Amsterdam." – Anton

For more free career tools, advice, and resources check out my Featured section (above 👆) or my website CultivatedCulture.com
Next, let's look at Miloney Thakrar's summary. Miloney is a consultant who helps companies use data storytelling to advance gender equity, diversity, & inclusion:
LinkedIn Summary Example #4 – Data-Driven D&I Consultant

MindTheGenderGap.Org // I help companies ranging from non-profits to startups to Fortune 500s craft innovative and scalable solutions to advance gender equity.

My work has been featured at the Society for Human Resource Management and the Forum on Workplace Inclusion. My clients include Accenture, Women Tech Founders, and UN Women, among others.

Book a discovery call to learn more 👉🏽 https://mindthegendergap.as.me/discoverycall

If you're ready to close the gender gap at your company, let's talk! You can reach out to me for:

•Strategy Consulting & Advising – I can help you navigate the complex aspects of advancing gender equity, diversity, and inclusion without having to invest in costly solutions that don't scale.

•Data Storytelling & Research – Through propriety 5-step approach uniquely combines data feminism, compelling data storytelling, and cutting-edge technology, I can help you clearly assess your company's current state and where it needs to go to close the gender gap.

•Facilitating & Keynoting – I customize my talks and workshops to meet the unique needs and interests of your audience. Popular topics include: Leveraging Technology to Advance Gender Equity, Effective Data Storytelling to Advance Gender Equity, & Gender Equity in Leadership.

Here's what my clients have to say about my work:

"I had the pleasure of working with Miloney in collaboration for our International Women's Day celebration at Accenture. Miloney offered immense knowledge and support as we consulted her in the creation of content and the structure for our Gender Advocacy Workshop. I would highly recommend her as a speaker, facilitator and consultant in creating conversations for change and educating one's organization on advocacy and gender equality." Gabby – Management Consultant, Accenture

"Miloney served as a guest speaker at Accenture's Gender Advocacy lunch event for International Women's Day, where she talked about the UN Women's HeForShe campaign…In preparation for her talk, Miloney coached the event organizers on how to create a safe space to allow for a candid conversation around gender equity in the workplace…What impressed me most was her nuanced understanding of issues related to gender equity and her ability to not only engage but also inspire the audience. I highly recommend her as a speaker and facilitator." -Ola, Global Ethnicity Lead, Inclusion & Diversity, Accenture
Those two examples should give you a basis for drafting your own LinkedIn Summary as an entrepreneur or thought leader!
Again, templates are just that — something to work off of. Feel free to customize or adjust as you see fit as long as you're sticking to the core principles and the rationale behind them.
4 LinkedIn Summary Tips To Maximize Your Results
Now that you have an idea of which template to use and what examples you want to work from, let's take your Summary to the next level:
Tip #1: Leverage The Right Keywords
Most people don't realize that LinkedIn is a search engine like Google, Amazon, or YouTube.
Recruiters are constantly searching for candidates and prospects are looking for coaches and services to help them achieve their goals. If you know how the engine works under the hood, you can optimize your profile so you show up for more searches and win more clicks.
Keywords a big factor in achieving that goal.
When someone runs a search, LinkedIn looks at the keywords and filters in their search and they match them up with the keywords on thousands of profiles. Then they serve up the profiles they believe will be most relevant (that's a bit of an oversimplification, but that's the gist).
If your profile contains the keywords and right LinkedIn skills that your target audience is searching for, you'll show up for more searches and win more clicks. Your LinkedIn Summary is a great place to embed those keywords.
Here's a video walking through a 10 minute exercise to help you find the perfect keywords for your LinkedIn Summary (followed by written instructions for job seekers, entrepreneurs, and thought leaders):
Finding Keywords For Job Seekers
If you're a job seeker, finding keywords is super easy.
They're sitting right in the job descriptions of the roles you're targeting! Here's how to identify them:
Open a new document (Word or Google Doc) and have it handy
Head to LinkedIn Jobs and run a search for a target roles as if you were going to apply for them
When you find a job description that matches your target criteria, copy the entire job description and paste it into your doc
Rinse and repeat until you have a total of 20+ job descriptions in your doc
Head to WordClouds.com
Click on "Word List" then "Paste / Type Text" and paste all 20+ job descriptions into the tool
Click "Apply" and then click "Word List" again
There will be some filler words and non-relevant words ("years," "the," etc) so you'll have to do a little bit of editing. When you're done, you'll have a list of all of the keywords from your target job descriptions, ordered by frequency.
Here's an example snippet for a User Experience Designer based on 10+ job descriptions: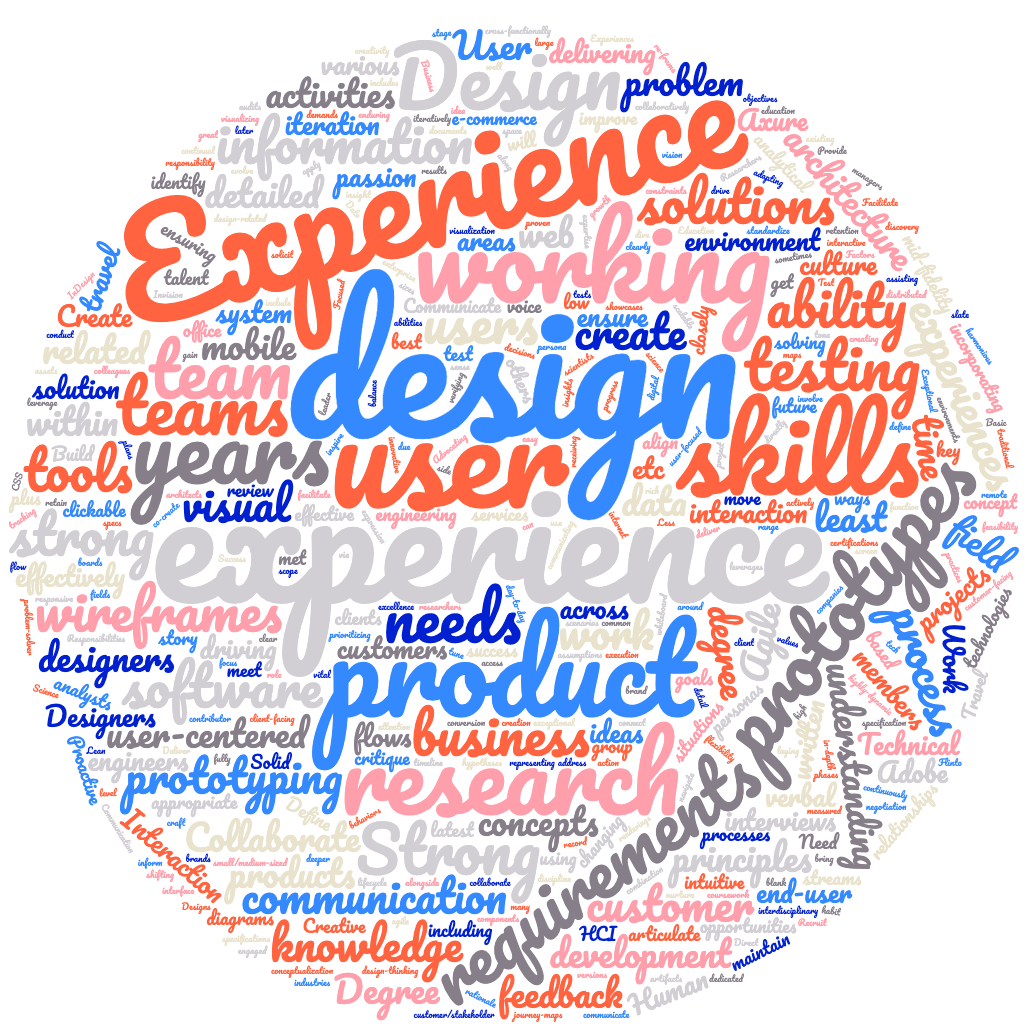 The keywords are:
51 – design
45 – experience
18 – user
13 – product
11 – research
9 – design
9 – prototypes
These are the keywords we'll want to weave into our LinkedIn Summary.
Finding Keywords For Entrepreneurs & Thought Leaders
Finding keywords as an entrepreneur or thought leader uses a similar process with a different data source.
We're not lucky enough to have "job descriptions" for our purposes, so we'll have to find another source of data! The good news is that LinkedIn already tells us who's doing this well because they appear at the top of the existing search results. All we need to do is check out their profiles.
Here's the path for finding keywords as an Entrepreneur or Thought Leader:
Open a new doc (Word or Google) and keep it on hand
Head to LinkedIn
Put yourself in your prospect's shoes and run a search (e.g. "career coach")
Click through the profiles of the first 5 pages
When you find a profile that's aligned with your offerings, copy the profile and paste it into your document
Rinse and repeat until you have 20+ profiles in your document
Head to WordClouds.com and repeat the steps above
After editing for filler words and non-relevant terms, you should have a list of keywords that are aligned with your offerings that you can add into your LinkedIn Summary.
Tip #2: Grab Some Eyeballs With Formatting And Emojis
I'll start by saying that, for this tip, a little goes a long way. Both fancy formatting and emojis have their time and place. It's also easy to overuse them. But when used sparingly and intentionally, they can really make your summary pop.
How To Add Formatting To Your LinkedIn Summary (Bold, Italics, Etc.)
Many people don't realize that you can actually add bold, italicized, and other non-traditional font formatting into your LinkedIn profile. Here's an example of bolded font in one of my posts: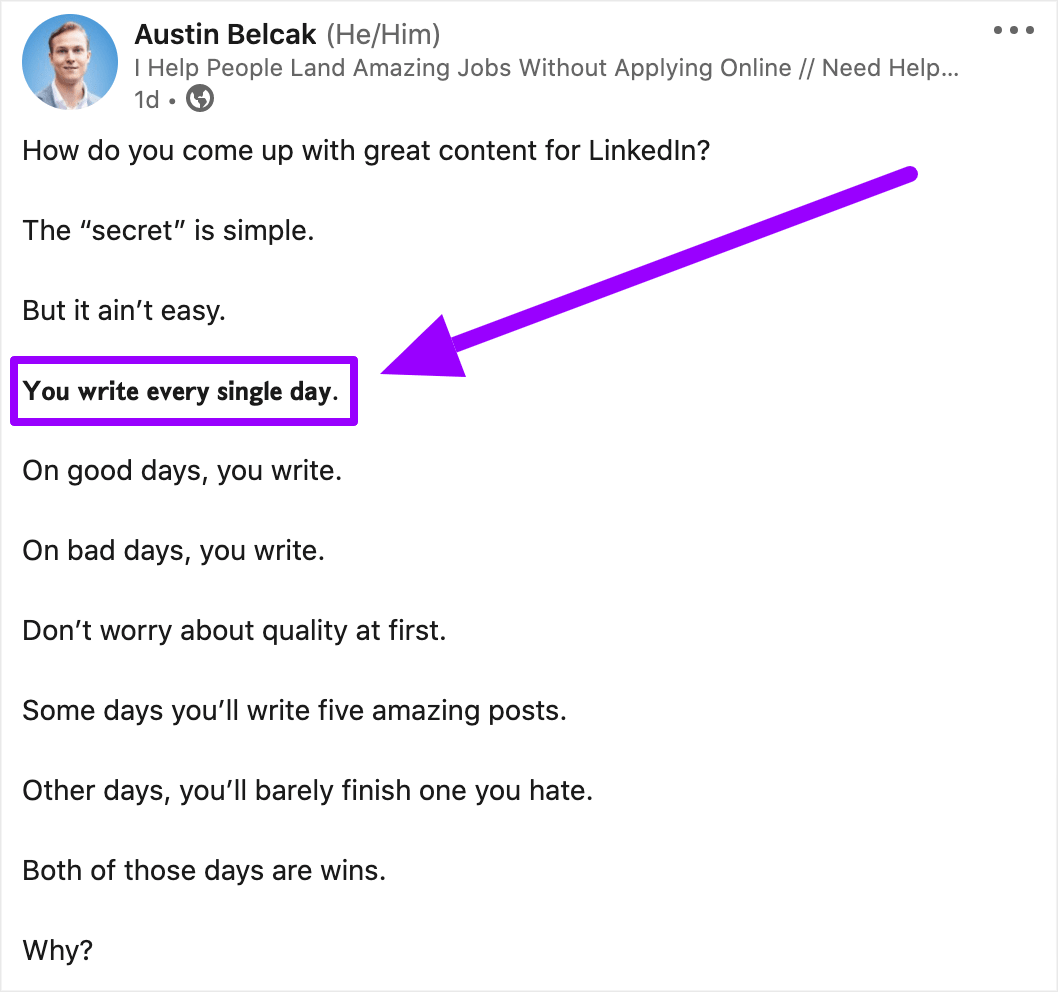 How'd that get in there?
Simple. I used a tool called Unicode Text Converter.
UTC takes the text you submit and it converts it to unicode which most any plain text editor can parse and visualize. Here are just a few of the font options UTC offers up: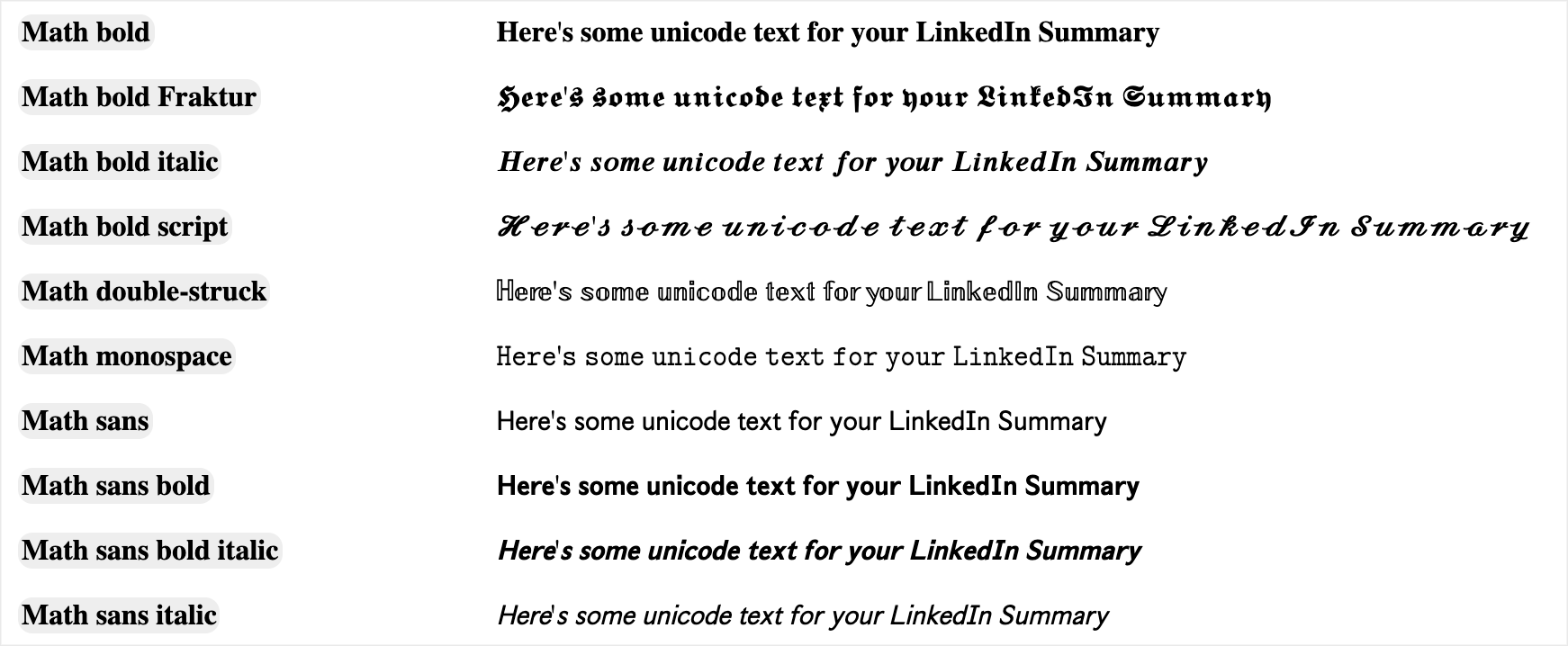 How can you use this?
You can bold important points in your summary or you can bold different headings that you'd like to feature (e.g. Projects, Press, Interests) so they are easy to differentiate.
How To Add Emojis To Your LinkedIn Summary
Emojis are trickier than simply bolding some text in your Summary. You really need to know your audience here.
If you're targeting traditional companies (legacy law firms, financial institutions, or government roles) or your prospects tend to be more traditional, I'd pass on this.
But if you're targeting progressive, new-age companies or your demographic is younger, you might consider sprinkling them in to help specific areas of your Summary pop.
For example, my target demographic is younger job seekers looking for roles in tech. I use emojis in my profile to highlight a phone number that people can text me along with specific resources and tools that I want to draw attention to:
Compared to the amount of text in my Summary, I don't use a ton of emojis. I also use them in a consistent fashion (each one is at the start of a new tool / bullet).
Tip #3: Don't Be Afraid To Get Personal!
In today's digital world, a personal touch can go a long way.
As a job seeker, recruiters want to see that you're more than just bullets on a resume. As an entrepreneur or thought leader, people want to know you're more than just a talking head trying to sell them something.
When writing your resume, I recommend adding a unique, personalized Interests section. I also recommend doing the same for your LinkedIn profile!
Here's why…
Let's say that I add "Podcast Enthusiast (my daily Go To's are Up First, The Tim Ferriss Show, and Work Life with Adam Grant)" to my LinkedIn Summary.
I just added 3 potential layers of connection into my profile:
If someone is a big fan of any of those podcasts, it's an immediate connection
If someone is a big podcast fan, we have that in common (even if they haven't heard of those 3)
If someone doesn't listen to podcasts, at least they know a bit more about me personally, which creates the opportunity for a talking point
Now multiply that by four or five different interests and you're cooking with gas!
What Interests Should You Focus On?
You don't want to list anything and everything in your Interests. For example, getting political can potentially cause more harm than good.
Instead, I like to focus on a few topics that are viewed as positive by pretty much everyone. They are:
Family
Travel
Food
Sports
Hobbies
Learning
If you stick with those, you'll be in great shape!
Template & Examples For Adding Your Personal Interests 
I like to use a specific format for building out my personalized interests section:
General Interest #1 (Specific Detail), General Interest #2 (Specific Detail), General Interest #3 (Specific Detail), General Interest #4 (Specific Detail).
Let's say that I'm planning to add Travel, Sports, Reading, and Learning to my interests. It might look like this:
Interests: Traveling (Currently planning a trip to Mykonos – recommendations welcome!), Reading (Currently reading Eat A Peach by David Chang), Podcasts (my daily Go To's are Up First, The Tim Ferriss Show, and Work Life with Adam Grant), & the New York Football Giants.
Look at all of those opportunities for common ground and points of connection! That's what we're aiming for.
Tip #4: Check (And Double Check) Your Grammar
Last but not least, we have an obvious tip. As obvious as it may be, I'm always blown away by how many people have typos and grammatical errors in their LinkedIn profiles.
Here's a trick I used to get rid of typos and improve my writing in less than 5 minutes.
First, go through everything else in this article. Choose your favorite Summary template, leverage one of the examples to help you get started, then add in your keywords and your formatting.
When you're done, head over to Hemingway App and paste in your entire LinkedIn Summary.
Hemingway will not only show you where you've misspelled some words, it'll also show you which sentences you could improve and how to improve them. It'll even give you a readability score!
Here's my current LinkedIn Summary in the app: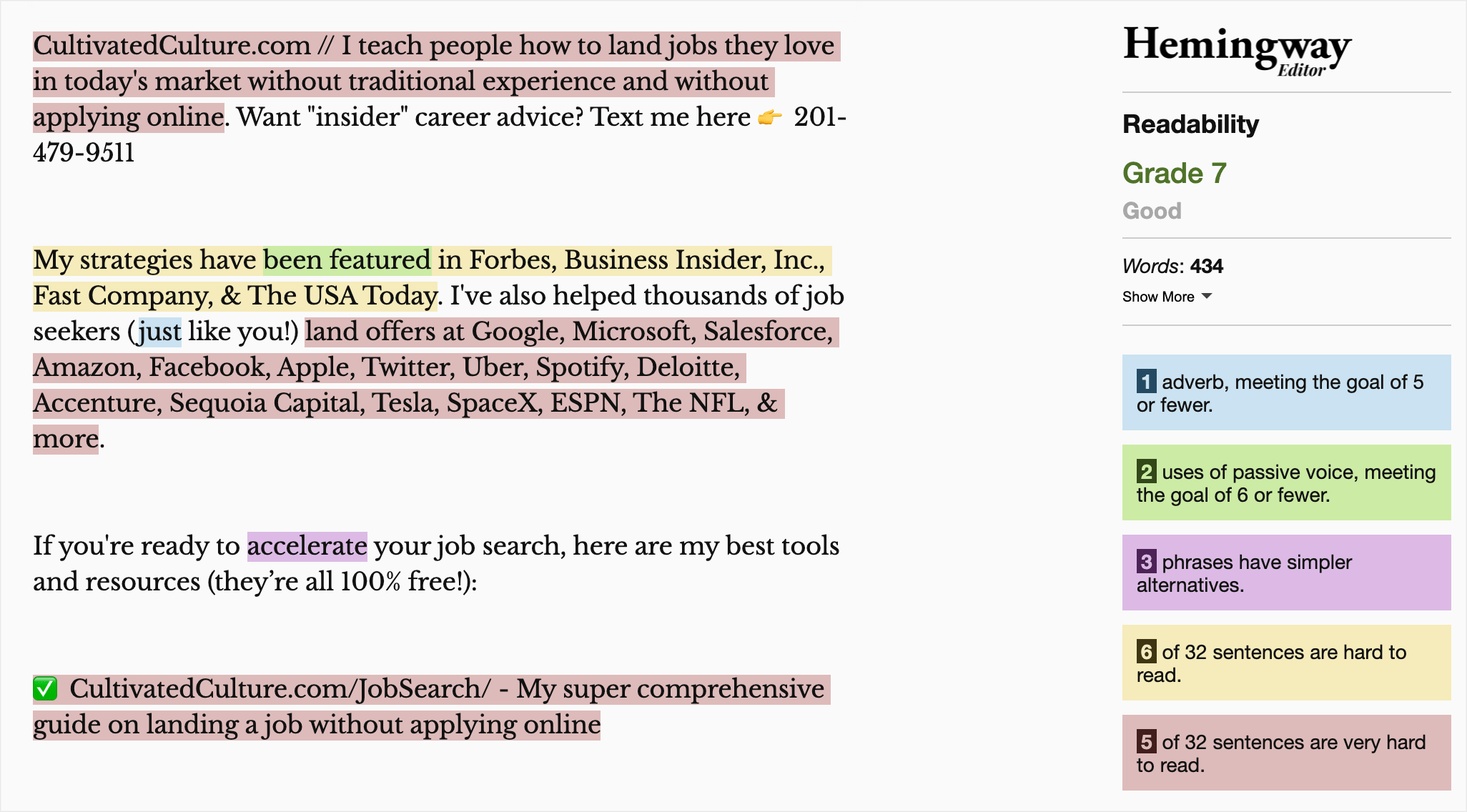 Improving it is easy. Just rework your sentences to follow Hemingway App's guidelines and you'll be in great shape.
Next Step: Update The Rest Of Your LinkedIn Profile
Now that your new LinkedIn Summary is ready for it's big debut, make sure the rest of your LinkedIn profile is optimized!