An elevator pitch can be a powerful tool. It can help you strike up conversations with like-minded professionals, set the tone for a successful interview, and even help make connections that lead to landing your dream job.
But, before any of that, you have to know how to craft an elevator pitch that's above average. One that captures and holds the attention of complete strangers. One that makes people think, "Hey! I want to know more about this person!" And, trust me, that takes some work.
So, in this post, I want to show you how to prepare and deliver your very own winning elevator pitch! First, I'll answer some common questions you might have like:
What is an elevator pitch?
When do you need an elevator pitch?
What makes for a poor elevator pitch?
Then, I'll give you a step-by-step formula to help you know what to write for your elevator pitch. And to finish things off, I'll show you 5 examples you can use for inspiration and share some tips on how to best deliver your elevator pitch for maximum results.
Let's get started by jumping into that first question now!
What Is An Elevator Pitch?
An elevator pitch — sometimes referred to as an elevator speech — is a short, 30-60 second summary about who you are, what you do for work, and (ideally) why the person you're talking to should be interested in continuing a conversation with you.
As you may know, it's called an elevator pitch because you should be able to say it in the amount of time you'd ride an elevator from one floor to the next with another person.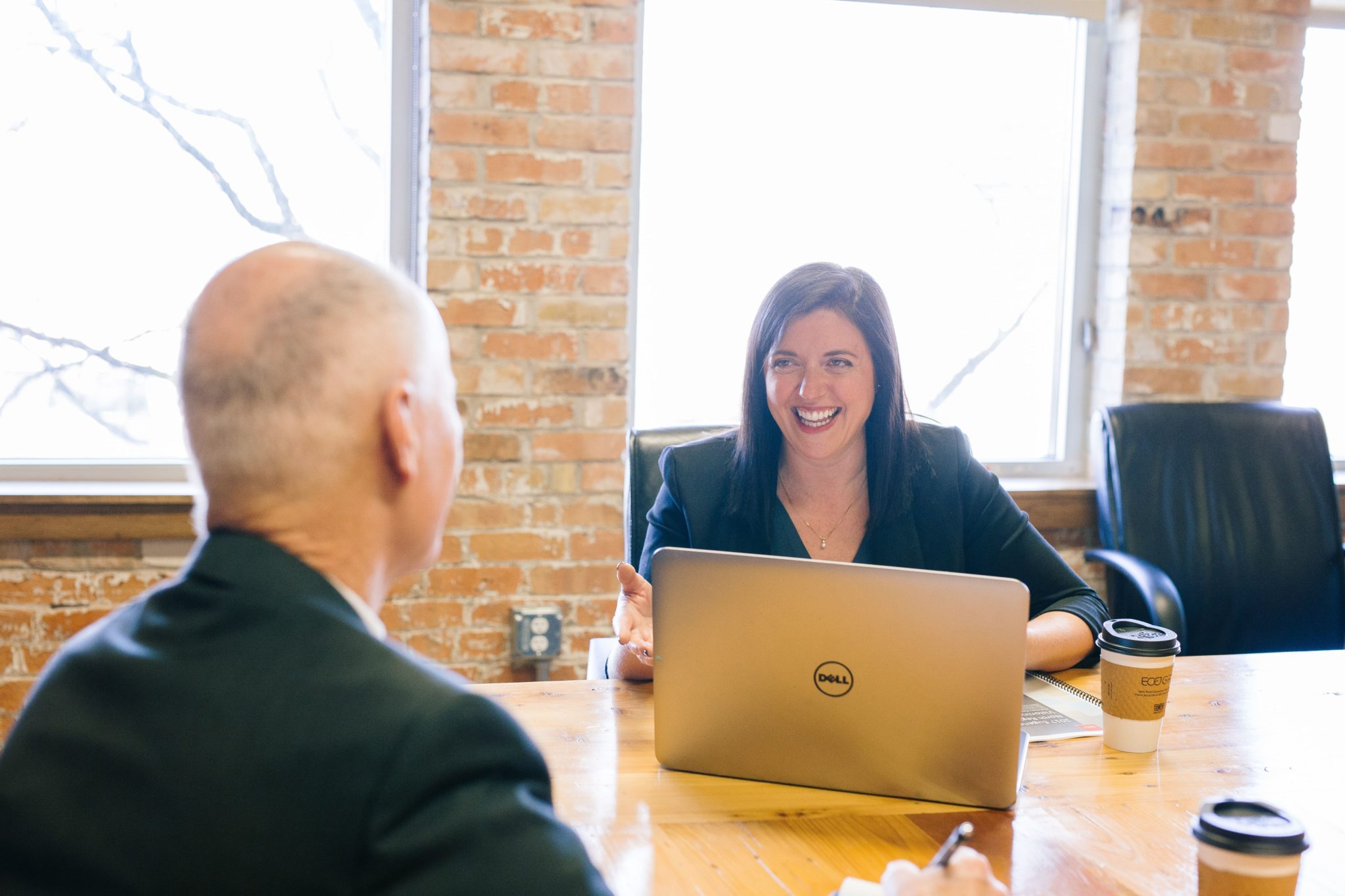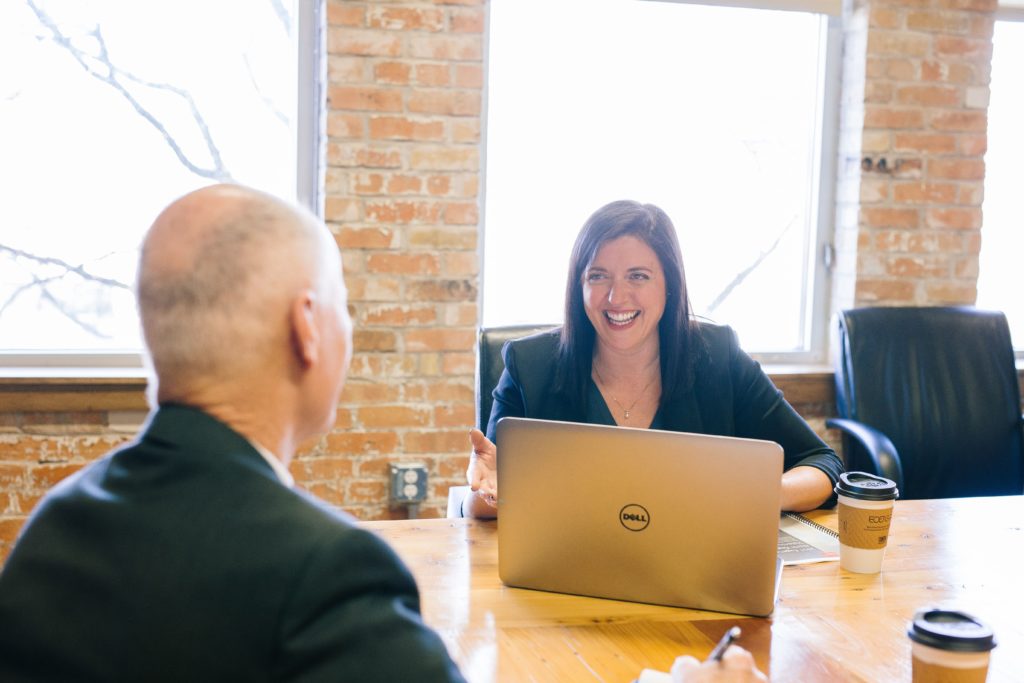 When Do You Need An Elevator Pitch?
Your elevator pitch is for whenever and wherever you find yourself introducing yourself to new people in a professional setting.
The most common situations include:
Career fairs
Job interviews
Networking events
Professional conferences
When meeting someone who works at your dream company
The Problem With Most Elevator Pitches
So many elevator pitches are just plain bad. You know the kind. They tend to sound like a sleazy attempt to either sell you something or trick you into feeling impressed. Yuck!
And, so, I get it. If you're used to hearing a bad elevator pitch, you're bound to doubt whether writing your own can actually help you advance your career. Luckily, the elevator pitch I'm going to teach you how to write won't sound like the bad ones you may be used to hearing.
But before I share that formula, I want you to know exactly what we're aiming to avoid. Here are common problems with most elevator pitches:
There's no objective. Your elevator pitch should have a purpose. Maybe it's to make new connections. Maybe it's to find out about job opportunities. It doesn't matter. Just make sure your goal is clear so it doesn't sound like you're rambling.
They're too vague. If your pitch can be said word for word by one of your colleagues, it's no good. It needs to sound unique to you. And that can't be accomplished without personal details of your experience.
They're too "I" focused. Few people will want to hear you talk on and on about yourself. That's just not how most people are wired. If you talk exclusively about yourself from start to end, you risk losing the other person's attention.
They leave no room for follow-up conversations. There's nothing worse than an awkward pause following your pitch. But if you don't make continuing the conversation easy, it's almost guaranteed.
Alright, now that you have an idea of what not to do, let's take a look at what you should do!
How To Craft An Elevator Pitch
You likely already have some kind of elevator pitch. Think about it. It probably sounds something like, "I'm a [job title] at [name of company]." But you and I both know you can do better than that!
So, here's how you prepare an elevator pitch that grabs attention and effectively makes you the type of person others want to know more about.
Step 1: Establish Your Foundation
Start with a greeting and a basic summary of what you do. This includes your job title, where you work, and a few of your major responsibilities.
Step 2: Decide On An Objective For Your Elevator Pitch
Now, think of what you hope to accomplish with your elevator pitch. You don't necessarily need to state this explicitly in your pitch. But it's important to get clear on this because everything else will center around your objective. Are you just trying to make connections? Answer common interview questions? Or impress someone who could help you get your foot in the door at your dream company?
Step 3: Share Your Work Related Experience Or Interests
With this step the goal is to set yourself apart from the other people who have the same job title as you. What's something you worked on recently that you're proud of and supports your objective? If you're just getting started in your career, get specific about what interests you about your field. Sharing this information will help the other person start thinking of more specific ways to help or relate to you.
Step 4: End With A Question Or Call To Action Related To Your Objective
Your elevator pitch is essentially a conversation starter. But you have to make sure the other person knows that. End your elevator pitch with a call to action or question that's related to the objective you decided on in step 2.
Step 5: Put It All Together And Edit
What you end up creating the first time might not be perfect. But it doesn't need to be. Take the time to edit your elevator pitch and view it as a work in progress. Over time and in different contexts, the content of it will change.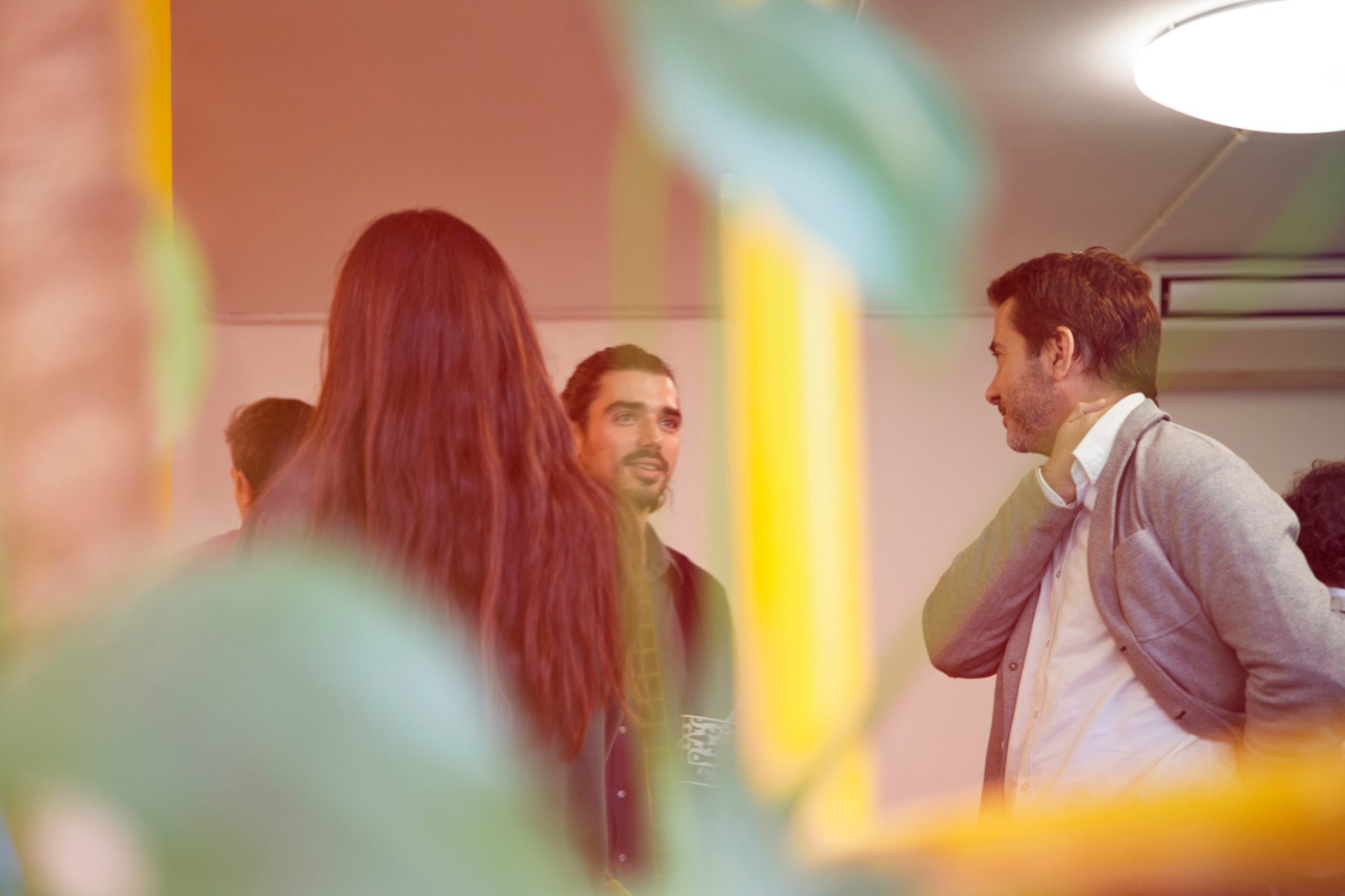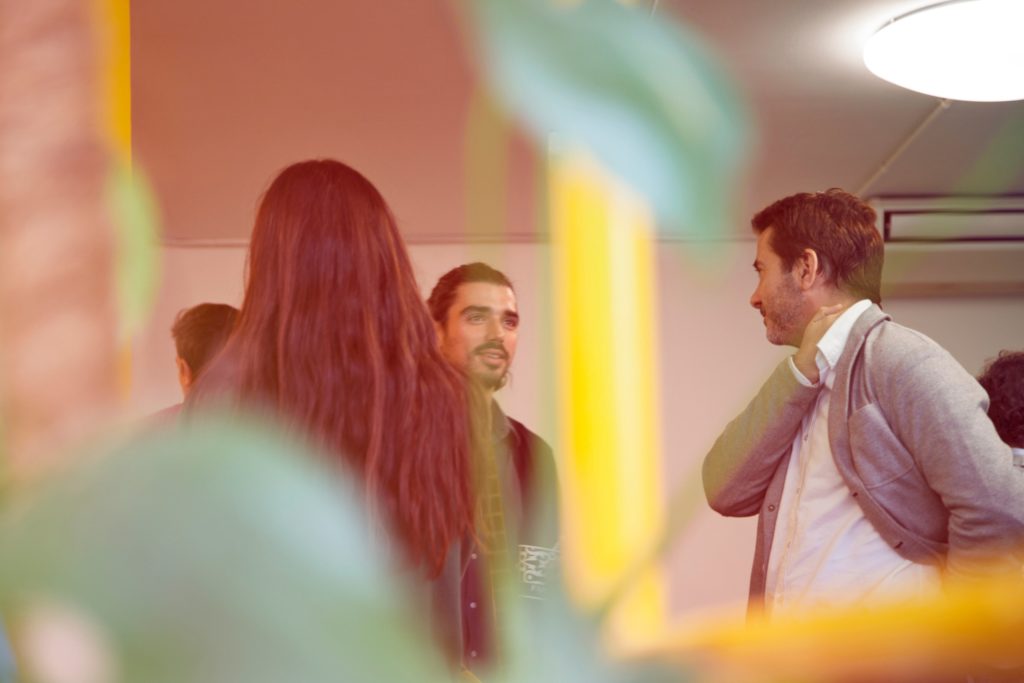 5 Elevator Pitch Examples
I know creating a good elevator pitch may be easier said than done. So, here are some examples you can use for inspiration!
Example #1: The "Recent Grad" Pitch
"Hi! Nice to meet you. I recently graduated from college with a degree in computer science with a focus in machine learning. I'm particularly interested in how machine learning can be used in the healthcare industry, which is why I'm looking for a job as a software engineer at a health tech company. Do you know anyone at this career fair I should speak to?"
Example #2: The "Perfect Hire" Pitch
"Hello! I'm a Social Media Manager at XYZ, Inc. where I work directly on using social media platforms like Instagram and LinkedIn to build brand awareness and convert our followers into buyers with engaging content and ads. Our most recent Facebook ad campaign had a conversion rate of 10%, which, as you know, is above average for our industry. I'm now hoping to align my expertise in social media marketing with my passion for environmental activism at a company like yours."
Example #3 – The "Open to Opportunities" Pitch
"Hey! Nice to meet you. I'm an Outbound Sales Representative for ABC, a B2B SaaS company, out in New York City that specializes in providing software solutions for small businesses. I recently collaborated with a company like yours to help increase their customer retention rate by 6%, resulting in an increase in profits by 65%. Since then, I've actually become fascinated with your industry. Would you be open to setting up a quick call for us to discuss any opportunities you have for someone with my skill set?"
Example #4 – The "Just Making Connections" Pitch
"Hey! I'm glad we're finally able to connect! As you know, I'm an SEO Analyst at XYZ, Inc. I'm really impressed with the work your company has done recently, which is why I'm hoping to see if I can get your perspective on a new idea I have. I'd love to help you out with anything you've been working on in exchange. If you're up for it, let me know some times that work for your schedule next week."
Example #5 – The "Unexpected Meeting with Someone at Your Dream Job" Pitch
"I've been following your company for a few years now and really admire your mission and commitment to the quality of your product! I've actually been a Product Manager at XYZ, Inc. for the past 2 years where I've had the opportunity to lead 4 cross-functional teams to develop a series of products for FinTech companies. I'd love to learn more about your experience and, if it's okay with you, stay in touch in case you hear of any open roles in the future!"
General Tips For Delivering Your Elevator Pitch
Preparing a good elevator pitch is only the first part. The real power of it comes from how you deliver it. Here are some general tips to help you deliver your elevator pitch effectively:
Keep it brief. Remember, you should be able to deliver your elevator pitch in about 30-60 seconds. That means there's no room for rambling on about every detail of a career. Stick to the key points that work towards the objective you established in the step-by-step formula.
Don't speak too quickly. While your pitch should be brief, by no means should the other person think you're rushing through it. Practice until you can deliver the pitch at a comfortable pace that's natural and easy for the other person to follow.
Adapt the tone and content to fit each situation. Make sure to adapt the tone and content of your pitch to the situation. If you have more than one objective, that probably means you'll need to plan more than one elevator pitch.
Pay attention to your body language. How others perceive your pitch isn't just based on what you say. Your body language is also important. Stand up straight with confidence. Smile. Use gestures to show your enthusiasm and friendliness.
Have your business card ready. You or the other person may not have time for a full conversation after you deliver your elevator pitch. So, plan ahead and make it easy to continue the conversation later on by having a business card readily available so they can contact you again in the future.
Practice. This is the most important tip I can give you! Practice your elevator pitch over and over again until it feels natural. You can rehearse the pitch by talking to yourself in the mirror or by acting out a scenario where you'd use your elevator pitch with a friend.
Final Thoughts
Your elevator pitch may only last 60 seconds, but it could lead to connections and opportunities that last for years to come. Spend some time making it great by following the advice here, and be sure to use it the next chance you get!
If you'd like to learn more about adding value to relationships and setting yourself apart from the competition, check out how to create a successful Value Validation Project!