Knowing how to write and send well-crafted cold emails can open up many opportunities for your career. The only problem is that cold emailing isn't always easy and most people give up too soon. Because, despite their best effort, their cold emails aren't getting any replies.
What's even more frustrating is that their emails aren't even being opened! The culprit? Well, it could be many things. But a common problem is boring, spammy, easy-to-trash email subject lines.
In fact, according to Convince and Convert, 35% of people decide whether to open an email based on the subject line alone. So, how do you write subject lines that get your cold emails opened and help you become a pro at networking?
In this post, I'm going to show you! Because I'll be sharing 20 of the best cold email subject lines you can use. But before we look at those, let's take a quick look at some cold emailing basics.
What Is A Cold Email?
Put simply, a cold email is an email you send to someone you don't yet know. You send them a cold email because you think there's a mutual benefit to the two of you starting a conversation.
Cold emails are popular for people who work in sales. But you don't need to sell anything in a cold email. There are many other uses.
Why Would You Send A Cold Email?
Cold emails aren't just for making sales. They're also a great way to build your network and find hidden opportunities for your career. For example, a cold email can help you:
Tracking Cold Emails
There's no guarantee every cold email you send gets opened. But there are tools you can use to track which ones do. Why do this?
Because when you track which emails get opened you can focus on what subject lines and messages work. And then change or stop using the stuff that isn't.
Tracking your emails also helps with sending cold emails at scale (mail merge) and using analytics to know when and how to follow-up. And with studies showing people are more likely to reply to a follow-up email than the first email, this is crucial!
My favorite email tracking software is Yesware. But there are others like Hubspot, Mailshake, and GMass that work just as well. Often, you can also get a free trial to test out the software!
How To Find Someone's Email Address
Finding the work email address of anyone — including people like Elon Musk — is pretty easy. That may be hard to believe. But, believe me, it's true!
All you need is the person's first name, last name, and the website of the company they work for. Then, you just need to plug that info into a free tool like Mailscoop that will look up and confirm their work email address.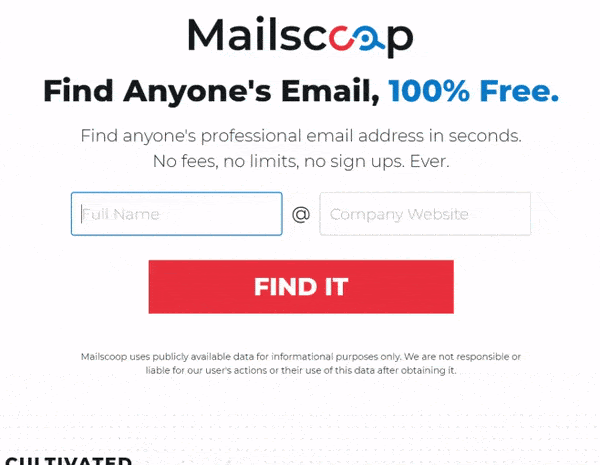 Now, just because you can find the email address of someone like Elon Musk doesn't mean they'll open your email or respond to it. That would be too easy! Your cold email still has to stand out in what is likely a crowded inbox. And that starts with writing a good email subject line!
20 Cold Email Subject Line Examples
Now, that you know the basics of cold emailing, let's take a look at those 20 cold email subject line examples. I've broken things down into 4 types of subject lines: personalized, short, questions, and mutual connections.
Some of these subject lines will work well for certain people and some won't. So, remember to use one of the email tracking software to see what works for the type of people you're cold emailing.
Alright, let's look at the examples!
Personalized examples
I may not know you personally, but I know you love hearing and seeing your name — most people do, including the person you're hoping will open, read, and respond to your cold email.
That's why personalized subject lines that include the recipient's name have some of the highest open rates. In fact, Experian found that emails with personalized subject lines are 26% more likely to be opened!
Here are a few of my favorite examples of personalized subject lines:
Hey [Name], check this out
[Name], I need your advice
You'll love this article,
[Name]! [Name], looking forward to seeing you at [Event]!
[Name], I hope you enjoyed [Event]!
Short examples
Imagine for a moment the life of that CEO, executive, or potential new connection you're attempting to reach out to. They're busy. They're on the go. And they've got hundreds of emails in their inbox, some of which will be read and responded to right on their phone.
For these people, you only have a few seconds to catch their attention and invoke curiosity. And a short subject line might be your best shot. Fast Company found that cold emails with a short, vague subject line like "Quick Question" were 2.4% more likely to be opened than a more specific, but longer subject line.
Here are some of my favorite short email subject lines:
Quick question
Request to connect
Hoping to help
Hoping you can help
Idea for [Company]
Congrats on [recent achievement, company event, etc.]
Question examples
When you think about it, your cold email has one real goal: get the other person to say "yes". Yes to connecting. Yes to giving advice. Yes to giving you a bit of their time.
Email subject lines with questions can help you get your first yes – to opening your email – right away. And, remember, making the subject line personal by adding the person's name can make that even more likely.
Here are a few examples of email subject lines using questions:
[Name], what would you change about your company culture?
[Name], can we connect?
[Name], what do you think about [topic of interest, recent industry news, etc.]?
Free to talk after [Event]?
Need any help?
Mutual Connection examples
Do you have any mutual connections with the person you're sending a cold email to? If so, include the name of that mutual connection right in the subject line! Why?
Because it will invoke curiosity – the recipient of your cold email will want to know how you know the other person and what the two of you said about them. And they'll be more likely to help you get a job, assuming that the mutual connection is someone that they like.
Even if you don't have a mutual contact, you can use mutual membership in a group, event, or organization to achieve the same result. Here are a few examples of subject lines that use the power of mutual connections:
[Mutual Connection] said we should connect
A friend of [Mutual Connection]
[Name], your [Social media post] in [Group] was so insightful!
We met at [Event]
Final Thoughts
Getting cold emailing right can be challenging. The first and easiest step is mastering the art of getting your messages opened with an intriguing cold email subject line.
So, the next time you send a cold email, give one or more of the subject lines I've shared here to improve your open rates.
And, if you're sending cold emails with the hopes of landing a job, make sure to also check out How to Get a Job Without Applying Online!