You could be the best fit for the job. You could have the perfect experience and skills on your resume with an intriguing cover letter that highlights your achievements. And the preparation and charisma to crush the competition during interviews.
But if you can't get past the applicant tracking system – an increasingly popular HR software already being used by 99% of Fortune 500 companies – it doesn't matter!
Human eyes will, most likely, never even see your application. Why? Because an applicant tracking system scanned your resume, ran an algorithm, and determined that you're probably not qualified.
Now, if you really are the perfect candidate, you can argue this is unfair. But that won't get you anywhere, will it? Applicant tracking systems are, for better or worse, here to stay.
Instead, you can learn how to beat the applicant tracking system — every single time — before you press submit on any job application.
Let me show you how it's done!
What Is An Applicant Tracking System?
Before I can show you how to get past the applicant tracking system, I want to make sure you know what it is and how exactly it works.
An applicant tracking system, (commonly shortened to ATS), is a human resources software. The primary functions of an ATS are to create a database of job applicants, highlight top applicants for a recruiter or hiring manager to further review, and automatically reject or filter out the applicants that it determines aren't a good fit for the job.
How Does It Work?
Once you hit submit on your application, an ATS will scan your resume looking for keywords, experience, education, and skills that fit the job.
Generally, the keywords it's searching for are the same ones used throughout the job description. And I'm going to show you how to optimize your resume for those soon.
But for now, know this: if an ATS doesn't immediately find what it's looking for on your resume, your chances of getting an interview are extremely low.
In fact, according to data from Workopolis, your resume has only about a 2% chance of landing an interview! And if it's not optimized for applicant tracking systems, you could be looking at a 0% chance!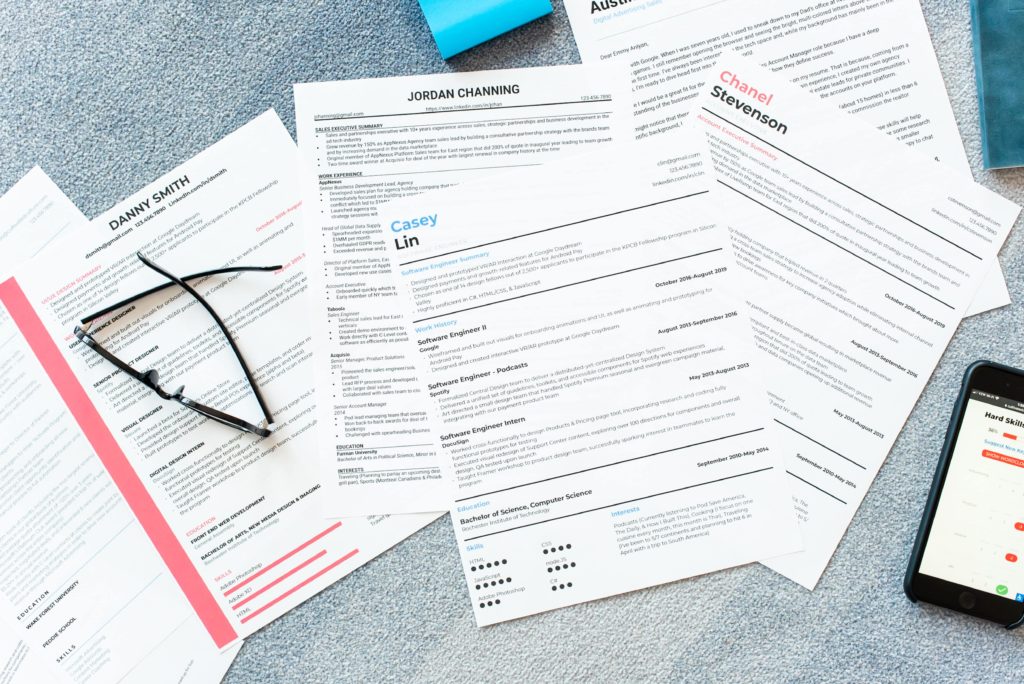 Why Are Applicant Tracking Systems Being Used?
Applying to jobs online has become really easy. Just upload a resume and cover letter, press submit, and you're done. As a result, most job posts get flooded with applications for a job that can only go to one person!
Do you expect the recruiter or hiring manager to read through each application one by one? Not a chance! There just isn't enough time.
So, the main reason applicant tracking systems have become so popular across Fortune 500 companies is to save everyone involved in the hiring process a lot of time.
But even if you're not aiming for a Fortune 500 company, you'll still need to optimize your resume with relevant keywords and supercharge it with action words. Why? Because there are benefits to using an applicant tracking system for small business hiring teams as well.
For example, an ATS can help small businesses easily work with recruiters and stay on top of the hiring process to acquire more talented applicants.
Is there any benefit to an applicant tracking system for job seekers? Surprisingly, yes! If you know how to format and optimize your resume for an ATS, you can beat all of the other candidates that don't — even if the other candidates are technically more experienced.
How To Get Past The Applicant Tracking System
Alright, now it's time for the good stuff! Here are my top 3 tips on how to beat the applicant tracking system with an impressive resume.
#1: Format Your Resume
Creative resumes with eye-catching designs and wordings may look cool. But, if they're not readable for applicant tracking systems, they're no good.
You're better off using a resume layout that uses a chronological or hybrid format and standard labels for each resume section. You'll also want to use an easy-to-read resume font and avoid things like tables and graphs.
Here's an example of how to write a resume in a format that works for getting past applicant tracking systems:
Your Contact Info. Name, email, phone, address, social profiles, website

Resume Objective. A short paragraph or bulleted list highlighting your strengths, experience, and key achievements.

Work Experience. A list of previously-held job titles, including dates, company, and bullet points to describe your key responsibilities and achievements.

Resume Education. A list of your degrees and certifications. Placement of the resume education section may differ if you're a new grad.

Skills/Interests. A list of job-related skills and interests that could spark a conversation with your interviewer.

Additional Info. A list of references, volunteer work, organizations, awards, etc.
If your current resume format looks nothing like that, don't worry! You can quickly create a new resume that gets past applicant tracking systems and impresses recruiters and hiring managers. How? By using one of these free resume templates.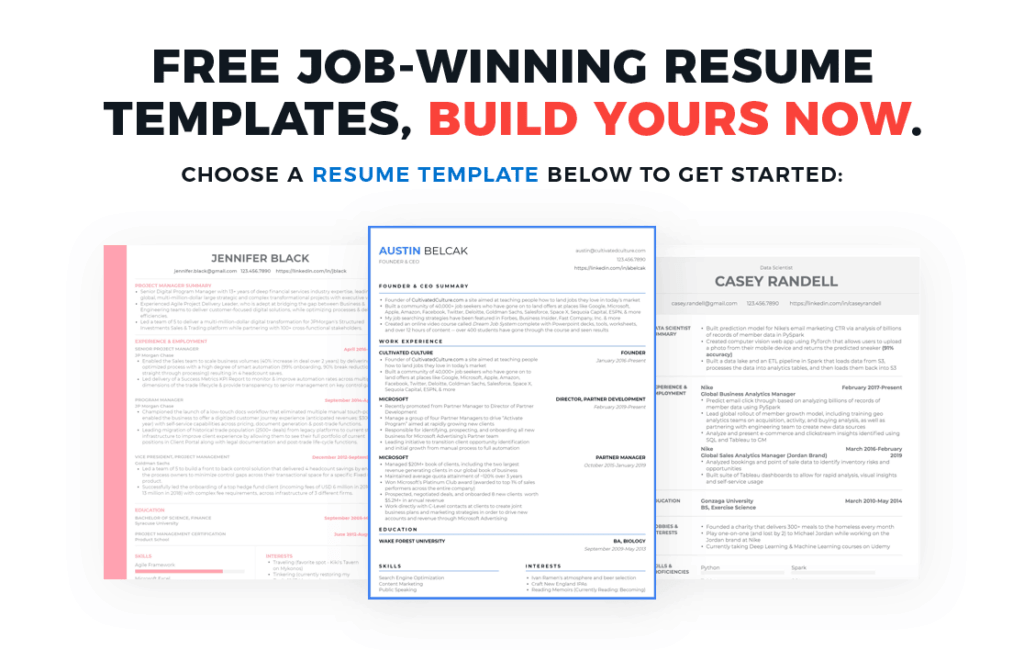 #2: Optimize Keywords On Your Resume
There are many ways to talk about your professional experience on your resume. But to beat applicant tracking systems, you need to use the same words the employer's using in the job description.
For example, a job description might say the employer's looking for someone with experience using data analytics tools like Python and Tableau.
And you're qualified. But your current resume doesn't say "experience using data analytics tools like Python and Tableau". Instead, you just have a bullet point that says something like "experienced analyzing data using a variety of tools to do x".
Now, even if you're an expert with Python and Tableau, the applicant tracking system doesn't know that. And it might filter out and reject your application!
The solution? Make sure to include specific and relevant skills and keywords in your resume and run an applicant tracking system resume test with our free tool, ResyMatch, before you submit your application.
#3: Scan Your Resume Using ResyMatch
ResyMatch is a resume scanner that's super easy to use. It's also 100% free!
All you need to do is copy and paste in your resume and the job description. ResyMatch then scans your resume to see if it's compatible with the job description.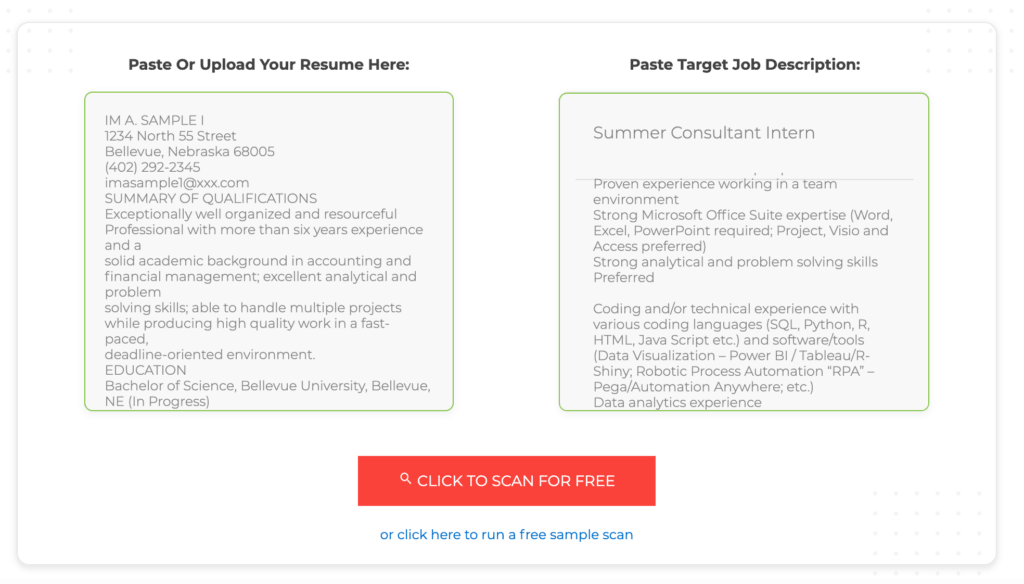 Once it's done, it will show you everything you need to improve or add to your resume to make sure it gets past the applicant tracking system!
Final Thoughts
Finding a job is already tough. And, at first, knowing you have to get past an applicant tracking system before your resume can even be seen by a human can be discouraging. But it doesn't have to be!
Use the tips and free tools I've shared here to write a job-winning resume that beats the applicant tracking systems and lands you more job interviews!
If you're looking to optimize your LinkedIn profile, check out my comprehensive 8,000 word guide with 15 proven tips to get you the results you want!