Every section of your resume is important to get right. And the resume education section is no different – which may be why you have a few questions, like:
What's worth mentioning about your education?
What's the best resume education format?
Where's the best place to list the resume education section?
What to do if your education is still in progress or incomplete?
These are all good questions. And I want to give you the answers! That's why, in this article, I'm going to share best practices and tips that you can quickly implement to make sure you're writing your resume education section in the best way possible.
Let's jump right into the most common question!
Where To Place The Education Section On Your Resume
If you've ever looked at resume templates, you've probably seen the education section in various locations.
Sometimes, it's right at the top under the resume objective. And, other times, it's towards the bottom after work experience. So, what's best? Well, it depends.
Place your education section toward the top of your resume if…
You're a recent graduate without much relevant work experience
You've recently completed a new degree that's relevant to the job — especially if you're making a career change
Place your education section toward the bottom of your resume if…
You have several years of work experience that is relevant to the job
What To Include On The Resume Education Section
The education section of your resume is the most straightforward. For most people, all you'll need to include is:
The name of your school (e.g. University of Michigan)
The name of the degree (e.g. B.A. in Biology)
Years attended (e.g. 2016-2020)
You may also include the following optional details:
Your GPA
Location of the school
Relevant honors, coursework, extracurricular activities, publications, or other achievements
Pretty simple, right? Definitely!
But if it would help to see a few examples, hang tight. We're going to look at those right after we talk about some tips on how to optimize the education section.
6 Tips On How To Optimize The Education Section
Like most parts of your resume, recruiters and hiring managers will likely do a quick scan of the resume education section.
Follow these tips to make sure they find what they're looking for right away and verify that you're a good fit for the role:
#1: Start with your most recent degree
If you've completed multiple degrees, start with the last one you attained. After that, you can list any other degrees in reverse-chronological order.
#2: Don't add your high school if you've finished at least one year of college
Once you have at least a year of college under your belt, a high school degree is no longer needed on your resume. You can save that precious space to go into more detail on your work experience or any relevant experience you've obtained while in college.
#3: Only include your GPA if it's a 3.5 or above
Listing your GPA is optional and generally only relevant if you're a recent grad or student. But, in some cases, it can help if it's a 3.5 or above. For example, if you're applying for a job as a software developer and you achieved an impressive GPA while getting a degree in computer science, that's worth mentioning.
#4: Show off relevant coursework and achievements if you don't have much work experience yet
If you're a student or a recent grad without much work experience, don't fret. For some entry-level positions, relevant coursework or achievements can make up for that. Scan the job description for key skills and list the courses and achievements (e.g. leadership roles) that demonstrate your proficiency in those skills.
#5: List completed coursework or credits if you didn't complete the degree
For whatever reason, you may not have finished your degree. But that doesn't mean your time and money were wasted! You can still show off what relevant skills and knowledge you did learn by listing relevant coursework or the number of credits you completed toward the degree.
#6: Be honest
While it may be tempting, there's really no point in lying on any section of your resume. And the education section is perhaps the easiest for employers to cross-check with a simple request for a transcript. So, don't risk the embarrassment. Tell the truth.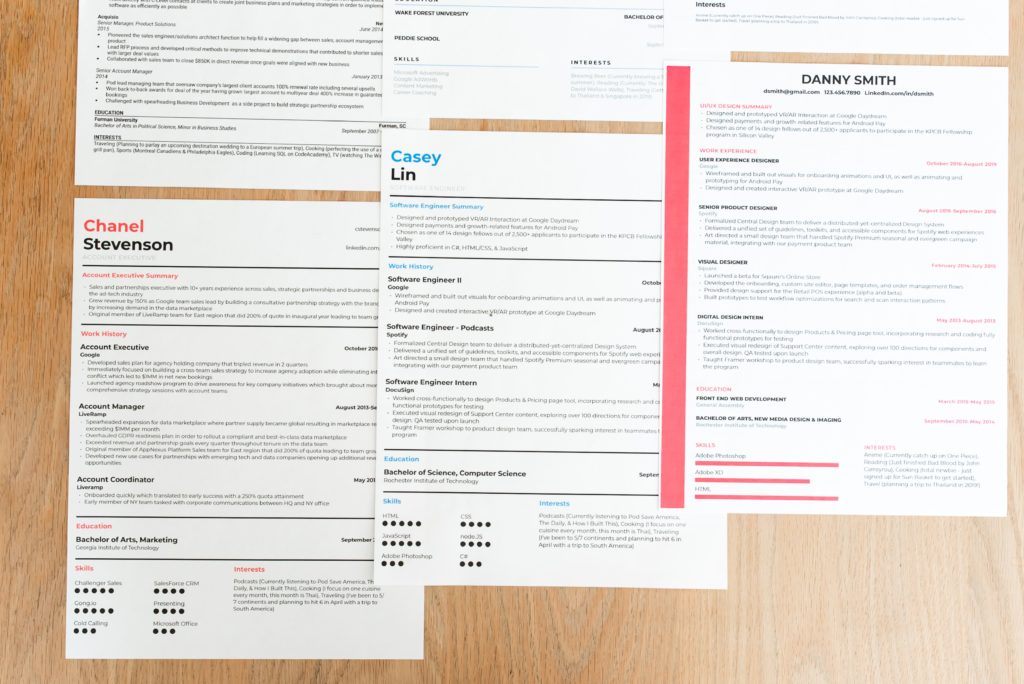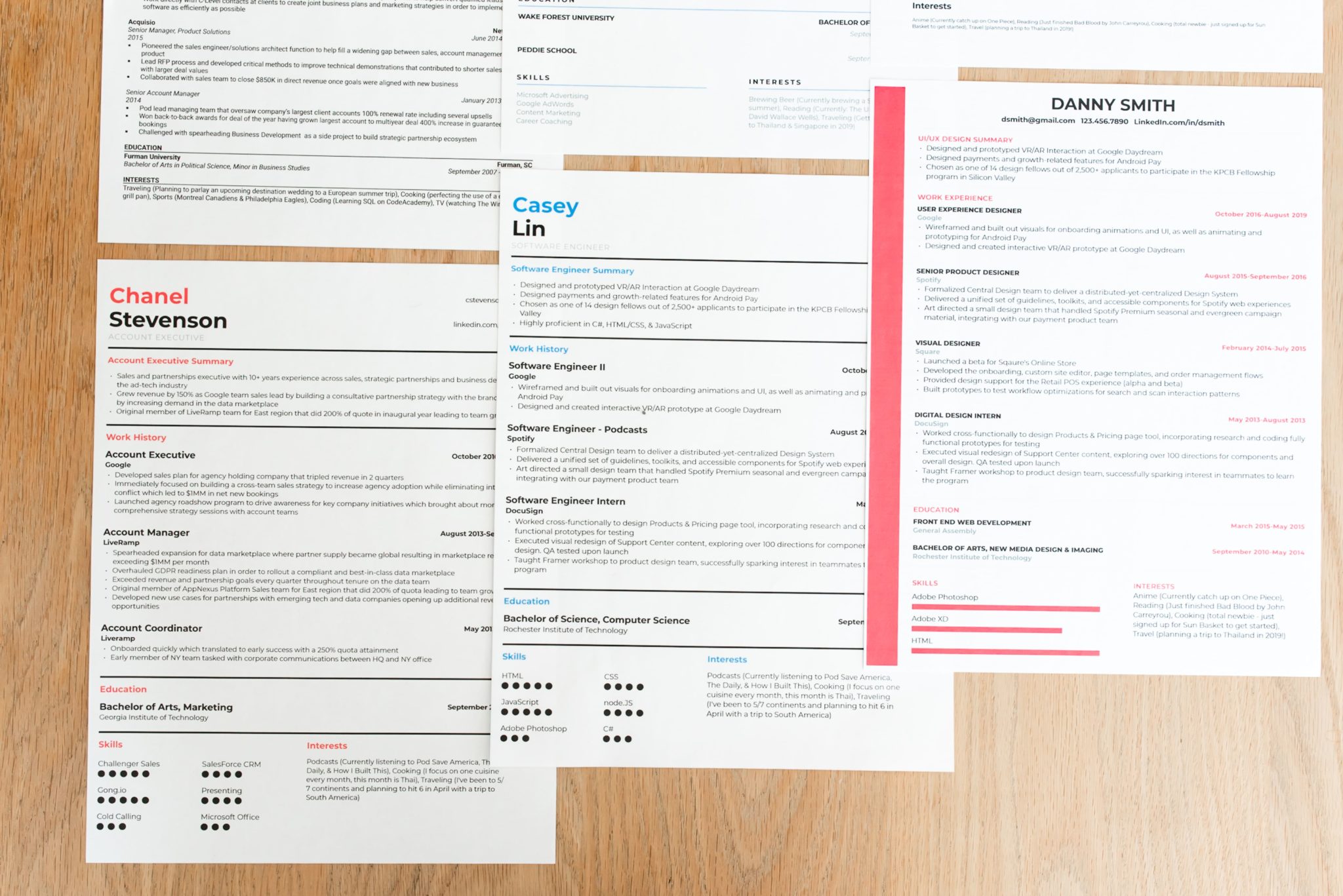 Resume Education Section Examples
Now, let's look at some resume education section examples that put to action the tips and information I've shared so far!
To help you quickly find the resume education section sample most relevant to you, I've separated it by common resume types.
Professionals with College Degrees
Example #1:

Bachelor of Arts, Economics

The University of Chicago

2015-2019

GPA: 3.63

Honors: Dean's List, Campus Life and Leadership Award

Extracurricular Activities: Captain of Women's Volleyball Team, Student Body President
Example #2:

B.A. in Data Science

American University

2014-2020

Relevant Coursework: Economics for Business, Statistical Machine Learning, Database Management Systems
Example #3:

AAS in Mechanical Engineering

New York City College of Technology

2010-2012

GPA: 3.9
Professionals with an MBA
Example #1:

Master of Business Administration

Haas School of Business, University of California Berkeley

2008-2010
Example #2:

Bachelor of Arts, Communication Studies

Northeastern University, Boston, MA

2000-2006
Professionals with Postgraduate Degrees
Example #1: 

Ph.D. in Population Health Sciences

Harvard University

2012-2017

Dissertation: A Systematic Review of Geographical Differences in Lung Cancer Risk
Example #2:

Master of Public Health in Environmental Health and Epidemiology

Emory University

2008-2010
Example #3:

Bachelor of Science in Chemistry

Georgia Institute of Technology

2000-2004

Honors: Magna cum laude, Department honors
Students with Education In Progress
Example #1: 

Bachelor of Science in Public Policy

The University of Texas at Dallas

Expected Graduation: May 2022

Relevant Coursework: Managing Government Organizations, Politics and Business, Public Sector Economics, Managing Nonprofit Organizations
Professionals with Incomplete Education
Example #1: 

Michigan State University

Completed 50 credits toward BA in Accounting

Cass Technical High School

Graduated in 2016

GPA: 3.8/4.0
Final Thoughts
Writing an effective education section for your resume is easy. Just follow the best practices and tips I've shared here and you should be good to go. Of course, that's only true if the rest of your resume is also up to par!
So, if you have any doubts or haven't been seeing results from your current resume (i.e. job interviews), check out my guide on how to write a resume.
You can also check out my 100% free resume builder, resume bullet analyzer, and resume scanner to make sure your resume really helps you land more job interviews!