The modern job search is fundamentally composed of two different types of interactions: human and digital. On the digital side, you have the various online platforms that you'll likely be interfacing with when scouting for available positions and choosing a resume design. And, on the human side, you can expect to have numerous interviews and other networking opportunities.
But, when it comes to your resume, you actually need to consider it from both a human AND a digital angle. That is to say, it needs to appeal to human readers (e.g. recruiters and hiring managers) while also being compatible with certain computer programs (i.e. Applicant Tracking Systems).
Given this, the question becomes how does a resume design excel on both a human and a digital level. The solution? ATS-friendly resume design templates! In this post, we'll be examining 7 free ATS-friendly templates you can use to ensure your resume is optimized for success.
Let's dive in!
7 ATS Friendly Resume Design Templates To Try
Ready to create your resume? Here are 7 ATS-friendly resume design templates that'll make the process a breeze! (All of the resume templates below are available for free on Cultivated Culture's Resume Builder.)
#1: Sleek Minimalist
Sometimes, less is more. This clean, black-and-white template presents your information clearly and logically, with a two-column layout for neat, organized 'scanability.' While some have gravitated toward colorful, eye-catching resume designs in recent years, this minimalist resume format takes a no-frills approach, making it perfect for those who favor a more reserved feel.
The layout places a strong emphasis on your work experience, allowing ample space for multiple job titles and bullet points. So, if you have a long work history, this is a strong option to consider.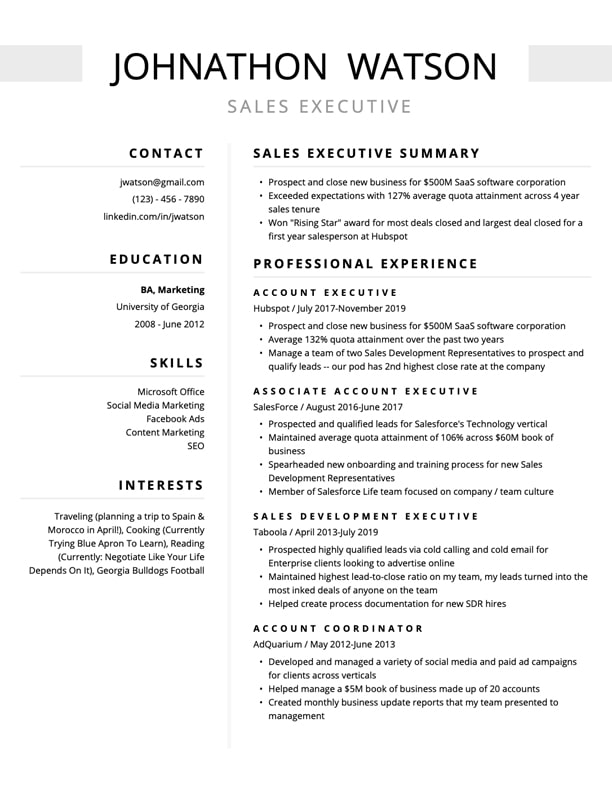 Edit and download this 'Sleek Minimalist' resume design template for FREE with the Cultivated Culture Resume Builder.
#2: Color Border
Adding a splash of color to your resume is a great way to inject a little energy while also helping to delineate various sections (making it more "digestible" at a glance). This resume template utilizes colored lines to accentuate each component, and includes a thin border to frame the document as a whole.
This crisp, modern resume design follows a traditional structure, with the summary, experience, and education stacked horizontally. However, skills and interests are split into a two-column layout at the bottom, allowing for more efficient use of the space.
Edit and download this 'Color Border' resume design template for FREE with the Cultivated Culture Resume Builder.
#3: Bold Bars
When you submit a resume, you'll be going up against hundreds of other applicants. And, for that reason, you might want to consider a bold resume design like this one to help you stand out from the crowd. This resume template is immediately noticeable with a thick color binding along the margin. Emphasis is then allocated to the section headers and skill bars to highlight key elements.
Skills bars (like the ones featured in this template) are a newer resume technique — great for not only communicating your skills but also looking sharp in the process! They're especially applicable for technical skills like coding languages and program proficiencies.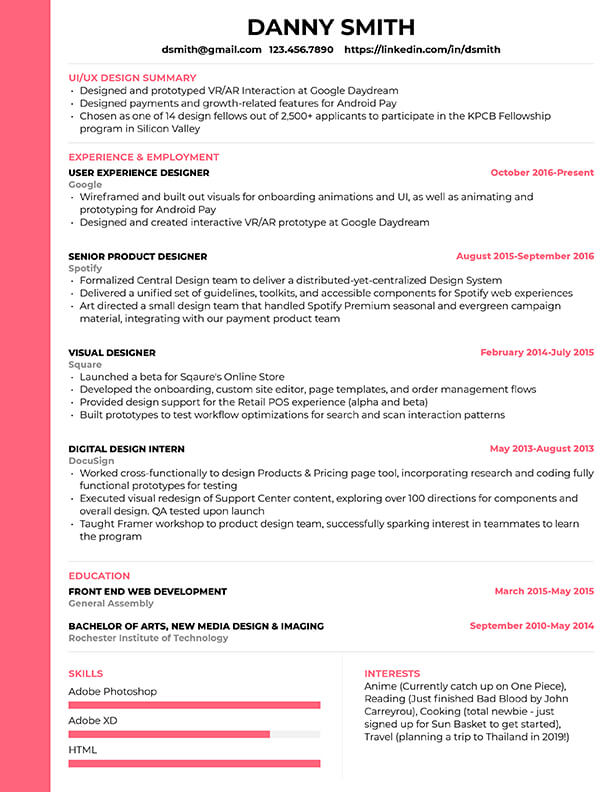 Edit and download this 'Bold Bars' resume design template for FREE with the Cultivated Culture Resume Builder.
#4: Skills Highlight
When we think about resumes, it's common to focus on the work experience section. And with good reason — that's, indeed, a crucial piece. That being said, another (often overlooked) section that can be highly beneficial is your skills list. As mentioned above, skill bars are a fantastic way to showcase your skills in an impactful, aesthetically compelling way.
This resume template highlights your skill bars with a wide margin and an exclusive color to draw attention — highly effective when applying for roles with numerous technical requirements.
Edit and download this 'Skills Highlight' resume design template for FREE with the Cultivated Culture Resume Builder.
#5: Large & Pronounced
This robust template makes a strong impression with large, bold headers and thick lines to separate each section. Color is also used to further highlight the headers, promoting clear organization and easy readability.
For a touch of personality, you can choose a less common color like green or purple to reflect your individual style (particularly suitable for creative roles). *Side note: to help guide your color choice, check out this interesting article on Color Psychology.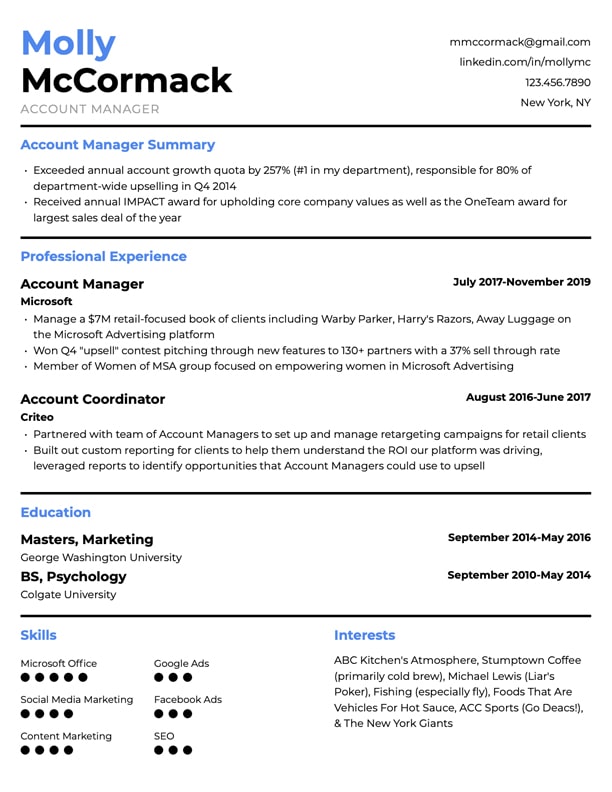 Edit and download this 'Large & Pronounced' resume design template for FREE with the Cultivated Culture Resume Builder.
#6: Traditional
If you believe there's value in doing certain things the old-fashioned way, this could be the resume design template for you. This traditional template sticks to the basics with an elegantly simple layout and black-and-white color scheme.
Using a traditional template like this one comes with the benefit of being very familiar to recruiters and HR professionals, making it a safe bet. And, on that same note, this template is also a solid option in formal or academic settings.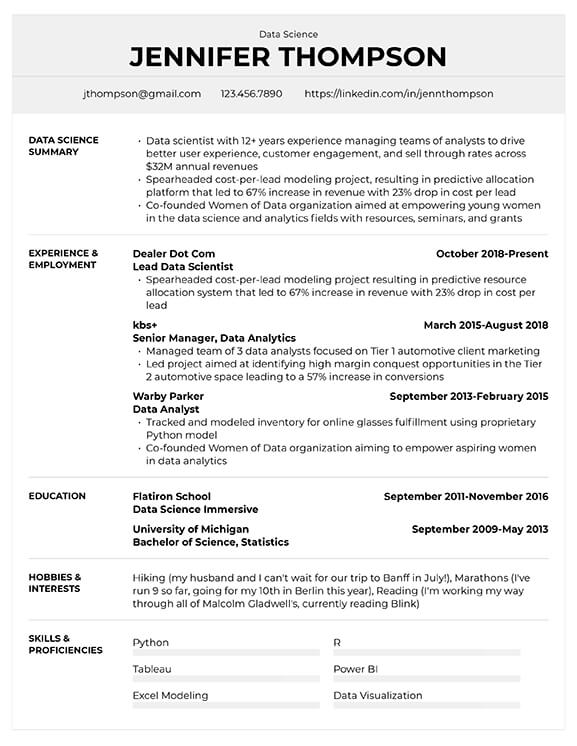 Edit and download this 'Traditional' resume design template for FREE with the Cultivated Culture Resume Builder.
#7: Slim & Efficient
Do you often feel like you're running out of space when you're typing up your resume? That's not surprising, given how much information we're trying to fit onto a single page. And that's why this 'Slim & Efficient' resume template comes in handy.
By utilizing a smaller font size and narrower line spacing, this resume design allows you to fit a considerable amount of text on the page while still maintaining a neat, clear structure — perfect if you have many role-specific details you wish to include.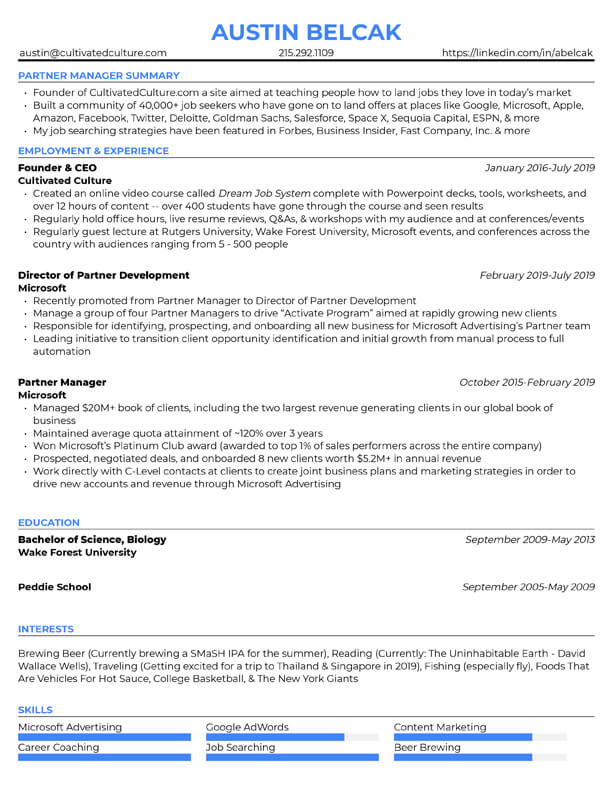 Edit and download this 'Slim & Efficient' resume design template for FREE with the Cultivated Culture Resume Builder.
Don't Miss These Other Resume Building Resources!
While we're on the topic of resumes, there's so much more to be said on the subject! Here at Cultivated Culture, my goal is to empower job seekers with insights and strategies to land awesome jobs and amazing companies.
Naturally, resumes are an essential piece of that equation. So, if you're working on polishing up your resume, be sure to check out the following resources:
And, finally, to learn my unconventional strategy for landing your dream job, check out my ultimate guides on Value Validation Projects and How To Get A Job Anywhere Without Applying Online!