'Your network is your net worth.' 'It's not what you know, it's who you know.' Can you think of any others?
These old networking clichés are likely to trigger an eye roll at this point. But, although they're played out, on a fundamental level they still ring true: when it comes to your career, relationships are your most valuable asset.
This raises the question of how to build business relationships that can fuel your professional trajectory. Here's the thing…there's a lot of tired, outdated advice on this subject.
For example, you might be told to attend networking events, join a club/organization, reach out to your personal contacts, etc. And, while these activities might help, they're vague and limited in scope.
Networking advice needs to catch up with the times. So, in this article, I'll be outlining a series of modern, actionable relationship-building tactics you can use to effectively grow your network and even land your dream job!
But, before we discuss how to build relationships…
Why Is It Important To Build Relationships?
Generally speaking, the list of benefits that come from having strong relationships is a mile long. But this article is specifically geared toward professional advancement, so let's hone in on that…
In a nutshell, here's why relationship-building is so important from a career development perspective: rather than applying online, referrals are actually the most effective way to get hired. Consider this: 40% of new hires come through referrals despite accounting for only 7% of all candidates. These stats demonstrate how powerful referrals are as a job-landing tool.
That being said, there's a common misconception that, in order to get a referral, you need to have a pre-existing connection at the company. In other words, you need to have a personal/family friend or past colleague 'on the inside' to put in a good word for you. But that's far from the truth!
In reality, it's quite possible for job-seekers to obtain high-quality referrals without any prior connections. The key lies in meaningful relationship-building, which leads us to the core theme of this article…
How To Build Relationships When You're A Jobseeker
I'd like to start off this section by making a critical distinction between true relationship-building versus "networking." Understanding this difference is essential to forging truly impactful relationships.
Often, when people attempt to "network," they do so with the mindset of, 'I need X, who can help me (and how)? They attend networking events, hand out business cards, and do a whole lot of hand-shaking, but struggle to make progress. Why? Because they're only thinking about themselves, which impedes their ability to form authentic connections.
On the other hand, true relationship-building flips the script. Instead of asking, 'What can this person do for me?' the question becomes 'How can I help this person? What value can I add?''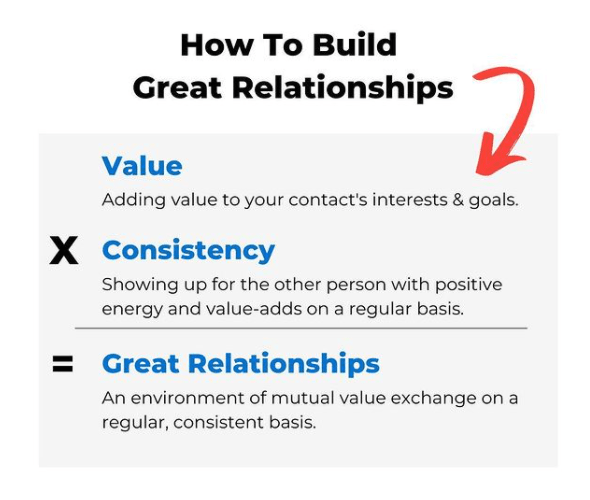 And this concept extends beyond networking/job-seeking. If you're wondering how to build relationships at work or how to build trust in relationships, always remember to ask yourself what value you can bring to the table.
And, with that guiding principle in mind, let's now discuss the specific, actionable tips you can implement to begin building professional relationships that will get you hired!
Use LinkedIn To Scout For Influential People
The first step to building valuable professional relationships is identifying individuals who can directly influence your career trajectory. If you're seeking a new job, you should be focusing on employees who work at companies you admire. Fortunately, LinkedIn has made this process far easier than it would've been in the past!
Let's say you're seeking a marketing position and you really admire Microsoft as a company. Ideally, you'll want to focus on Microsoft employees who are 1-2 job titles above your intended level. So, you could head over to LinkedIn and search for 'Microsoft Sr. Marketing Manager' for a list of prime relationship targets.

Initiate A Relationship With These Tactics:
Engage with them on social media. If they have Twitter or actively publish content on LinkedIn, you can get on their radar simply by leaving comments on their posts. The key here is truly thoughtful feedback — avoid generic comments like, 'great advice!' You can also share their content if you come across something that really resonates with you.
Utilize the 'Poster Boy' Formula. This tactic is particularly powerful because it capitalizes on people's inherent desire to feel valued/appreciated — but it takes time and effort. To execute the Poster Boy Formula, you'll need to find a piece of advice (a tip, hack, strategy, etc.) your contact has shared publicly. Then, go out and apply that advice in a real-world scenario. If you're able to achieve positive results — preferably with quantifiable metrics — reach out to the contact to thank them and highlight your success story!
Leverage the 'Advice Triangle.' The Advice Triangle is similar to the Poster Boy Formula above. The difference is, instead of finding public-facing advice your contact has already shared, you'll be proactively asking them for help. If they give you some advice, go out and apply it, then report back with the results. And, when you're finished, you can repeat the process again to build an even stronger rapport!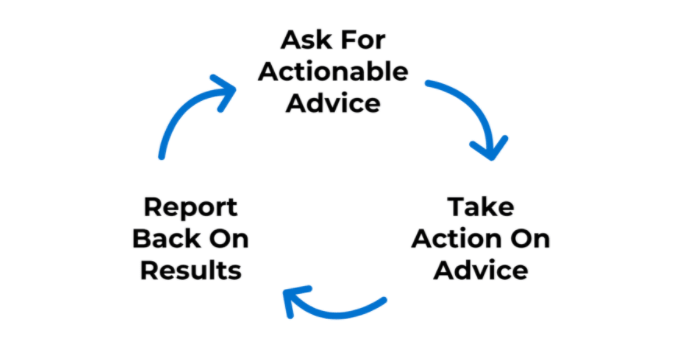 Request An Informational Interview. Last but certainly not least, we have informational interviews. As a job-seeker, landing an informational interview is one of the highest goals you can aim for — it can be the catalyst that ultimately leads to you scoring a referral! This tactic is deep enough to necessitate its own article. So, for a complete guide to informational interviews, be sure to check out my post: The 10 Best Questions To Ask In An Informational Interview.
Key Takeaways
We've now gone over the importance of professional relationships, the fundamental rule of 'real' networking, and how to build relationships with 4 tactics to cultivate meaningful interaction. To review, here's a brief recap:
Building relationships is crucial for job-seekers because referrals are the most effective way to get hired.
Avoid self-centered networking, instead striving to add value (value + consistency = great relationships).
Use LinkedIn to scout for influential individuals who can impact your career trajectory and give you a referral.
To initiate and strengthen relationships, you can use the Poster Boy Formula, the Advice Triangle, and informational interviews.
And, lastly, to learn my unconventional strategy for landing your dream job, check out my ultimate guides on Value Validation Projects and How To Get A Job Anywhere Without Applying Online!