Knowing how to create a portfolio lets you highlight your skills, expertise, achievements, and work experience. While portfolios are commonly associated with creative industries, more employers outside media or the arts are starting to ask for them to supplement the traditional CV and job interviews.
However, if you don't know how to create a portfolio, choosing what you'll feature in it poses a unique challenge, whether you already have an extensive body of work or are a recent graduate trying to find your first job. Do you select the work that best represents your style, or do you feature the work that you think your clients will like?
Your portfolio should give potential employers a good excuse to send you a post-interview follow-up email. Here are some tips that will help you compile one that highlights your achievements and increases your chances of landing a job.
How To Create A Portfolio That Will Highlight Your Achievements
Creating a portfolio isn't as hard as you may think. Below, I'll outline 9 tips to consider when creating your own.
#1: Choose The Right Skill To Highlight
While it's very tempting to create a portfolio that will showcase your unique creative style, you should also consider the skills that are highly in demand among employers. Your portfolio needs to match the job you're interested in.
For example, if you're looking for a graphic design job, you can create a portfolio of your best designs and layouts. If you're a video editor, your portfolios can consist of short and long videos that may also involve graphic elements and music. If you're a writer, your written portfolio should include both short articles and long-form content.
If you're applying for two kinds of jobs, such as a writing job and a graphic design job, you need to create two separate portfolios for each skill. Unless, that is, you're applying for a job that requires both.
Keeping your portfolios separate will ensure you only highlight the most relevant skills.
The skill you choose to highlight and your portfolio content will dictate the medium you'll use for your portfolio. If you're a graphic designer/artist or video editor, you may create a website and post your work there. If you're a writer, you may upload your content in a portfolio platform like Clippings.me.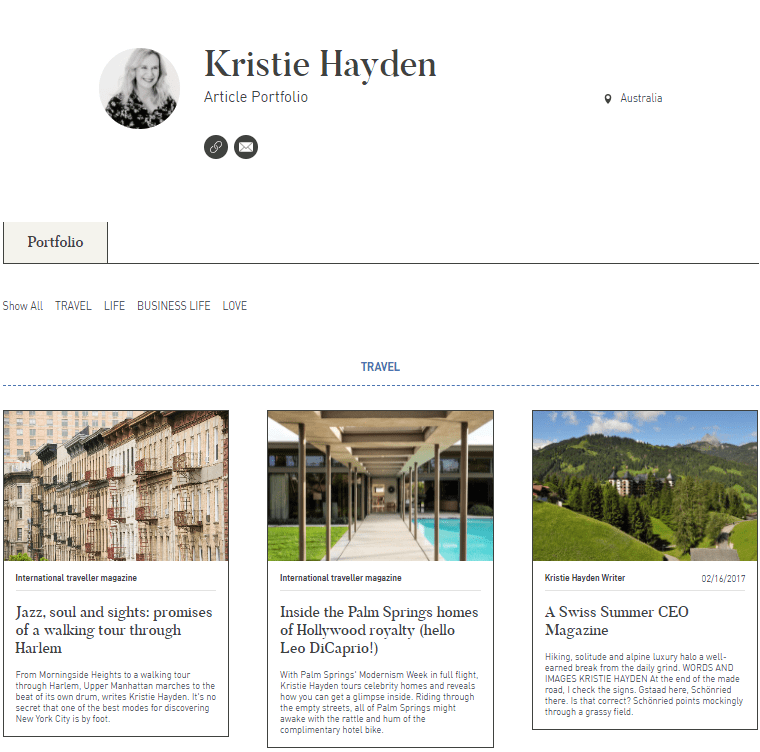 But what if you're looking for a job in a non-creative industry? Will you still need a portfolio? While not all recruiters require these for non-creatives, you'll still need to know how to create a portfolio specifically for that industry because it will give you something to refer to during interviews.
If you're looking for a project management job, you may include snippets from project plans you've created or awards for your work. On the other hand, if you're looking for a business development job, you can include graphs showing your return on sales performance over the years.
Finally, your portfolio may or may not include a list of relevant training, seminars, workshops, or professional development programs you've completed, especially those where you learned transferable skills. Including these achievements will show that you take your career development seriously.
#2: Select Only Your Best Work
Applying for a job involves putting your best foot forward – and this also applies to your portfolio. While it's tempting to believe that your work is consistently high-quality, recruiters might think otherwise. You need to know how to create a portfolio with a critical eye and select only a few that will leave a lasting impression. Think of it as curating your work and getting it ready for display.
One way of selecting the work you'll feature in your portfolio is considering the influence of the clients or websites that featured them. For instance, an article published in a well-known website like The Huffington Post is more likely to raise recruiters' eyebrows than another article published in your high school alumni blog. Hardly anyone knows the high school blog, but almost everyone recognizes the HuffPo.
Another approach you can take is selecting your most recent work. This method operates on the assumption that you keep improving your skills over time. Featuring your recent work will also ensure that your portfolio is up-to-date with the latest design or content trends.

Take a look at the websites above. Which one looks more up to date?
If your answer is the one on the right, you're correct. The one on the left dates back from 2011, and it looks and feels like it's ten years old. The one on the right, though, is from 2021. If I was a hiring manager, I'd take the one from 2021 in a heartbeat.
#3: Showcase The Range Of Your Work
Employers tend to hire versatile candidates. Therefore, you need to know how to create a portfolio that showcases the full range of your work. A portfolio made of the same thing repeatedly isn't likely to excite hiring managers, while a diverse portfolio tends to get second looks.
The sample works can come from different sources, such as projects you've created for clients, collaborations with other creatives, or personal projects that you've done for practice. You may even include projects you completed during your internship if you've gone through one.
Aside from completed works, you may also include works in progress. Adding drafts, studies, or unfinished works to your portfolio will explain your creative process better than any essay or interview could. It will also provide insight into the way you approach tasks. Looking back on your creative process is also a great way to combat imposter syndrome and reinforce your belief in your capabilities.
#4: Organize It Well To Ensure Easy Navigation
When someone looks at your portfolio, they rarely look at just one or two pieces. They tend to look at the entire body of work. However, an unorganized portfolio is difficult to navigate and understand, which leaves the viewer more confused than convinced.
To make your portfolio easier to navigate and digest, you can organize your samples into categories. You may categorize your portfolio according to the type of work you did, the niches your clients operate in, or the mediums you used to create them. For example, writer and digital strategist Miranda Taylor organizes her portfolio according to the industries she's written for.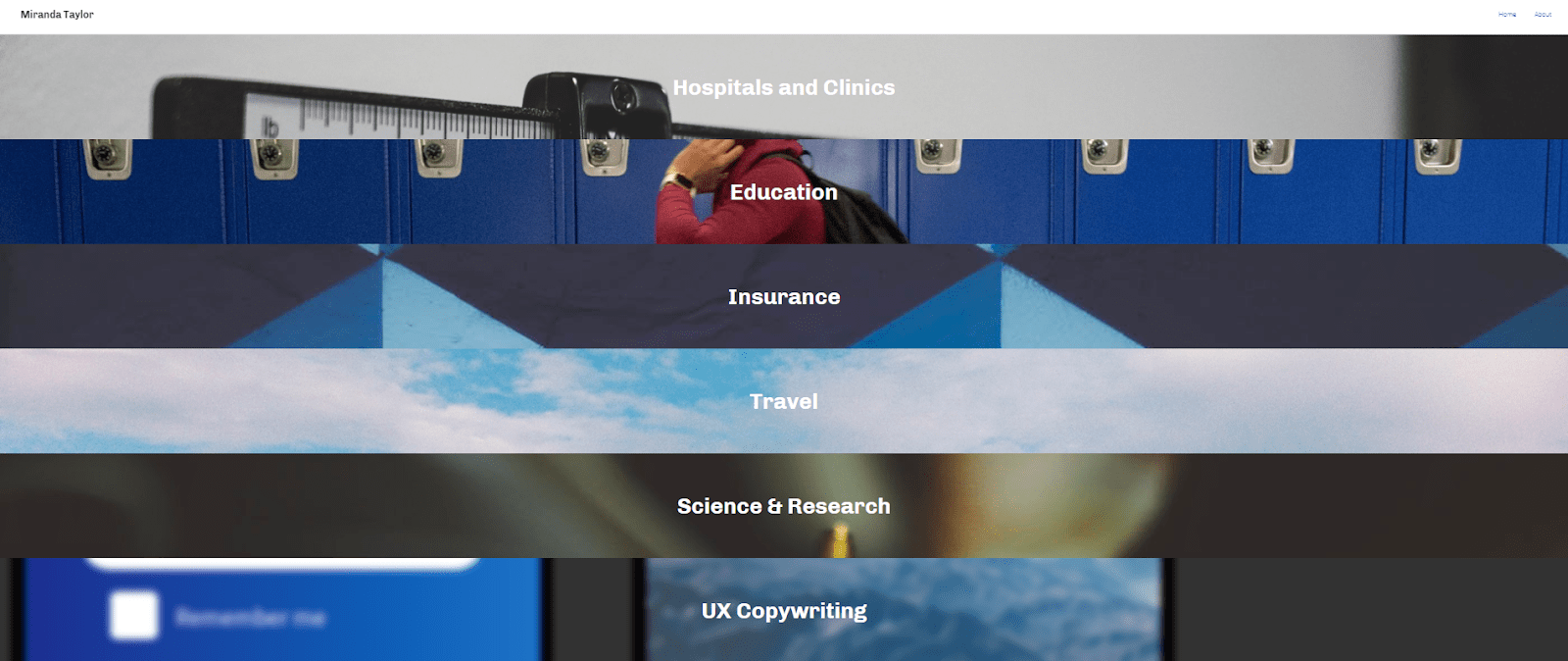 While your experience may not be as extensive as Miranda's, you can still organize your portfolio to communicate a message. You need to know how to create a portfolio that shows how your work has evolved to reflect changing trends over the years. You may also sort your portfolio according to the mediums you work with, such as photography, graphic design, typography, or video.
Organizing your portfolio will help potential employers realize the scope and breadth of the work you've already done and what you can do in the future. It will also help them make sense of your creative journey and understand why you do things the way you do. Always start and end your portfolio with strong material, so it leaves a lasting impression on your audience.
#5: Know Your Target Audience
I've already touched upon this topic earlier, but I cannot stress the importance of knowing your audience well enough. Having a good understanding of the clients or employers you're targeting will help you build portfolios that speak to each of them.
For example, you won't submit the same portfolio to a Big Four accounting firm and an ad agency. For one, the design language used by the likes of Ernst & Young is probably not the same as the one used by McCann. The fonts they use are different, the choices of images and color palettes are different, and their website designs are different as well.
Before you rush out and create a portfolio for each potential employer that you're applying to, you need to realize that doing so won't help you much. You need to know how to create a portfolio for each market you want to try out for, instead of creating a custom portfolio for each employer.
Consulting and tech firms, for instance, tend to use traditional sans serif fonts and focus on tech and collaboration. At the same time, creative agencies tend to welcome other approaches to design (which may also depend on their primary clients).
If you're at a loss as to what approach to use, you can look at the company's website you're applying for, search for their brand guidelines, and use some elements of those guidelines in your portfolio. It will show that you can adapt your style to fit the work you need to do.
#6: Don't Clutter It, Keep It Simple
Your portfolio should leave a positive impression on potential employers or clients. Giving them a cluttered portfolio is hardly the way to achieve that goal. Instead, just add a minimum number of links and give them a way to navigate your portfolio without leaving the page.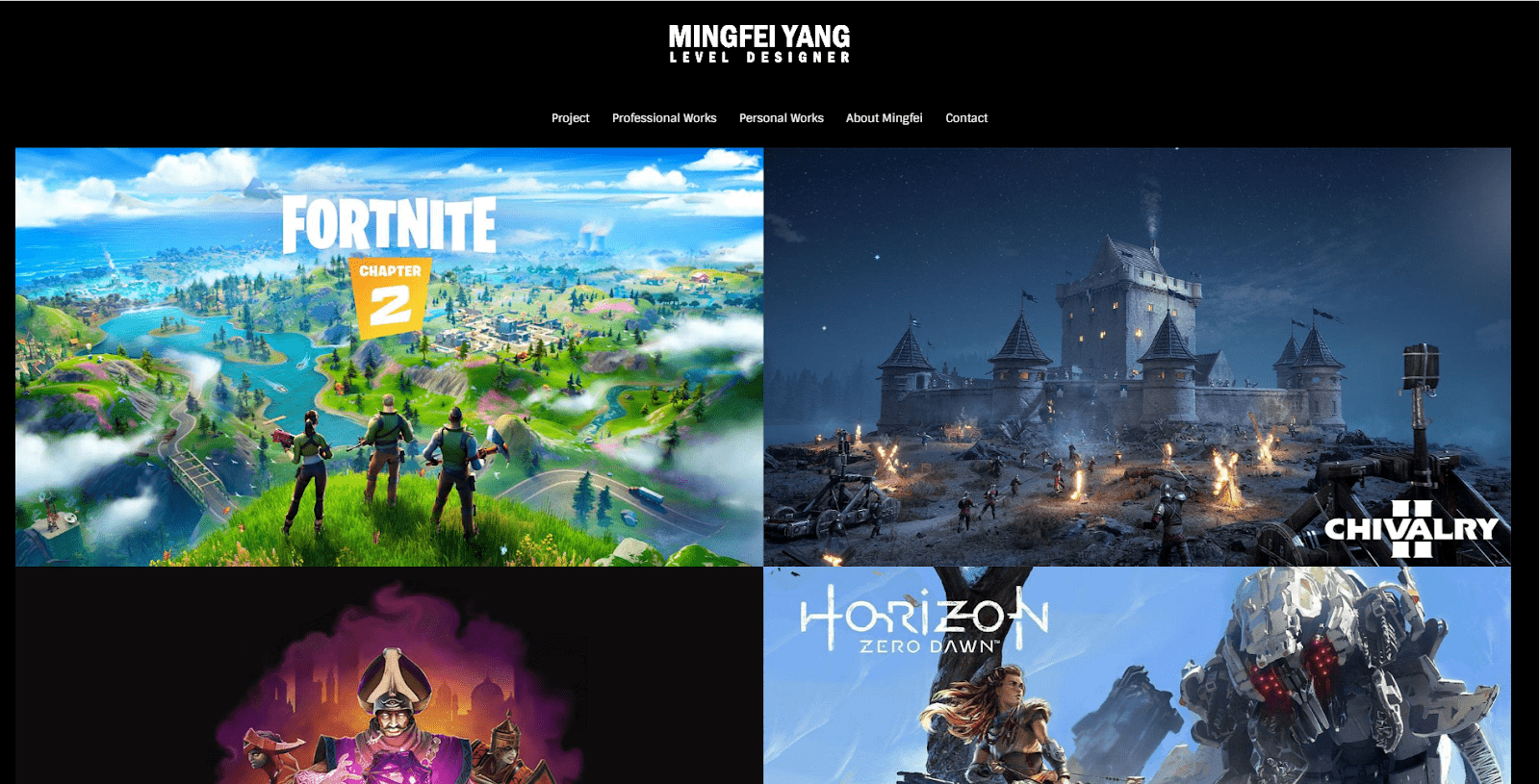 Game designer Mingfei Yang, for example, has an extensive body of work that cuts across different gaming platforms. However, as intricate as his game designs are, his portfolio website looks clean and simple. The stars of the show are the games he has helped design, and the portfolio itself, with its minimalist white-on-black layout, lets his games shine on their own.
Knowing how to create a portfolio that lets your work speak for itself is key. Adding extra elements to your portfolio will only dilute your message and make it difficult for the viewer to determine what you're trying to say. On the other hand, a simple portfolio will help your work shine through on its merit.
#7: Add Relevant Information About Yourself
Your portfolio should not just include your previous work. It should also include relevant information about yourself in case your potential clients want to know more about you. Creating an "About Me" section in your portfolio will allow you to recall your studies, experience, and projects you've previously worked on. It will also help your potential employers remember who you are. You can also present yourself through a short video, a unique and creative way to stand out from other candidates.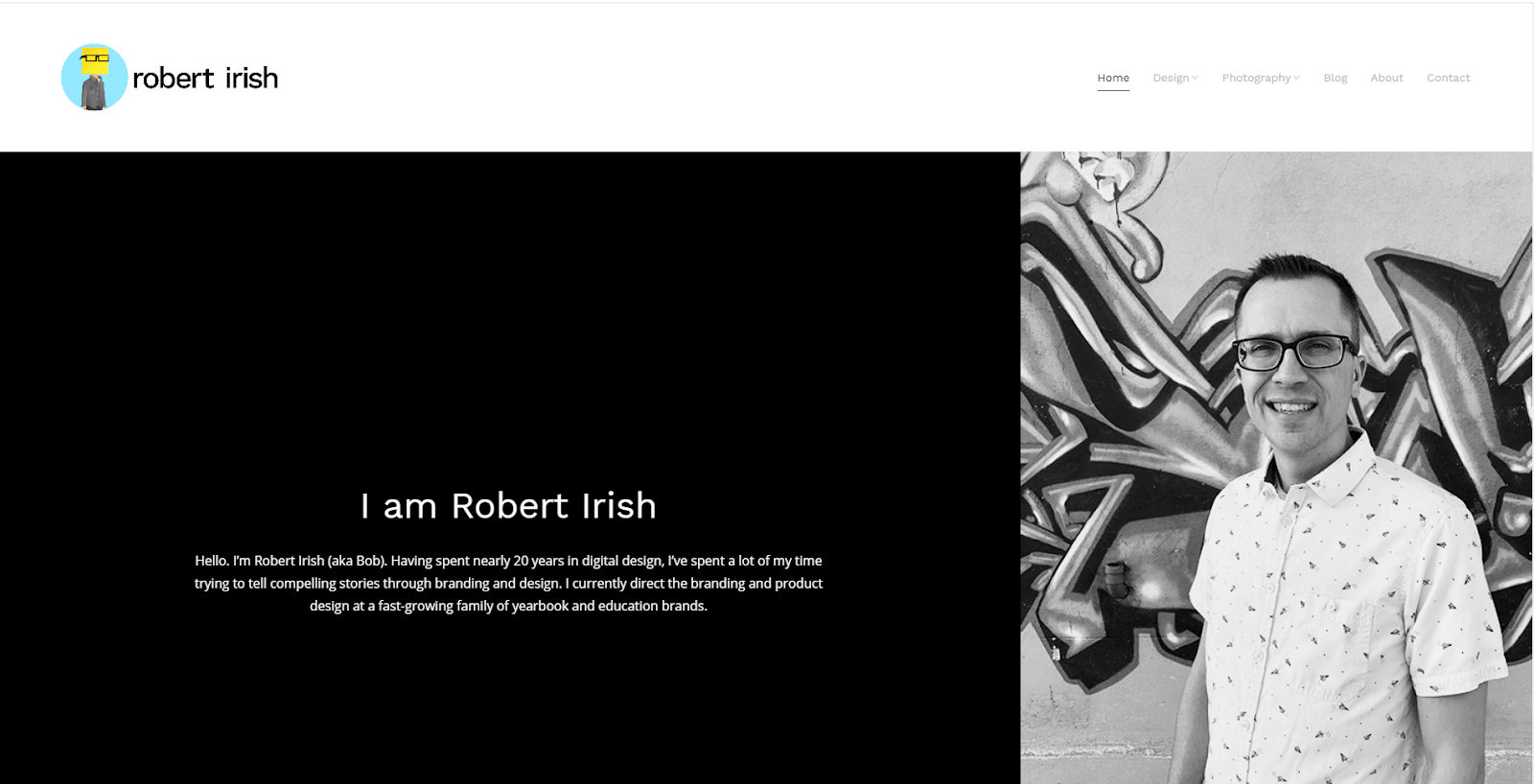 Robert Irish's portfolio website is a good example of a portfolio that also tells its viewers or site visitors about the designer's background, current projects, and past experience. The home page serves as a short but sweet introduction to the designer and their work.
#8: Include High-Quality Visuals
No portfolio is complete without visual elements. Your portfolio needs to look attractive if you want employers and clients to notice it. If your portfolio doesn't contain high-quality visuals, people might think that you can't even make your work look good and have second thoughts about your ability to make your clients look better.
Some visuals you can add to your portfolio include your headshot, web design elements that mirror the work contained in your portfolio, and even icons or backgrounds for each category. It may also include high-quality photographs, especially if your portfolio is text-heavy by itself.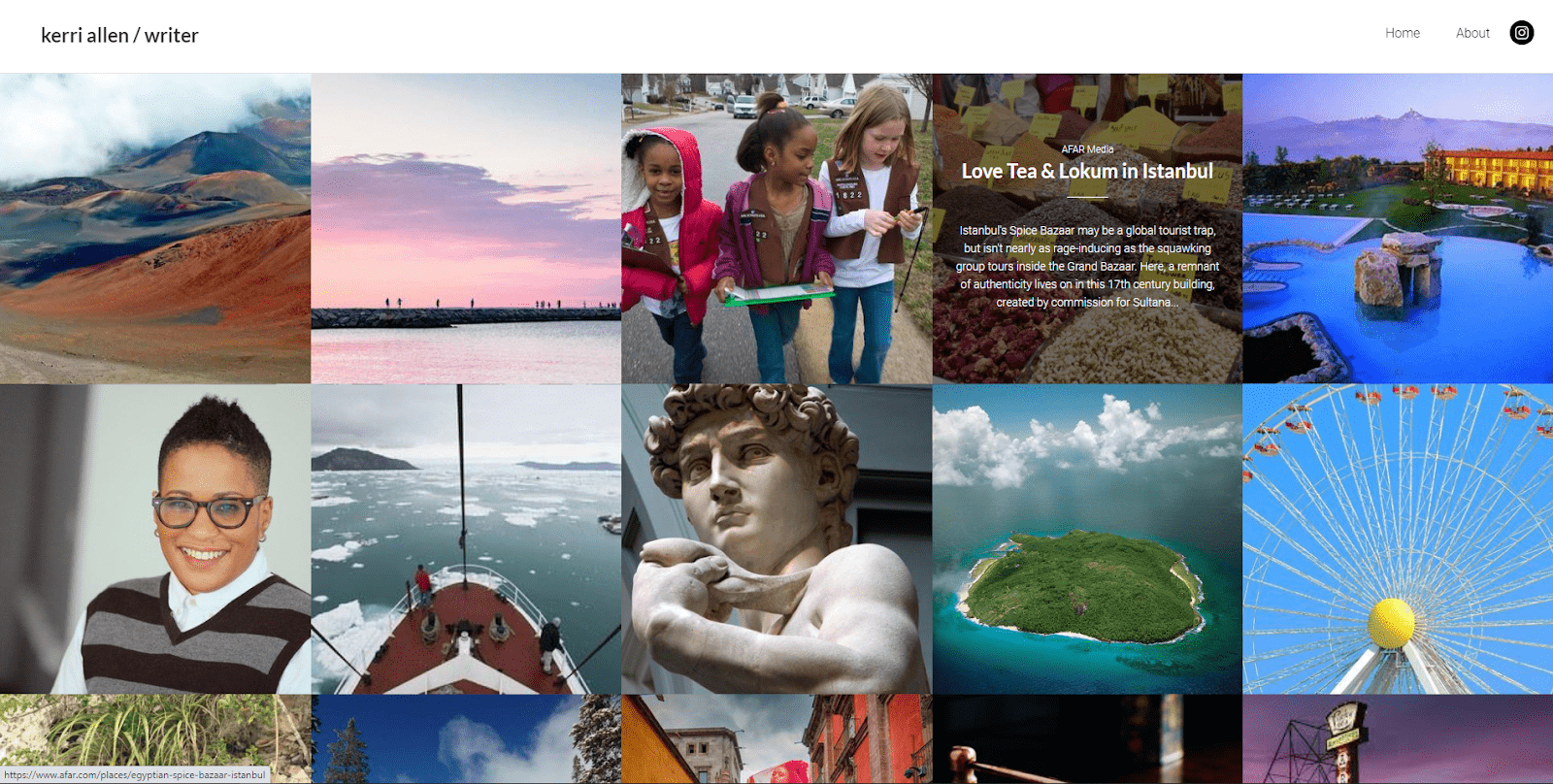 Kerri Allen is a journalist whose work has appeared in major publications. However, instead of presenting a list of published articles and leaving that list as it is, Kerri chose to use images that match the articles in her portfolio. The results, as you can see from above, were simply eye-catching. The portfolio also seemed to imply that you're not dealing with just any writer – you're about to get in touch with one of the best (and most well-traveled) writers around.
#9: Always Get A Second Opinion
Creative works tend to be extremely personal. Thus, it's tough to separate yourself from your portfolio and give it an objective assessment. Getting a second opinion from another person – a friend, a family member, or a colleague – will help you see your portfolio using a fresh set of eyes.
Aside from helping you assess what's already in your portfolio, a second opinion may result in you adding a project that you might have left out of the list. Another set of eyes will also help you identify visual and text elements in your portfolio that's already outdated. Finally, if your portfolio is stored online, getting another user to test it out will let you know if the user experience is good.
Bottomline
Whether you're a freelancer or someone trying to get a permanent job, a portfolio can serve as proof that you can get things done creatively. Having a portfolio that represents the entire extent of your career allows you to highlight your achievements. You can even share it online to promote yourself and your work and to reinforce your personal brand.
Your portfolio should be organized, easy to navigate, and focused. It should be designed with your target audience in mind, place your best work front and center, and reinforce your personal branding by sparking a discussion about your creative process and style.
Do you have anything that you think should belong in a portfolio? Leave your suggestions in the comments below. Cheers and good luck with your portfolio!