My dream job search strategy has two core components:
Find the people who matter
Add tons value / find ways to stand out
Most people get stuck on the "value" piece.
When we think of high profile influencers, many of them already have it made right? They have the job title, the salary, the connections, and the resources.
What could we possibly offer that they don't already have?
See, it's not about revolutionizing a company's business model or having an immediate answer to their largest problem. If you can do those things, that is obviously fantastic and will give you a HUGE advantage over the competition.
However, in most cases, you're going to have to get creative.
You'll need to think outside of the box using all of the information available to create something that completely blows your potential employer away.
You don't have to be better than the competition, you just have to find a way to stand out.
Given the vast spread of industries, job titles, and expectations out there, it's hard to create a formula for "WOW" so I did the next best thing.
I went out and compiled the best examples of people who used unconventional, insanely creative ideas to land their dream job.
Welcome to The Vault.
This post is a library of real world value validation projects that you can use for reference and inspiration.
It will constantly be updated with new and exciting projects as I find them. If you know of any, please send them my way – I would love to feature them here!
Check it out:
1. Kelley's friends said they hated SoundCloud's UI, so she redesigned it
I'll let Kelley lead off in her own words:
"What started out as a casual conversation with my friends turned into a serious exploration. This was partially because I love SoundCloud, and partially because I needed to challenge myself in order to move forward in my career.
I started using SoundCloud obsessively back in 2013, and have since started using other streaming applications as well. SoundCloud is amazing. Whenever I go through its community, I can look forward to discovering so much new talent.
So I set out to redesign SoundCloud's iOS app from the ground up, the way me and my friends would like it to be."
This is one of the most comprehensive articles I've seen. Kelley packs it full of information from laying the groundwork, to explaining her scientific approach, to performing market research, and finally, identifying gaps and crafting solutions.
If you asked me for a poster child for the perfect value validation project, this would probably be it.
You can read the full article that Kelley wrote here.
2. DKIRK lands a job at Vayner Media with a rap video
DKIRK was just a regular dude who wanted a job in design and marketing at Vayner Media. If you're reading this, you've probably heard of Gary Vee and know that he is one tough guy to get in touch with.
Instead of going the traditional route, DKIRK wrote, mixed down, and produced his own rap video about why he was a great fit for Vayner. Then he posted it to Reddit where it went viral. Next thing he knew, DKIRK was sitting in Gary Vee's office being offered a job:
In Gary Vee's own words, "This kid hacked it – [DKIRK's] strategy is a very worthwhile strategy for all of you. Please watch, please pay attention."
3. Cam wanted to work for AirBnB so she surveyed their customers
Cam, a member of the Cultivated Culture community, wanted a position at AirBnB. She had reached out to contacts and made connections, but nobody was opening up about their challenges. Cam could either give up or find a way to add value they couldn't ignore.
Instead of targeting AirBnb's employees, she focused on their users.
If there's one person who isn't afraid to tell you where a company is lacking, it's their customer, and every company has customers/users you can target.
Turns out AirBnB's audience is pretty fired up about two things – the lack of a keyword specific search and how amazingly difficult it is to get in touch with AirBnB's customer service.
Cam hit Facebook and Twitter hard, sourcing data from real customers: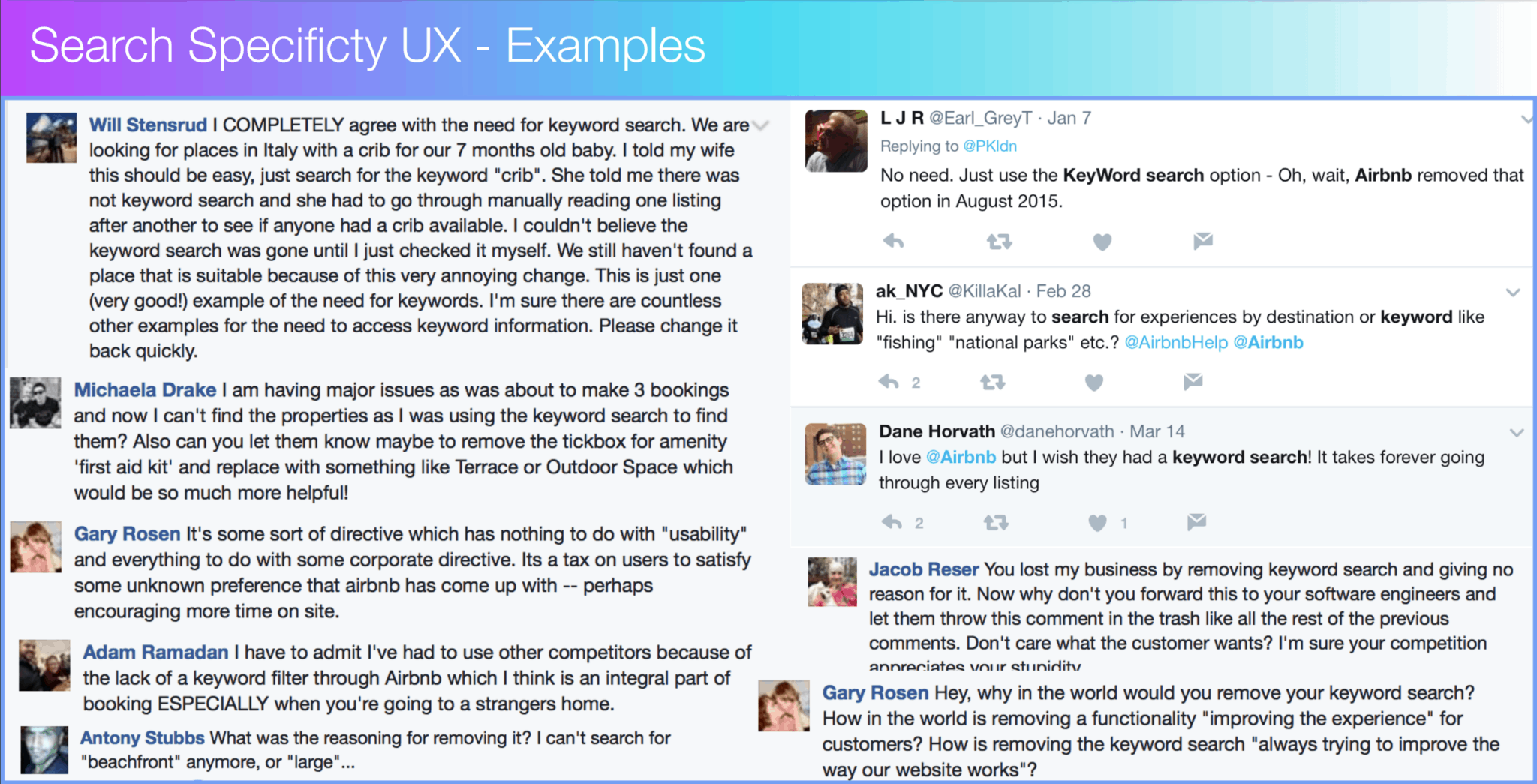 Next, she went ahead and drafted up two feasible solutions to both of these issues. She packaged the voice of the customers and the solutions into a quick nine slide deck and fired it off to her contacts at AirBnB.
Here's a link to the full deck if you're interested.
4. Alec got hired after buying Google ads with prospective hiring manager's names
Alec was tired of applying for jobs online and never hearing back. He had the skills, but his efforts to get noticed by hiring managers simply weren't paying off.
So he ditched traditional channels and totally changed the game.
Alex made a list of executives he wanted to connect with and bought ads on Google for their names. Whenever a top executive would search for their name on Google, Alec's resume would show up as the #1 result:
In an interview with The Early Show, Alec said, "I was doing a little bit of research on who I wanted to work for, and of course I was using Google, and I noticed when I Googled their names, that there were no sponsored links at the top, no ads there.
As someone who Googles myself sort of embarrassingly frequently, I realized if someone were to put someone at the top of my result, I would notice it."
His plan worked. Ian Reichenthal of Young and Rubicam saw Alec's ad, called him in for an interview, and hired him a few weeks later.
5. Nina wanted to work at AirBnB so she created an online platform to help identify a major opportunity for the company
Nina loved traveling and wanted that space to be a core part of her professional identity. Originally from the Middle East, she had recently moved to San Fransisco and began her job search.
The company at the top of her list? AirBnb.
She started the way most of us do – applying online and emailing recruiters. But, as many of us have experienced, those efforts didn't lead to much success.
Nina had tried contacting Airbnb for months and, while she was able to land several meetings with the company, she was never able to land an offer. Her family told her she should move on because she had already tried everything.
Nina didn't agree, "I actually thought, I haven't done everything I can. I've done the same thing multiple times, but I haven't tried new approaches."
That's when she decided to create an online resume that mimicked AirBnB's own platform. You can check it out here: Nina4AirBnb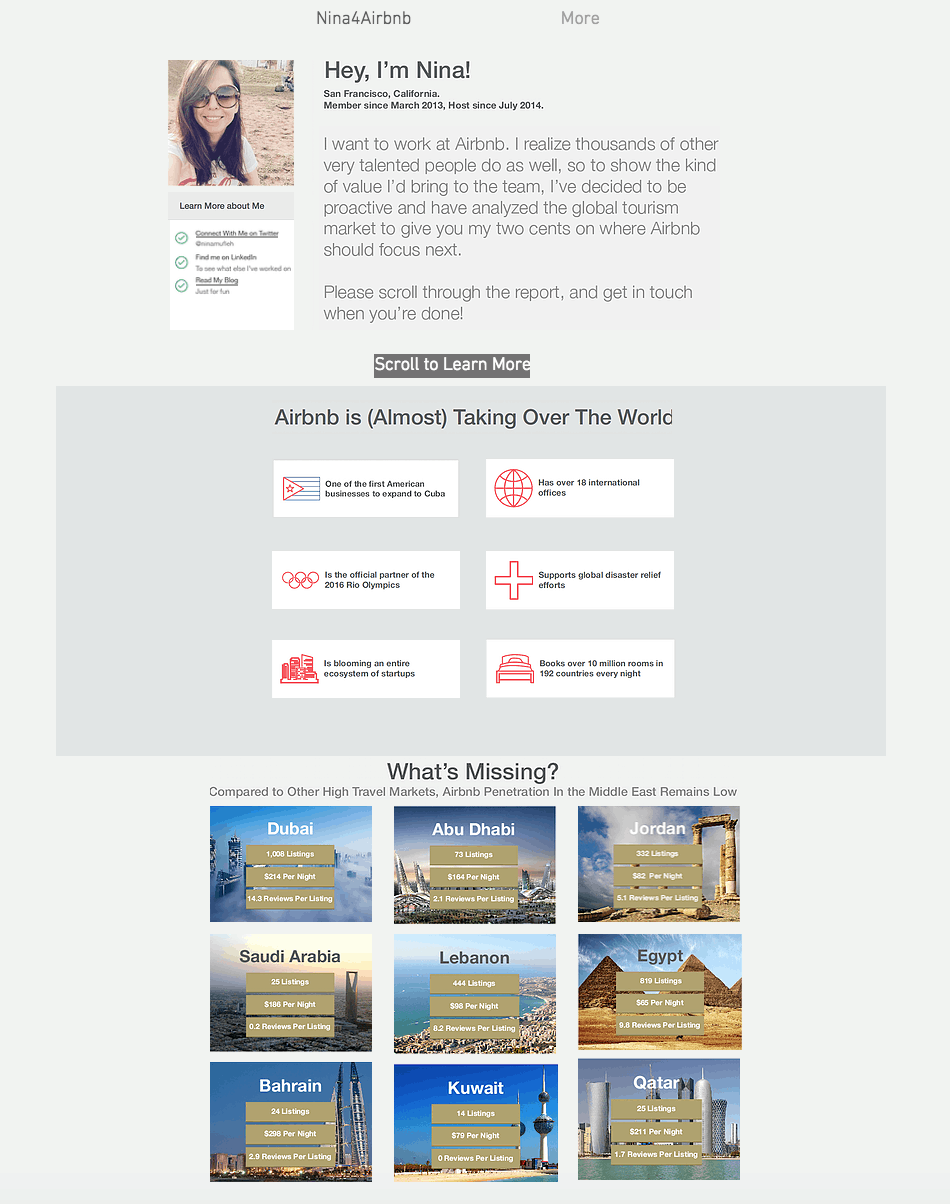 Notice how Nina didn't focus on her past experience. She'd already tried that for months and she knew that other candidates out there probably had similar backgrounds.
Instead, she leveraged her experience living and traveling in the Middle East to discuss why Airbnb should expand there.
AirBnB noticed.
Shortly after sharing her site on social media, she got the following responses from AirBnB's CEO and CMO:
@ninamufleh I am reviewing right now. Very impressive 🙂

— Brian Chesky (@bchesky) April 21, 2015
Wow this is the best social application I have ever seen. It helps – a little – that @QueenNoor endorses. #callnina https://t.co/kQWkS4CVxJ

— Jonathan Mildenhall (@Mildenhall) April 21, 2015
Ok. You floored me with this brilliance. We'll set something up for us to meet.
I love your smarts. Very much.
https://t.co/EaIwOHSywo

— Jonathan Mildenhall (@Mildenhall) April 21, 2015
Nina was called in for an interview and offered the job a few weeks later.
6. Ian used highly targeted Facebook ads to get himself in front of hiring managers
While Alec used Google, Ian tapped into Facebook's insanely detailed targeting capabilities to land his dream job. Ian outlines the process in this article on his blog:
"I knew enough from my last few job searches that the normal means of finding work wouldn't cut it, especially if one wants to work on the bleeding edge of new media.
Having handled several Facebook ad campaigns for the clients and companies I've worked for, I knew that it was a great way to get serious traffic at an entirely reasonable cost-per-click.
The targeting is…crucial. So who did I want my smiling face in front of? People of influence, upper management and executive types. Basically, those having the power to hire people easily and create positions for them if none exist yet. Here's a glimpse of how I broke it down:
People who lives within 25 miles of Austin, TX
Between the ages of 25 – 55
Whose interests include advertising, advertising manager, branding, ceo, community building, corporate recruiter, director marketing, director sales marketing, founder ceo, human resources, marketing coordinator, marketing director, marketing executive, vice president marketing…(many more)
Who graduated from college
After putting my targeting list together, Facebook came up with a suggested bid of around 60 cents per click, so I set it to exactly that. Turns out, I've paid an average of 43 cents a click, so the whole experience has been much more affordable than I anticipated. I've spent $85.65 since 2/08, but I would have spent triple this or more for the results I've encountered. Here are a few:
The first legitimate job lead I received was actually from someone at Bazaarvoice, but it was for an incredible position at the interactive branch of a well-known sporting goods company. He liked my creative approach, and this new contact graciously introduced me to the hiring manager for the position. I held a phone interview earlier this week, which went well, but I haven't yet heard back.
The second lead I received was from another employee of Bazaarvoice, who encouraged me by way of blog comment to apply to the open Social Media Manager position at her company. By that time, I had actually already applied and had been screened out! I let her know that I appreciated the lead and asked her to keep me in mind should anything similar open up.

The next day, I got a promising comment from a small business owner in the digital space. He wanted to discuss sending clients my way, I assume for consulting. I've since followed up, but haven't heard back. Of course, I've put another follow-up on my calendar.

My fourth inbound contact has turned into a consulting client already. He is the CEO of a local SEO company with a national presence, and he reached out because of the unique tack of my self promotion. I'll be helping his firm find additional clients using new media hubs like Facebook, Twitter and LinkedIn.
Another direct e-mail, and I practically do a double take when I see who it's from. Absent his permission, I'll just say it's from a well-known, local CEO in new media with a high-profile client base. He's traveling at the moment, but wants to get coffee when he gets back. We've got it scheduled, and I'm excited and honored to meet him.

As if to prove how effective company-by-company targeting is with Facebook, a recruiter from Bazaarvoice sends me a message to set up a time to talk about the position I had already applied for. She saw my ad, read a bit of my blog and thought she'd reach out. It looks like they've since found a fit for that position, but it felt good to be considered nonetheless.

I've signed an NDA already with the next person to reach out, but it's a very promising direction. Very cool potential gig."
A total of $85 for all of those leads? Not too bad at all.
Ian eventually scored an offer at a company he loves and attributes it to his Facebook ad campaign.
7. Robby's insanely cool interactive resume
People always wonder, how can I use my resume to really show employers that I have what it takes to be exceptional at this job?
Robby has the answer.
He was looking for a job in interactive design. If you're not familiar, qualifications include a deep knowledge of HTML, CSS, Javascript, Photoshop, Illustrator, and more.
You need to be able to design and build something from scratch and then make it come to life.
What better way to showcase your chops than to create a resume that does exactly that? Check it out: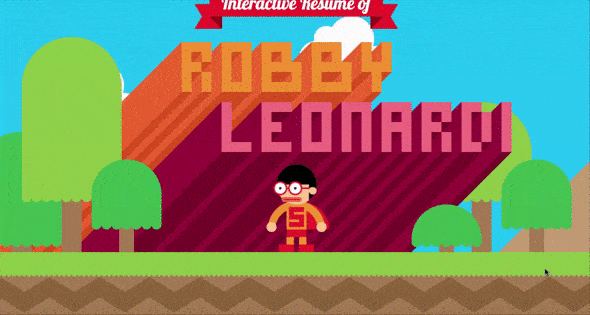 Robby eventually landed a job in Interactive Design at Fox News and he freelances on the side. You can check out his entire interactive resume by clicking here.
If you want to learn more about how Robby made it, check out this post.
8. Tristan wanted a job in sales at Foursquare so he went out and generated leads before he even applied
Tristan was going into his second year at Stanford business school, but he was already looking ahead to his future after graduation.
His dream was to work in sales at a startup and he had his eye on Foursquare. With nothing to lose, he sent the founders an email:
Hey Dennis and Naveen,

How's it going? Hope all is well!

My name is Tristan Walker and Im a first year student (going into my
second year) at Stanford Business School (originally from New York).
Im a huge fan of what you both have built and excited about what you
guys have planned for FourSquare. It is an awesome , awesome service.

I would love to chat with you guys at some point, if you're available,
about FourSquare. This year, I'm looking to help out and work
extremely hard for a startup with guys I can learn a ton from. Dennis,
with your experience at Google and the Dodgeball product, and Naveen,
with your experience at Sun and engineering in general, I know I could
learn a great deal from you both!

Before business school, I was an oil trader on Wall Street for about
two years and hated it! Moved out to the Bay/Stanford to pursue my
passion for entrepreneurship and the startup world. This past spring I
had the opportunity to work for Twitter as an intern and learned a
ton. Solidified my commitment to working at a startup that I'm
passionate about, and FourSquare is one of those startups that I
believe in.

I know you guys are probably getting inundated with internship-type
requests, but thought it'd be worth a shot! I can assure you Im humble
and Im hungry! Let me know if you'd be interested in chatting further.
I definitely look forward to hearing from you.

Stay awesome!
Tristan
@tristanwalker

———————————————–
tristan j. walker | mba class of 2010
stanford graduate school of business
Guess what? They didn't respond.
So Tristan emailed them again. And again. And again, and again, and again.
He ended up emailing them 8 times in total before Dennis Crowley finally replied:
"you know what, i just may take you up on some of this, are you ever in nyc?" – dennis
Tristan had zero plans to be in NYC but he booked a flight that night and walked into Foursquare's offices the next day.
But it wasn't the email that landed Tristan the job. It was the fact that Tristan went out and sold for Foursquare before he even applied for a job.
He started calling up companies, said he was a student, and asked if they would be interested in advertising on Foursquare. He had to explain what Foursquare was and pitch the benefits of advertising with them.  Amazingly, he got a few to say yes.
Tristan sent a ninth email to Foursquare's founders, " I've lined up a few advertisers for you."
He went on to become the Director of Business Development at Foursquare. Here's a link to Tristan's blog with the whole story.
9. David showed Evernote where they could improve and why he was the guy to help make it happen
David took a page right out of Tristan's book.
No, seriously – he saw what Tristan had done at Foursquare and reached out for more info. Then he took what he learned and applied it to a position he wanted at Evernote.
His #1 takeaway? Do work that you'd actually be doing if you worked for the company.
David continued, "After graduate school, I wanted to work in Product Management. I was super impressed by Evernote. I decided to show them what I could do. I focused on the new user on boarding experience. I interviewed 23 users about it, came up with a few ideas and wrote 10 slides about it. I emailed those to the CEO. He emailed me back in 30 mins and asked me to come in."
Here's a link to the entire slide deck David put together.
10. Steph hustled her way into a developer job at Khan Academy
I love this story because Steph includes the whole package – validation projects, networking via social media and email, growth hacking, etc. You can check out her full post here.
In October of 2011, Steph set her sights on landing a dev job at Khan Academy.
She started by combing through her network and landing a coffee meeting with Elizabeth Slavitt, Khan Academy's CMO. Steph noted that the meeting "didn't do anything but get my application looked at (which apparently got the notice/attention of the application reviewers anyways), I didn't have any connections to people at KA."
Back to the drawing board.
Steph attacked the process from a different angle this time, creating a pitch deck instead of a resume (here's a link to the full deck).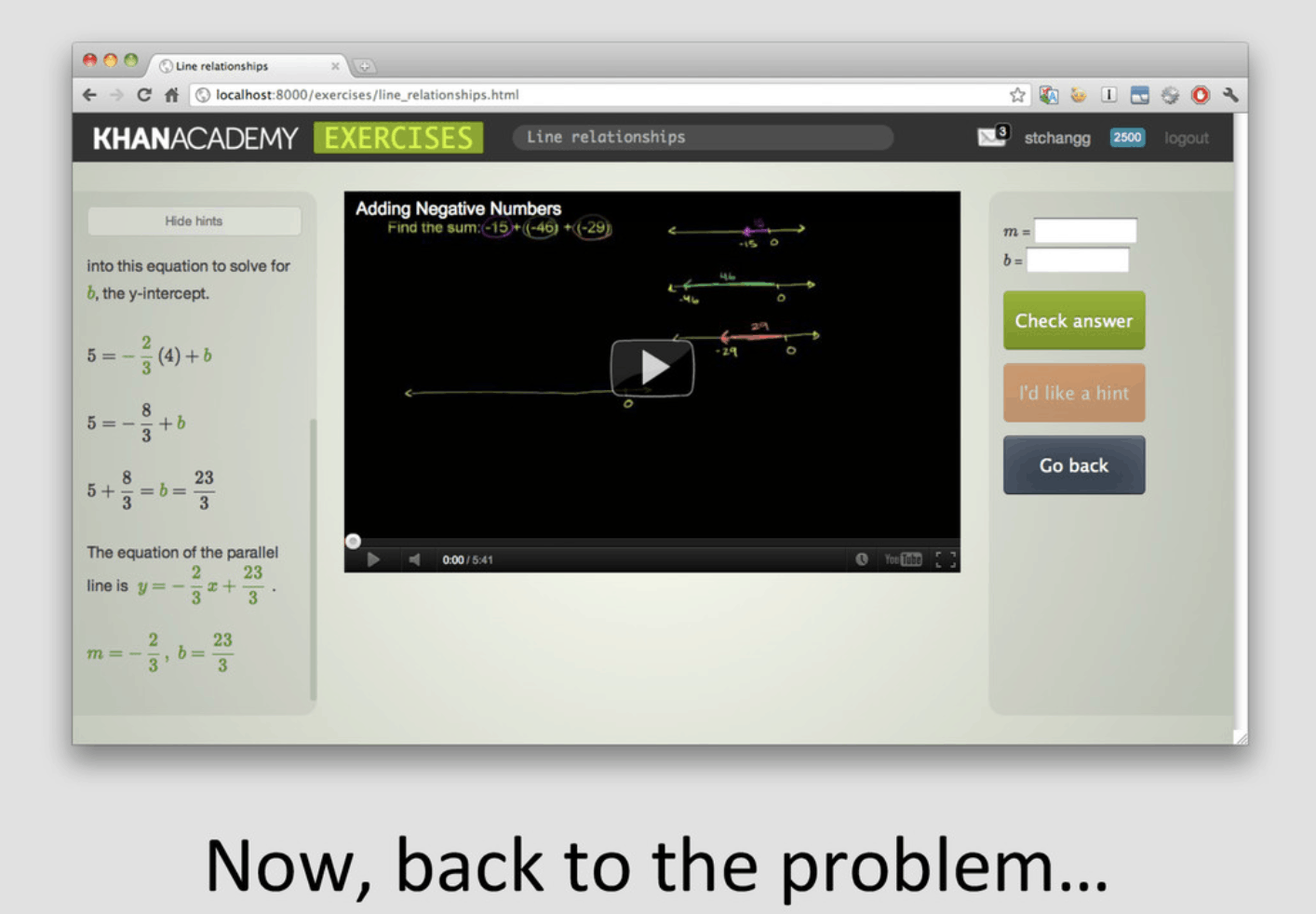 Steph's deck spoke to why she wanted to work at Khan, how she went about building experience, and highlighted a few problems with Khan's platform as well as how she proposed to fix them.
That, my friends, is how it's done.
Steph submitted the deck and shot a note to Elizabeth Slavitt with the update.
Four days later, her resume had been accepted and she was invited in for an interview.
To further solidify her position, Steph wrote a blog post to help people develop their first Khan Academy exercise. After posting, she submits it to Y Combinator's Hacker News and asks people to spread the word.
It makes it to the front page where Ben Kamens, Khan Academy's first ever dev and VP of engineering, sees and retweets it.
A few weeks later Steph walks out of her final interview with a job offer from Khan Academy.
11. Ina landed her dream job and a conversation with Sheryl Sandberg through cold email, blog posts, and expert level relationship building
When Ina was she was 14 she snuck into a presidential campaign and scored interviews with Mike Huckabee and Madeleine Albright.
When she was 16 she linked up with Sheryl Sandberg, Dick Costolo, and Ev Williams (the founder of Medium).
But that isn't even the most impressive part. What I want you guys to pay close attention to is how relentlessly focused she is on adding value and standing out:
She had tickets to a Sheryl Sandberg event but couldn't go. When she listed them for sale, she looked up every inquiry on LinkedIn and sold them to the head of Biz Dev at a company she was interested in. She later used that connection to get her friend a job
She wrote a blog post included people she wanted to get in touch with. Then she sent it to those people, including Dick Costolo (former CEO of Twitter) and Ev Williams (founder of Medium). She got replies from all of them
When she wanted to work for Wealthfront, she came up with 10 ideas to attract customers. Wealthfront had a stock simulator tool they used for lead gen. Ina sent that tool to 730 prospective Wealthfront customers, asked them for feedback, and then asked if they wanted to sign up (sound familiar?)
When Ina wants something – be it a dream job or a chat with Sheryl Sandberg – the first question she asks herself is, "how can I provide a massive amount of value to this person/company?" Then she comes up with a creative way to make it happen.
That is the key to building quality relationships with influential people.
Read Ina's full article on her journey here.
12. How $10 Landed Josh An Immediate Interview With Facebook's World-Class Growth Team
Josh wanted to work at Facebook.
In fact, he'd been working at a Facebook marketing software company for a year, written a two-hundred and fifty-page book about Facebook, helped create the first paid subscription Facebook group, and developed the first digital course on Facebook.
But when he submitted his application online, he didn't hear anything back.
Instead of giving up, he told himself that he had to get more creative about solving the problem.
He fired up his Facebook ads account and created a new campaign that targeted Facebook employees in Menlo Park. Here's a quick snap of that targeting: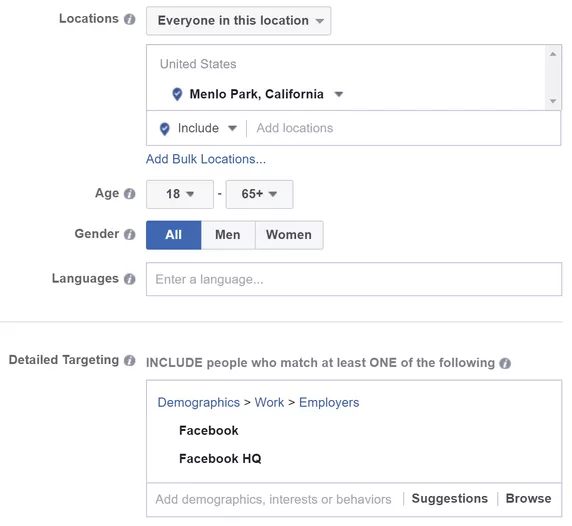 Next, Josh grabbed an old picture of him with some Facebook employees at their HQ, added some copy, and he was in business: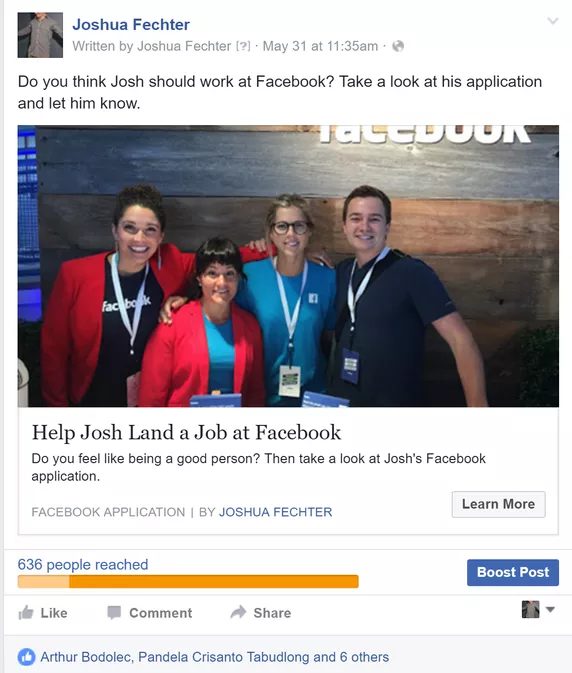 Finally, he built out a landing page that included a video where Josh talked about why he's a good fit for the company:
Less than an hour after posting, people at Facebook were taking notice. Josh's out of the box application got shared around the office and a recruiter reached out to set up an interview that same day.
Loading…
This post is going to be updated constantly as I come across more stories of people who landed their dream job through creative, unconventional strategies. If that's you or you know someone who landed a job doing something totally cool, send me an email and I'll add it here!