Here's a scary fact – your resume summary can make or break your chances of winning a job interview.
How?
Because your resume summary is the very first thing employers read to see if you're qualified for the role or not.
But there's some good news too…
Most job seekers do a terrible job of leveraging their resume summary. They use outdated methods which don't work in today's market.
That creates an opportunity for you!
While they're all stuck using old school tactics, you're here reading this article which is going to teach you a brand new approach to the resume summary that's crazy effective in today's job market.
Here's what we're going to cover:
Why Most Resume Summary Advice Doesn't Work Anymore
A New, Highly Effective Resume Summary Format Called The Highlight Reel
8+ Examples of Highlight Reel Resume Summaries For Different Jobs, Industries, and Levels of Experience
By the end of this post, you're going to know exactly how to blow the competition out of the water and start landing more job interviews.
Why Most Resume Summary Advice Doesn't Work Anymore
If you go looking for resume advice these days, you'll typically see people advocate for two types of introductions: Resume Summaries and Resume Objectives.
Each camp will tell you why their method is best, along with why the other method is outdated and doesn't work. But here's the real truth.
Both traditional resume summaries and traditional resume objectives don't work for today's job market.
Let's break down why neither work very well.
The Problem With Traditional Resume Summaries
A traditional resume summary is when the candidate writes a paragraph-style statement about their experience and skills. It will typically look something like this:
Traditional Resume Summary Example

Results-oriented account management professional with 4+ years of experience building relationships with clients in order to help them achieve their goals.
Problem #1: Paragraph-style anything on a resume is the fastest way to losing your reader.
Recruiters are scanning resumes super fast (the typical figure is a six second scan per resume!). They don't have time to read through an entire paragraph.
Problem #2: Traditional resume summaries typically include fluffy buzzwords and jargon, but no real results.
According to a recent study we performed on 125,000 resumes, over half of candidates didn't include a meaningful amount of measurable metrics / results on their resumes.
When no one's including the outcomes of their work, everyone's simply summarizing their actions. Anyone can perform actions, but hiring managers want to see results!
The Problem With Traditional Resume Objectives
The second popular option is the traditional resume objective. Historically, resume objectives are a statement about your goals for employment. It might look something like this:
Traditional Resume Objective Example

Seeking a position at [Company] where I can bring my 10+ years of SaaS sales experience to a growing, fast paced team in the healthcare technology space.
Unfortunately, this is even worse than the summary example I shared above. Why?
Problem #1: Traditional objective statements are only focused on you.
Here's some tough love. Companies don't really care about your background. They care about what you can do for them in terms of value, and your background is just one way for them to try and gauge that.
When you only focus your resume on yourself, you're going to lose out to candidates who show the company that they understand their needs / goals and have a plan to help.
Problem #2: Resume objectives don't illustrate any real value to the hiring team.
Because these objectives are statements about what you want, what type of job you're looking for, there's no real room to showcase real world results or value.
The truth is, the hiring team doesn't care nearly as much about the job you're interested in compared to the value you'll bring to the table for them.
At this point, it'd be natural if you're saying, "Well, if a resume summary and a resume objective don't work, what the heck am I supposed to do? Isn't this an article on resume summaries?"
That's exactly why I want to introduce you to a brand new way of thinking about your resume summary:
Introducing A New, Highly Effective Resume Summary
If we want to win in today's job market, we need to take a modern approach to our materials — including our resume.
What most job seekers don't understand is that their resume is a marketing document.
It's a piece of collateral aimed at selling somebody (the employer) on the value and services that you bring to the table!
If we want to write a job-winning resume, we need to do four things:
We need to give the reader the information they're looking for as quickly as possible
We need to make that information as compelling as it can possibly be
We need to make that information as easy as possible to consume
We want the reader to feel like the information was hand crafted just for them
Neither the traditional resume summary nor the traditional resume objective cover these bases, which is why I invented a brand new way to start your resume.
"Highlight Reels" Are The New Resume Summary
I discovered this new form of resume summary after sending in hundreds of applications with the traditional stuff and getting rejected from all of them.
When I tested this new "Highlight Reel" resume summary, everything changed. My interview rate skyrocketed and I was actually able to get in the door for jobs I was excited about!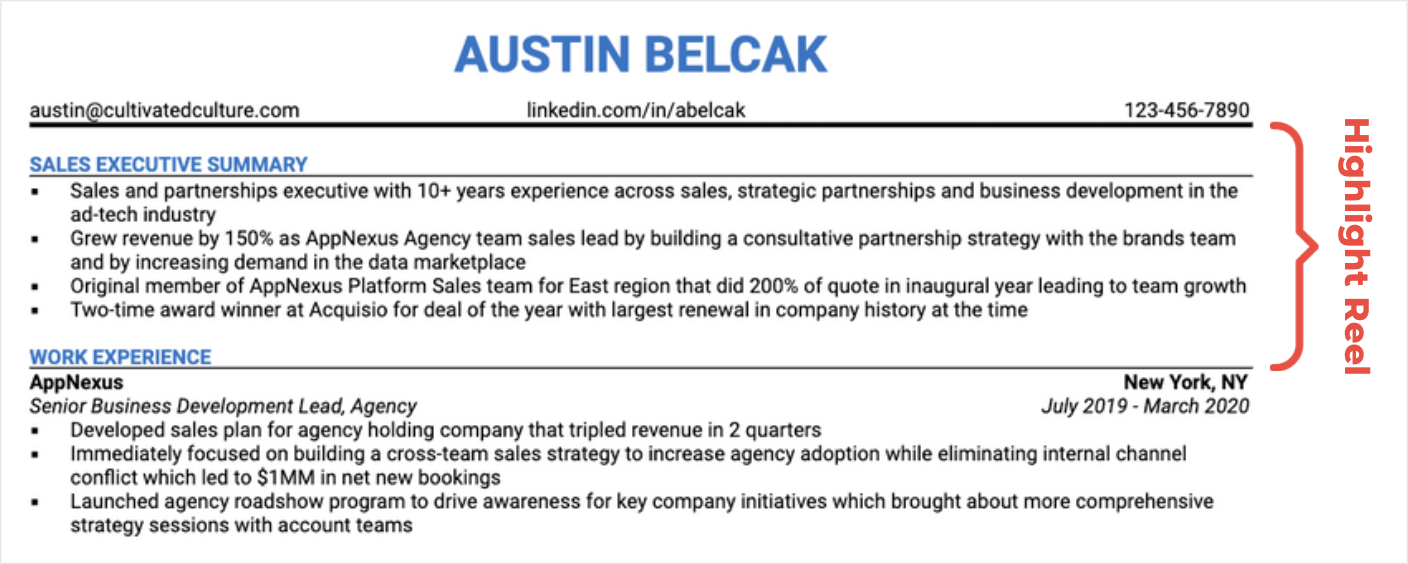 The Highlight Reel is exactly what it sounds like.
It's a section at the top of your resume that allows you to pick and choose the best and most relevant experience to feature right at the top of your resume.
It's essentially a highlight reel of your career as it relates to this specific role! I like to think about it as the SportsCenter Top 10 of your resume.
The Highlight Reel resume summary consists of 4 parts:
A relevant section title that ties your experience to the role
An introductory bullet that summarizes your experience and high level value
A few supporting "Case Study" bullets that illustrate specific results, projects, and relevant experience
A closing "Extracurricular" bullet to round out your candidacy
Let's break down each one.
Part #1: A Relevant Section Title
The first part of the Highlight Reel resume summary is the section title.
This is going to be the title of this section, similar to how you've titled your experience section something like "Work Experience" and your education section "Education."
But we're going to make things personal…

Instead of using some boring title, we're going to show the reader that we are the exact candidate they are looking for!
How?
By weaving the job title for our target role into the title of our resume summary section! We'll do that using the following formula:
[Job Title] Summary
For example, if your target role is Business Development, your resume summary section should be titled Business Development Summary.
If your target role is in graphic design, your resume summary section should be titled Graphic Design Summary.
If your target role is in software engineering, your resume summary section should be titled Software Engineering Summary.
You get the point.
Now, when that recruiter or hiring manager looks at your resume, the very first thing they'll see is the job title they're hiring for.
That's an immediate check in the qualifications box!
Part #2: An Introductory Bullet That Summarizes Your Experience And Value
Now that we've hooked the reader with our section title, it's time to give them a summary of who we are and what we bring to the table.

The very first bullet in your Resume Summary should tell your reader:
Your area of expertise / background (i.e. Sales Leader, UX Designer, Customer Success Manager)
Your total years of experience in the field
A value-driven pitch that tells them the type of value that you've brought to previous companies and clients
Your Area of Expertise
In the first part of this bullet, you want to show the reader that you are who they're hoping you are. In other words, if they're looking for a Software Engineer, you want to tell them you're a Software Engineer.
If they're looking for a Results-Oriented Sales Leader, you want to tell them that you're a Results-Oriented Sales Leader.
The best place to find this information is by looking in the job description and mimicking the language they use. For example, check out this job posting from Google: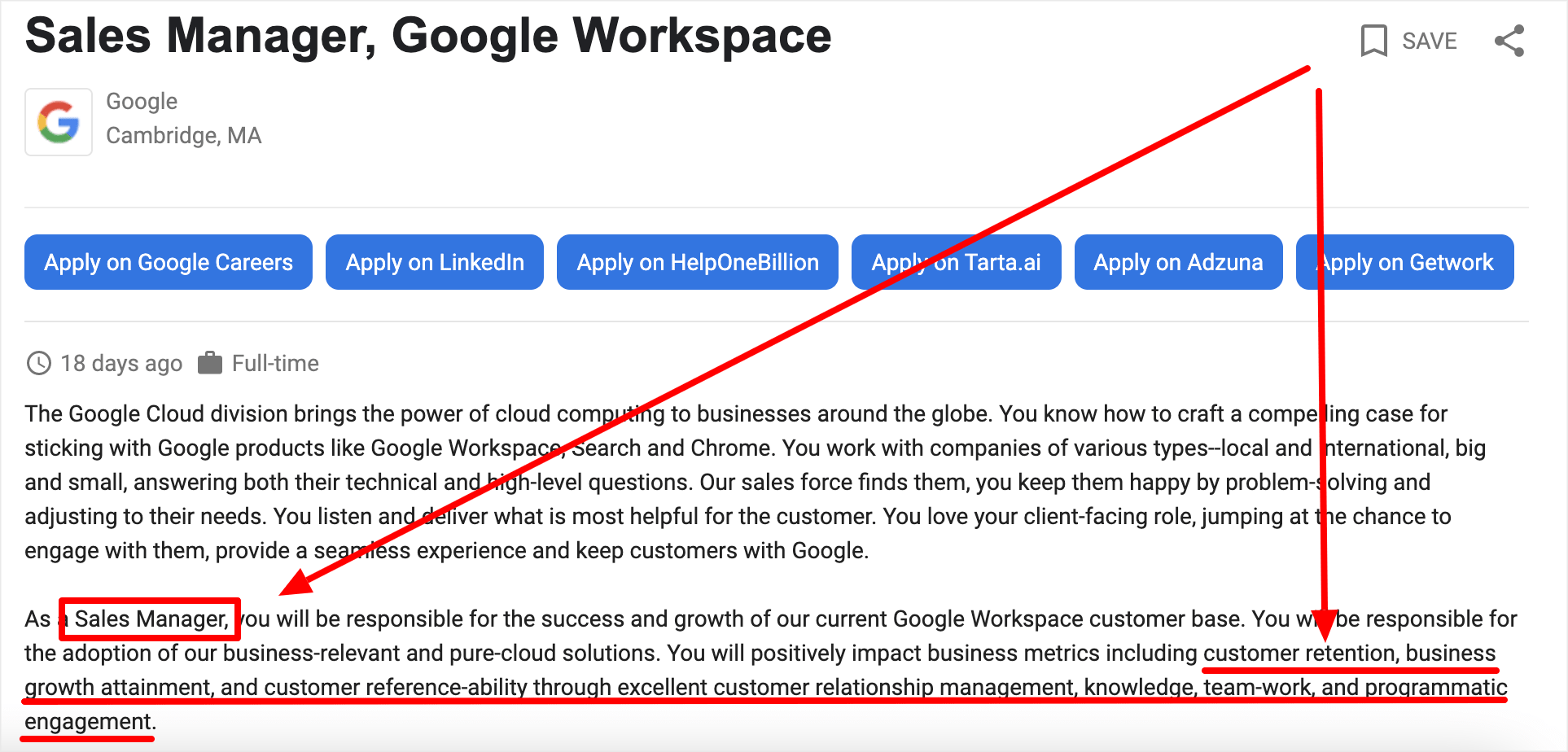 We'd want to include "Sales Manager" in our bullet, then we'd also way to pay attention to supporting language like "customer retention," "customer relationship management," etc. for our value-driven pitch too.
Your Total Years of Experience
Next, you want to summarize your experience in a field.
Most jobs have a number listed on the job description (e.g. 8+ years of experience in ______.). If you show the reader you meet that criteria right off the bat, you appear more qualified and have a better chance of hooking them in to read more.
Your Value-Driven Pitch
Finally, you want to sell your reader on the value you bring to the table.
The best way to do this is by telling them how you've helped previous companies in the past (and doing it in a way that resonates with their goals).
Let's use the above Google Sales Manager job description as an example. It says that the ideal candidate, "[knows] how to craft a compelling case for sticking with Google products" and that they "work with companies of various types–local and international, big and small."
If you have a track record of great retention with those types of companies, your value-driven pitch might be, "driving award-winning retention for cloud products with clients ranging from SMBs to F500s."
This is your chance to show the company you have experience delivering the exact results they're looking for — and you have the data to back it up!
Pro Tip: Your introductory bullet, including the value-driven pitch, should act as the 10,000 foot view of your experience. You want to sell people on the overarching value you've delivered with big, impressive results — then you can break down the details in your Case Study bullets.
Part #3: Supporting "Case Study" Bullets
Now that we've introduced the reader to our overarching value, it's time to get to the details.
Case Study bullets let you flesh out the experience that you summarized in your introductory bullet. You want to aim to have 2-3 of them in your resume summary.

In the example above, my introductory bullet talks about driving eight-figure growth for technology companies in the Ad Tech space.
That means my Case Study bullets should provide two or three specific examples of eight figure growth in that space!
How To Write A Great Case Study Bullet
Case Study bullets are the meat of your resume summary. They're the specific value that's going to help you stand out from the competition…If you write them correctly.
See, most people make the mistake of summarizing their experience with their bullets. They talk about the actions they took, but they don't focus on the results that stemmed from those actions.
If you want to win out, you need to know how to write a killer Case Study bullet!
The good news is, we've created a free tool called ResyBullet.io to help remove the guesswork and make writing bullets easy. Here's how it works:
Copy a bullet from your Resume Summary
Go to ResyBullet.io and paste your bullet into the text field
Analyze your bullet to see your initial score (out of 100)
Rework your bullet to match the feedback from the tool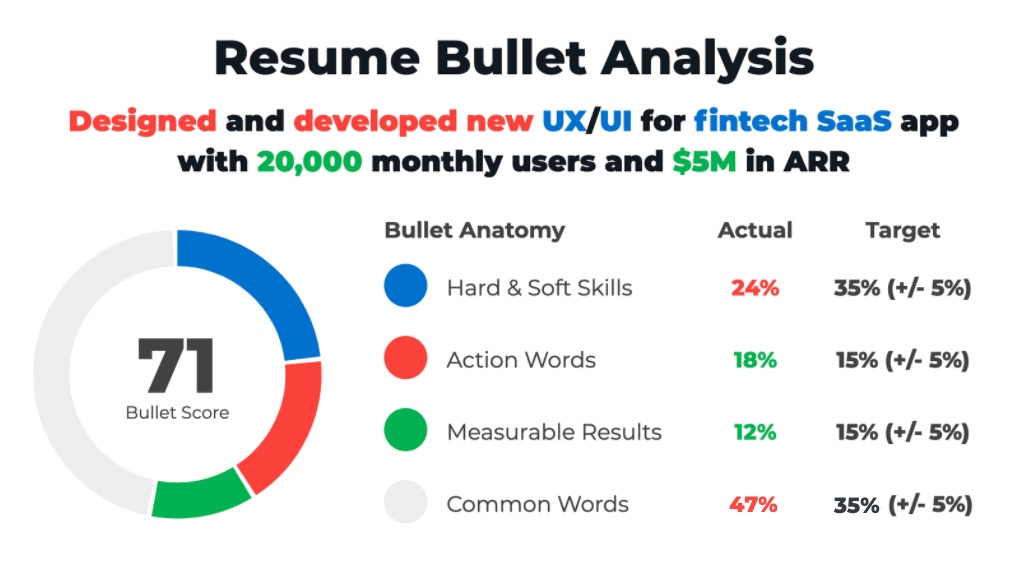 Now all you have to do is rinse and repeat for all of the Case Study bullets in your resume summary!
Part #4: A Closing "Extracurriculars" Bullet
The last bullet in your resume summary is your opportunity to include anything else that might be valuable, but wasn't included in your bullets above.
Here are some good examples of things you can include:
Awards you've won
Languages you speak (if you speak multiple languages)
Non-role related teams you lead (volunteering, culture, etc)
Side projects that relate / add value to your target role
Skill building you're working on
The goal of the Extracurricular bullet is to add additional value that helps round out your experience as a candidate.
In my resume summary example, I mentioned two awards that I'd won in my last bullet:

That sums up the four major parts of a job-winning Highlight Reel. Now let's take a look at some examples of this resume summary style for different roles.
Highlight Reel Resume Summary Examples
Here are 3 examples of resume summaries to help you visualize what this style of summary looks like for different roles and different goals:
Example #1: Partnerships Manager Resume Summary
In this example, we have a Partnerships Manager with 3 years of experience managing partnerships in the ad tech space. Here's what their summary might look like:
Partnership Management Summary
Partner Manager with 3+ years of experience driving eight-figure growth for ad tech companies like Microsoft, Google, & Hubspot
Manage $20M+ book of partners, including two largest revenue generating partners in global book of business at Microsoft
Prospected, negotiated, and closed 8 new partnerships worth $15.2M in ARR for Google
Maintained average quota attainment of 120% across 2 years at Microsoft

Example #2: Graphic Design Resume Summary
In this example, we have a Graphic Designer with a decade of experience creating visuals for companies in the fashion industry. Here's what their summary might look like:
Graphic Design Summary
Graphic Designer with 10+ years experience creating results-driven graphics and promotional materials for clients like Chanel, Gucci, American Eagle, Ralph Lauren, & more
Managed a team of 15 designers to produce entire portfolio for 2018 Victoria's Secret fashion show
Spearheaded GDUSA award-winning image campaign for Zara
Co-Founder of Girls Who Design, a community that aims to empower women in design to share their stories and support one another

Example #3: Data Science Resume Summary
In this example, we have a Data Scientist with 6 years of experience in the eCommerce industry. Here's what their resume summary might look like:
Data Science Summary
Data Scientist with 6+ years experience using Big Data to drive a better customer experience and higher sell thru rates for eCommerce sites
Spearheaded cost-per-lead analysis modeling, resulting in predictive resource allocation system that led to 67% increase in revenue with a 23% decrease in cost-per-lead
Generated audience analysis for digital ad campaigns, resulting in hyper-focused targeting that reduced cost-per-acquisition by 44% for eCommerce platform
Tools & Languages: Python, SQL, R, Tableau, & Power BI

Example #4: Career Changer Resume Summary (For A Transition Into UX Design)
In this example we have someone who is trying to make a total career change! They're aiming to transition from a consulting role into User Experience Design with no prior experience. Here's what their resume summary might look like:
UX Design Summary
UX Designer with a background of 5+ years in management consulting, working with clients like GE, Cisco, and IBM
Developed case study for AirBnB highlighting 3 search functionality changes that could increase bookings by a projected 17% (

Link Here

)
Developed case study for Harry's Razors highlighting 4 UX changes that would improve checkout flow and increase conversion rates by a project 27% (

Link Here

)
Currently enrolled in General Assembly's User Experience Immersive Bootcamp (Graduating April 2022)
Key Resume Summary Takeaways
Whew! We covered a LOT of information in this article. I hope you feel like you have a better sense of how to structure your resume summary for the modern job market.
In summary, here are the key points we talked about:
Old school resume summaries and objectives don't work anymore
The Highlight Reel is the modern approach that works in today's market because it allows you to fully personalize your resume
The Highlight Reel consists of a title, an introductory bullet, 2-3 case study bullets, and a closing extracurricular bullet
Writing compelling, value-driven bullets is the way to hook your reader from the get go
Now that your resume summary is taken care of, you can upgrade the rest of your resume with this guide on writing a job winning resume!