Not sure what to include on your resume so that it gets results? No need to worry. Most people aren't — which is exactly why it helps to start with a solid resume outline.
In this post, I'm going to teach you everything you need to know about writing a resume outline, including:
What information to include on your resume
How to put your resume into sections that stand out
How to create an effective resume using our free guide, our resume builder and bullet analyzer
But I do want to make sure you know what we mean when we say "resume outline". So, let's quickly go over that before getting into how you create one!
What Is A Resume Outline?
A resume outline is an outline used to decide what will go on your resume and in what order. In other words, it helps you to visualize the best way to format and structure your resume so that it perfectly targets whichever company and role you're applying to.
Why is it important that you outline your resume to target the company and role you're applying to? Because 54% of recruiters see resumes that aren't customized and tailored as a good reason to reject your application.
But, before you get to customizing your resume, let's look at what information you'll include on every resume you submit.
What Information To Include On Your Resume
Your goal when creating a resume outline is simple. You want to create a structure for your resume that is concise yet packed with relevant information on your strengths and experience.
To do that, I recommend that your resume includes these sections, in this order:
Resume Heading
Summary
Experience
Education
Volunteer Work (optional)
Skills
Interests
In my experience, this is the outline of resumes that get the best results. But what should you put in each of those resume sections?
How To Create A Resume Outline That Stands Out
These days, there are a lot of resume templates that focus on eye-catching designs to help resumes stand out. Does this make a significant difference? Sure, in some cases it might.
But, even so, a good design won't make up for poorly written or structured content on your resume. So, let's make sure you know what to include in each section of your resume outline.
Resume Header
Your resume header is where you include all of your relevant contact information, including your:
First and Last Name
City and State (No need to share your home address)
Phone Number
Email Address
Professional Title
Resume Summary
With a resume summary, (or resume objective), you'll write a brief statement or create a set of 3-5 highly effective bullet points that give a quick snapshot of your most relevant results and experience to the role you're applying for showcasing the value you would bring to the company if hired.
Experience
In the experience section of your resume, you'll include your current and past relevant work experience. For best results, you'll want to include:
Job Title
Name of Company
Start and End Date
Bullet Points Explaining Relevant Achievements and Results
A quick note on the bullet points:

Most people fail to write effective resume bullet points. Why? Because they aren't including what most recruiters and hiring managers are looking for — quantitative results. Big mistake!

So, if you're not sure how to write those or want to make sure you're writing them in the best way, check out this guide on writing highly effective resume bullets and use our free resume bullet analyzer tool, Resybullet.
Education
Unless you're applying for an academic job, you only need to include a few details in your resume's education section.
Name of the School and its Location
Your Degree and Major
Graduation Date
If you're a recent grad, you may also want to include specific achievements, like a high GPA (3.8 or above), awards or honors. But, generally, that's not needed unless those achievements are relevant to the role you're applying for.
Volunteer Work
Adding volunteer work to your resume is not required. But, if you have it, it can help showcase a different set of valuable skills and achievements. For example, skills like event planning or fundraising experience could be useful in demonstrating experience in the field you're applying for.
Follow the same format as the experience section when outlining your resume to include volunteer work.
Skills
A good resume skills section goes beyond just listing out a bunch of hard and soft skills at the bottom of your resume. In fact, if you do that, you may as well consider it a waste of space! Why? Because it doesn't really give anyone an idea of what you can do with those skills.
That's why I recommend listing your most relevant skills related to the job you're applying for and how skilled you are at each of them. Under each of those skills, you could also include a bullet point to explain achievements or projects that speak to your ability.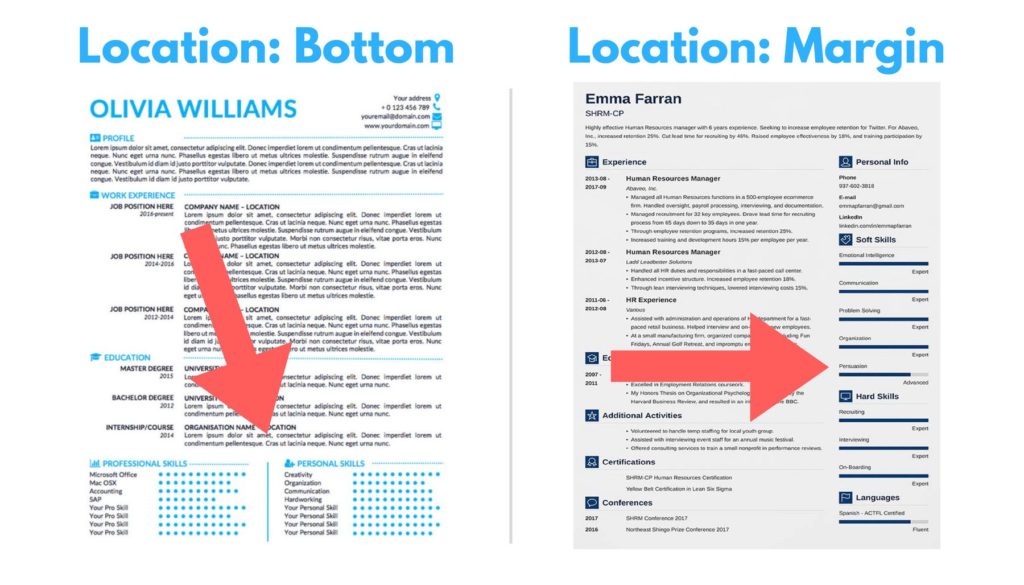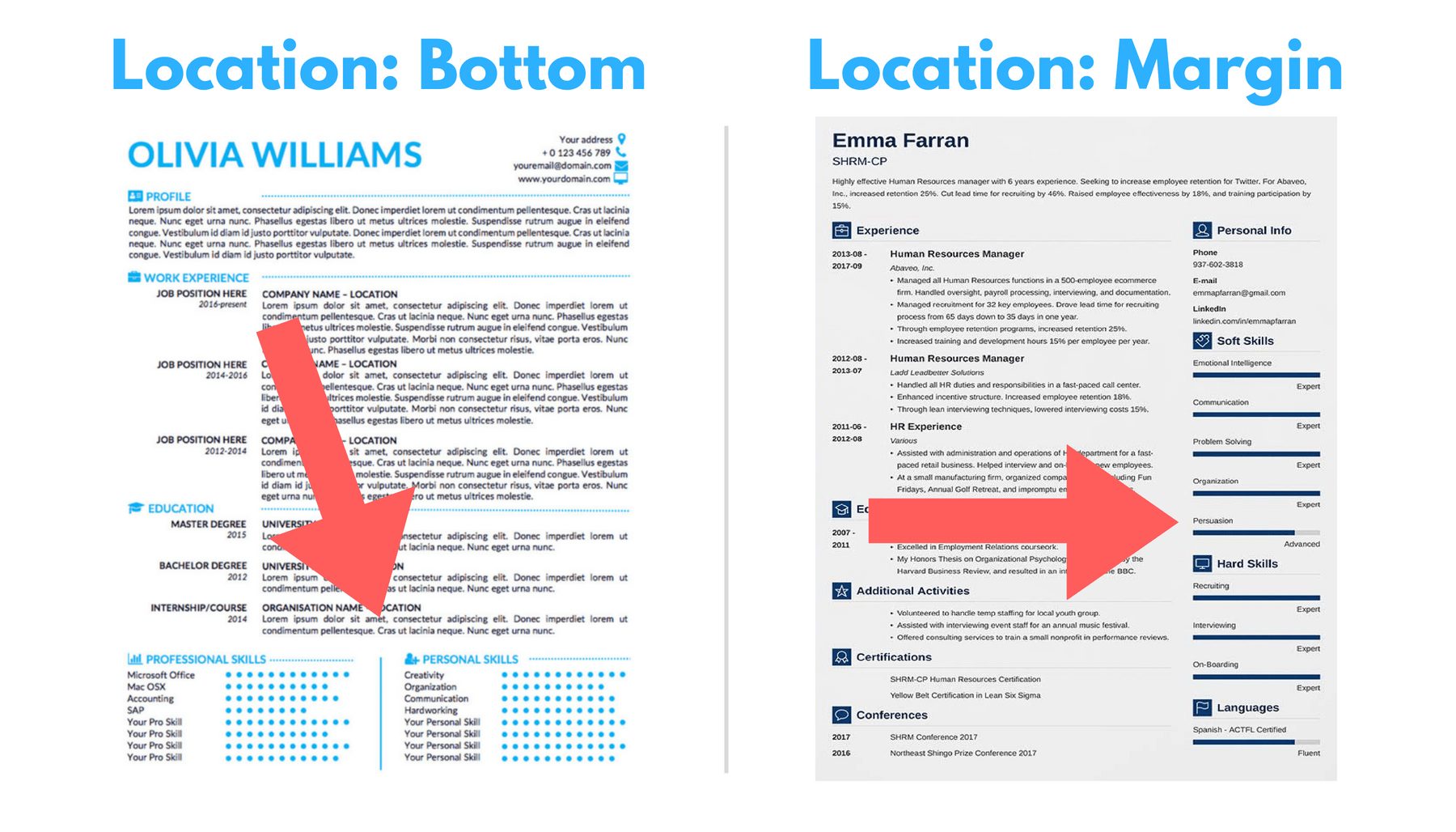 Interests
You may think adding a resume section for interests has no value. But I like to think of this section as a "hack" to quickly build personal connections and positive associations with the person reading your resume.
Of course, listing an interest as vague as travel won't help you much. But let's say next to travel you put in parentheses something like "(Ask me about the time I went sand surfing in Dubai)".
Well, then you might just peak the interest of the hiring manager and have an instant conversation starter during an interview! And if that does happen, these are the types of little details that can add an extra touch to your post-interview thank your emails.
Free Resume Builder With Templates
Now that we've outlined exactly what sections a resume should include, head over to my free guide on How To Write A Job-Winning Resume and use my free resume builder that lets you easily build a high quality resume with 7 different templates and colors to choose from!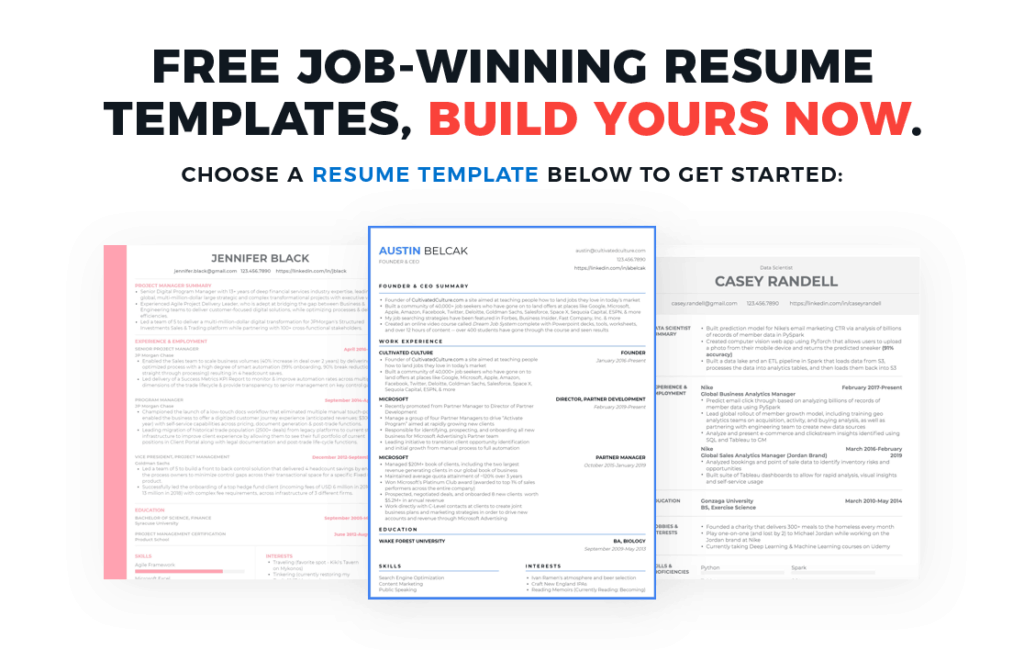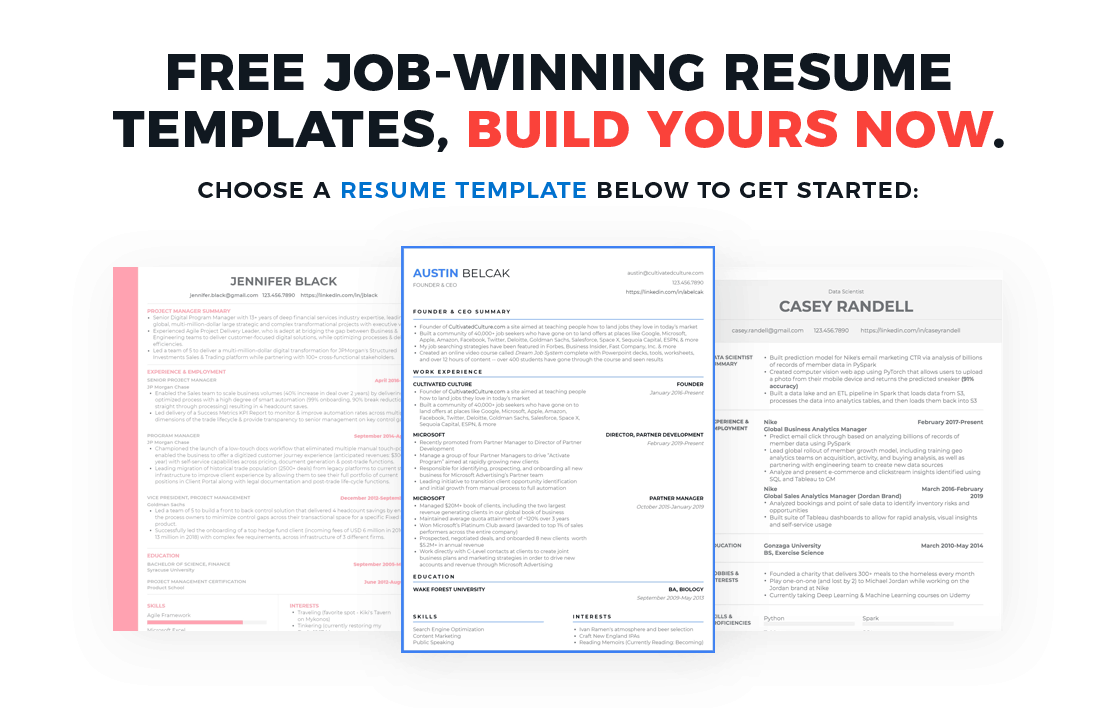 To make things even better, each resume template incorporates thousands of data points from real recruiters and hiring managers at the world's best companies to help you get past the ATS (applicant tracking system), and beat out the competition!
So, take what you've learned here and go create a resume that's guaranteed to help you land more interviews!