Every day, we're constantly surrounded by brands.
The clothes you wear, the car you drive, the mobile phone in your pocket — even the restaurants you dine in. There's one thing they all have in common: a brand.
And, there's a good chance that, of those brands, you have your favorites. Maybe you love Nike or you're a big Starbucks fan — or maybe you exclusively use Amazon when shopping online.
This demonstrates the power of branding as a means to shape perception. But, so far, we've been discussing corporate brands (which we're all quite familiar with).
However, the notion of branding is not confined to businesses. The digital age has given rise to personal branding — and it can have a major impact on your career.
In this article, we'll be exploring:
What a personal brand is
Why having a personal brand is important
Steps you can take to build your personal brand
To kick things off…
What Is A Personal Brand?
To understand what a personal brand is, we must first consider the concepts behind branding in general. What is a brand?
Businesses utilize their brand to establish their identity in the public eye. This identity can include the company's story, mission, values, and defining characteristics.
In other words, a company's brand is a representation of who they are, what they stand for, and what makes them unique. A personal brand is essentially the same thing — but for an individual.
You might be wondering, "Okay, does that mean I need to have my own logo and slogan?" Not necessarily (although you could).
Personal branding is more about promoting yourself and communicating your values/identity in a clear and consistent way. And, today, this is done primarily through your online presence.
The internet has provided us with a wide array of platforms to express our personal brand. Websites/blogs, LinkedIn profiles, Instagram accounts, YouTube channels…the list goes on.
So, we all have access to the tools for developing a personal brand. The next question is, why do it?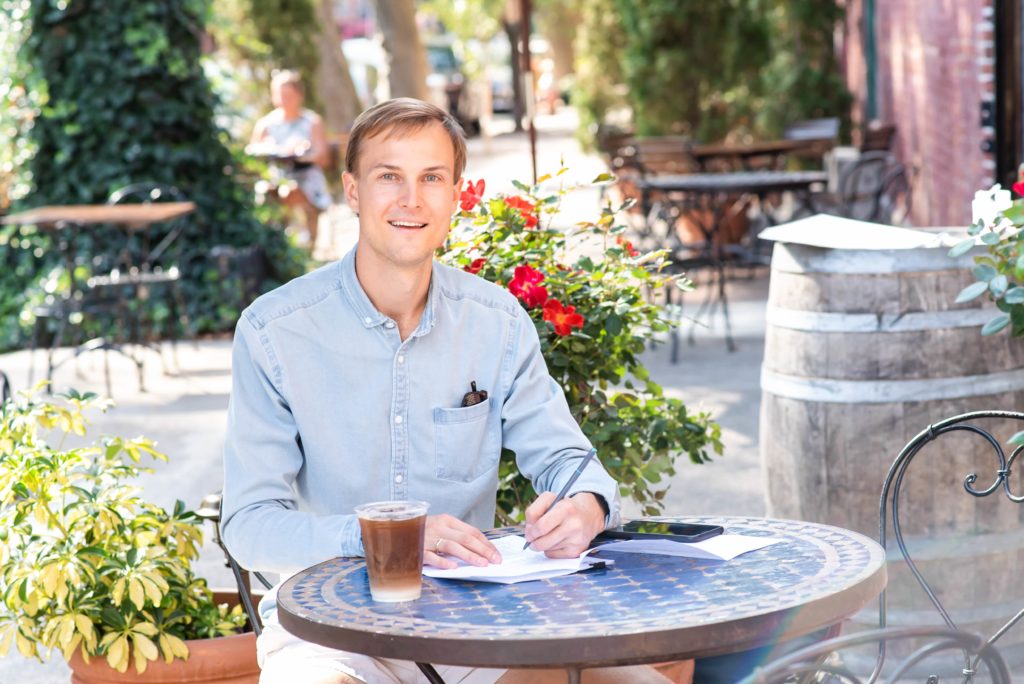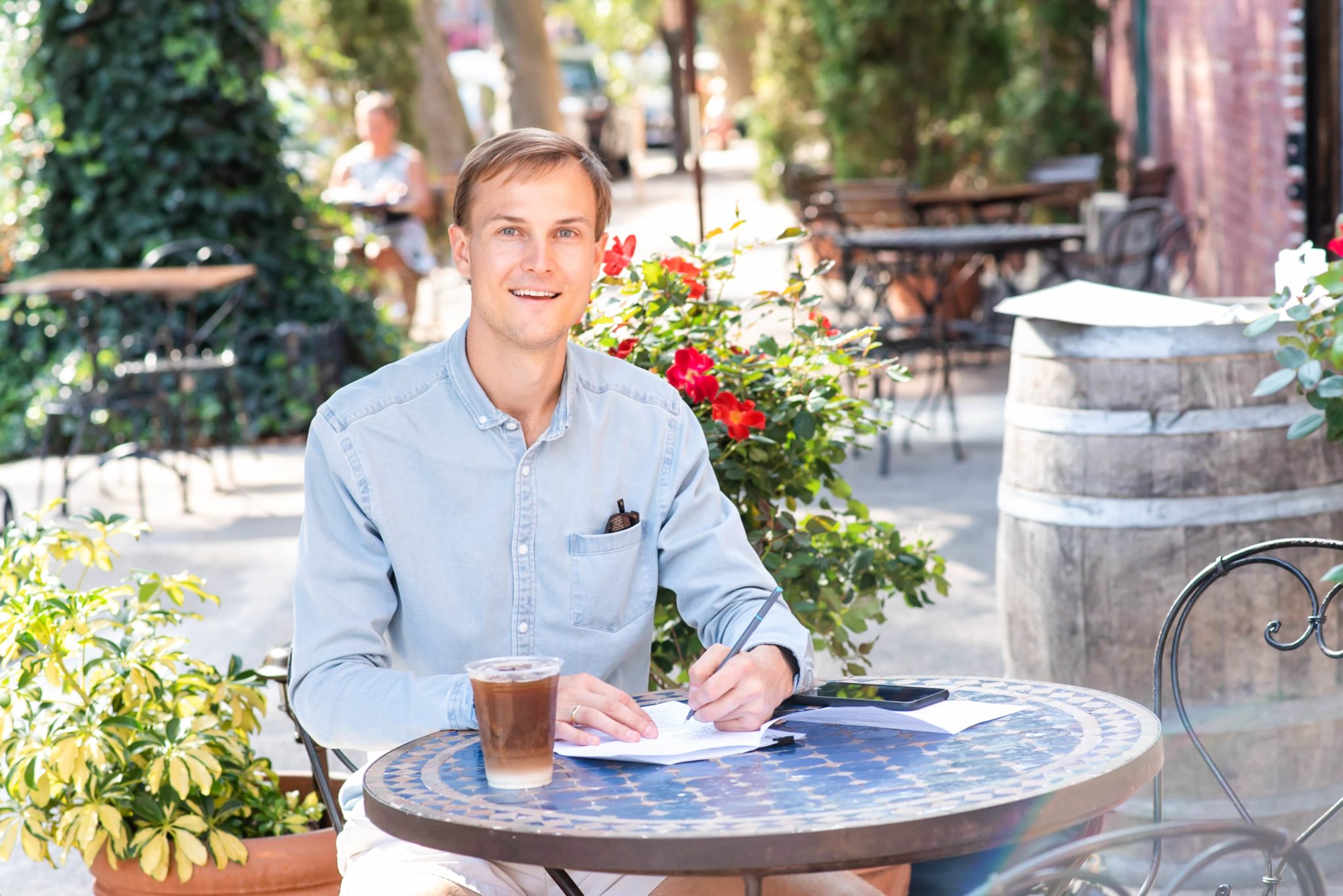 Why Is Having A Personal Brand Important?
From a career standpoint, personal branding is becoming increasingly essential. If you want to stand out from the crowd, you'll need more than just a strong resume and a business card.
To illustrate this point, let's consider a hypothetical example using John and Jane.
John and Jane are applying to an awesome Senior Marketing Manager role at Google. They both have extensive backgrounds in marketing, so their resumes eventually make it to the hiring manager's desk.
The hiring manager is impressed by both of their resumes, so she decides to dig a little deeper by searching for both of them online.
She doesn't find much about John — his online presence is very minimal. However, when she looks up Jane, her search reveals an assortment of rich online profiles that Jane has been carefully curating.
Jane's LinkedIn is filled with content that reflects her values and opinions as a marketing expert. In addition to the articles Jane has published on LinkedIn, the hiring manager also finds Jane's personal website, which Jane has meticulously crafted to showcase her professional identity. Her website includes a detailed 'About Me' section, numerous blog posts, and even a series of podcast interviews.
Given the above, who do you think the hiring manager now views as the more impressive, memorable candidate? Obviously, Jane — and this scenario demonstrates the power of personal branding.
5 Steps to Build Your Own Personal Brand
Now that we've covered what a personal brand is and why it's important, let's go over some actionable steps you can take to begin developing your personal brand.
Step #1: Determine Your Area Of Focus
Every brand needs a clear focus — and your focus should be based on your goals. If your goals are career-oriented, then your personal brand should focus on the professional field you want to advance in.
Strive to carve out a particular niche by being as specific as possible. For example, instead of focusing on 'Marketing,' you could focus on 'Product Marketing for Startups.' Or, instead of focusing on 'Sales,' you could focus on 'B2B Tech Sales.' Doing so will make your brand more authoritative.
Step #2: Define Your Identity
A key component of building a personal brand is figuring out who you are and what you want to be known for. Ask yourself questions like:
What are my values?
What do I stand for?
What's my mission?
What makes me unique?
How will my brand reflect my individuality?
What messages do I want to communicate with my brand?
What tone do I want my brand to have (inspiring, humorous, etc.)? Once you've nailed down the answers to these questions, the next step is to start promoting your brand to the world!
Step #3: Select The Platforms To Promote Your Brand
As mentioned above, building a personal brand in today's digital era mainly comes down to developing your online presence. You'll need to decide which platforms to utilize, and also which content formats you want to produce.
The top platforms for building your personal brand include:
Your own website/blog
LinkedIn**
Twitter Instagram
YouTube
Facebook
**When building a personal brand to advance your career, LinkedIn is absolutely critical. To learn more about how to develop a stellar LinkedIn presence, check out my articles on How to Build an Amazing LinkedIn Profile and How to Use LinkedIn Like a Career Expert.
Step #4: Create And Share Compelling Content That Reflects Your Brand
Once you've got your platforms dialed in with ideal profile pics, headlines, 'About Me' sections, etc., the next step is to produce content that mirrors your values and conveys your personal brand's message.
Examples of content formats you can share include:
Articles/blog posts
Social media posts
Photos/graphics
Videos
Podcasts
Remember, when creating content, always put quality above quantity. The hallmark of quality content is valuable information. So, always be asking yourself, "How can I add value in my area of focus?"
Step #5: Maintain Consistency And Cohesion Across Channels
Imagine if, every time you bought a Pepsi, it had a different color, flavor, and logo. The concept of the brand "Pepsi" would be meaningless. This is an exaggerated example, but the point is that a brand needs to be consistent.
So, as you're promoting your content on various platforms, you need to make sure you're presenting yourself consistently across those channels.
To take this a step further, it's even better if you can promote yourself in a cohesive way. Rather than treating each channel separately, aim to tie them together into a unified whole.
For example, you can list your social media profiles on your website, insert a link to your website in your social posts, include references within your articles to other content pieces you've done, etc.
When you start to connect all your various profiles and content together into a cohesive 'package,' that's when a truly powerful personal brand begins to emerge.
Your Personal Brand Should Evolve As You Grow
In Step 5 above, we discussed the importance of maintaining consistency when building your personal brand. However, this should not be misinterpreted to mean that your brand cannot change over time.
Contrarily, your brand should evolve along with you as you grow and move forward in your career/life trajectory. Just as companies rebrand themselves to stay relevant, your brand may shift or pivot in accordance with your personal development.
Final Thoughts
The steps we've outlined in this article will be fairly straightforward if you have a crystal-clear vision for the direction you want to take your career.
But what if you aren't sure what you want to do? In that case, building a personal brand to advance your career will seem far more difficult and confusing.
Not to worry — it's completely normal to feel uncertain and indecisive about your future. If you're feeling a bit lost or directionless, be sure to check out my article, 'What Should I Do With My Life? (A Step-By-Step Guide).'