24 hours ago (as of the time of this writing), I had yet to publish a single piece of content on LinkedIn.
Last year, I founded a site dedicated to helping people land jobs they love and salaries they deserved. I've shared content across many platforms — Medium, Quora, my blog, other career-focused sites, etc. The only place I'd avoided was LinkedIn.
While it may be surprising that someone focused on helping people with their careers was actively avoiding the largest professional network on the planet, I did have a few concerns. However, my curiosity to got the best of me and I decided to publish my first piece on the platform.
The article was titled What I Learned From Going On 50+ Interviews (Including Google, Microsoft & Twitter) and the response was nothing short of amazing:

Screenshot taken on May 9th, 2017 – 24 hours after the article was posted.
Here are the article's stats 24 hours after posting:
Likes: 3,546
Comments: 249
Shares: 571
Views: 40,376
New LinkedIn Followers: 1,000+
New LinkedIn Connections: 500+
New Email Subscribers: 300+
These numbers aren't an accident. They are the result of a carefully planned, 4 part process. The goal of this post is to share that process so people like you can replicate the results!
Let's get to it.
Overview
If you're at all familiar with LinkedIn, you know that it's a network built on connections. When someone in your network interacts with a piece of content on the platform, you're likely to see that show up in your feed.
For example, if my connection Jane likes someone's post, that post is going to show up in my Pulse feed, along with the feeds of every other connection Jane has. This is really powerful because networks are the foundation that virality is built on.
As is true with most social networks, the content with the most engagement are going to show up at the top of people's feeds. The more likes, comments and shares an article has, the more exposure it's going to get from the LinkedIn algorithm.
The Strategy
With that in mind, here's our strategy:
We're going to start by leveraging an existing network to build traction with the algorithm. We're essentially going to "manufacture" a large number of likes and comments in a short period of time.
Every person who likes or comments on the post will be indirectly "sharing" it with their network because of the concept explained above.
Our catchy headline and image is going to entice these new people to click on the article and the quality of our content is going to push them to engage themselves. As more people begin to engage, the amount of people our content reaches grows at an exponential rate.
At that point, all we can do is sit back and watch.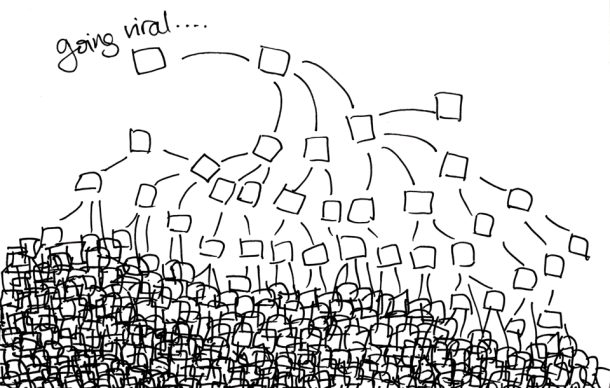 As is the case with most marketing tactics, it's easier said than done. However, these results can be replicated by following a 4 step process:
Step 1: High Quality Content Is Critical
This first, and most important step in the process, is starting with high quality content.
Once your post's reach expands outside of your immediate network on LinkedIn, you need to give people a reason to be interested. There are two key ingredients to making that happen:
Using a catchy headline
Crafting a piece of actionable content that offers tons of value to the reader.
The Headline
While the image is the first thing your potential reader is going to see, your headline is what will get them to click.
There are tons of guides on writing headlines, but my hands down favorite is this article by Neil Patel. It encapsulates all of the factors that I've found to be the most effective when it comes to catching attention and landing clicks:
Let's take another look at the headline I used:
What I Learned From Going On 50+ Interviews (Including Google, Microsoft & Twitter)
Number included? Check.
Unique angle? Check — I listed off a few companies that people would kill to work for and I hinted that I was going to share my personal learnings. No other article has that info because it's my personal experience.
Power phrase? Check — I used a variation of Can Learn From.
Use Actionable Content That Delivers Tons Of Value
In this case, I re-purposed the #1 article on my site How To Get A Job Anywhere Without Applying Online.
This article had seen a great response on my site, as well as other platforms. Over the course of the past 12 months it has racked up over 150,000 views (now 200,000 if you include the LinkedIn post).
If you don't already have an article that fits the bill, it's easy enough to write one. The best pieces of content:
Tell a story and teach the reader something
Begin by outlining the results that were achieved
Include a step-by-step breakdown of the strategies and tactics the author used to achieve those results
I graduated college with a biology degree and a job in the medical field. Two years later, I landed interviews and offers at Google, Microsoft, Twitter & Uber. The article shares the exact steps that I took to achieve those results, down the specific email subject line I used to reach out to influencers.
The point I'm trying to make is that the content in my article is valuable which gives new readers a reason to love and share it (if you want another take on gearing your content for LinkedIn, check out this guide).
Step 2: Partner Up With A LinkedIn Editor
Next up, you want to get in with an editor over at LinkedIn.
LinkedIn has a feature called channels which are essentially themed topics that people can follow where relevant content is featured. For example, Best Advice is a channel with close to 6.7 million followers where the best articles on LinkedIn are shared.
These channels offer access to an incredibly large audience, but you need an editor's approval to have your article featured.
I used LinkedIn's Sales Navigator to generate a list of editors that I could reach out to: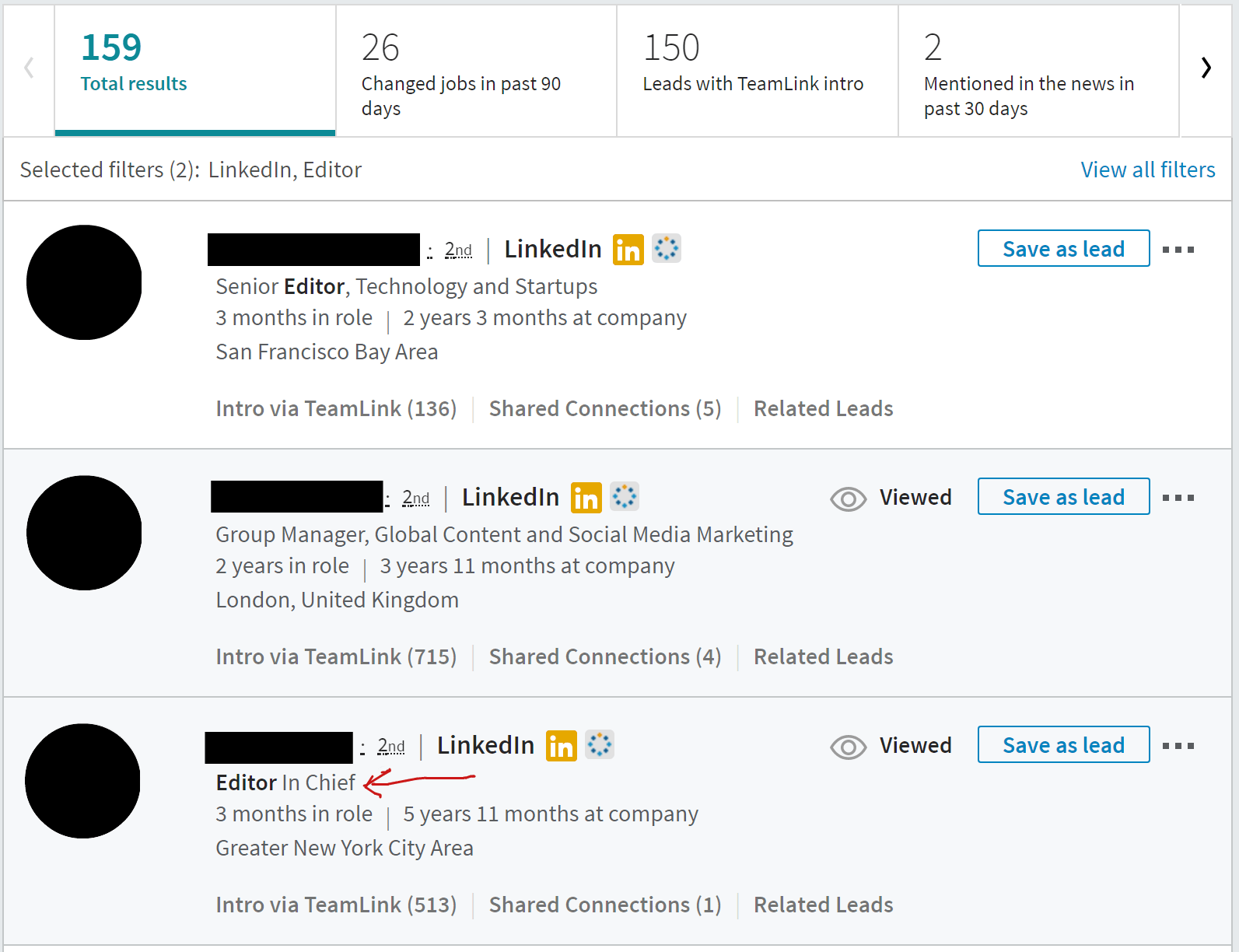 I chose 4 to reach out to and made sure to mention in each email that I had emailed 3 of their colleagues. This adds some accountability and helps increase response rates.
Step 3: Leverage An Existing Audience
This can be the tricky part for most people — after all, we don't all have a 10,000 person email list at our fingertips, right?
That doesn't necessarily mean you can't find people to help you build traction. If you're a marketing manager you probably work at a company with a bunch of other people. If you're an entrepreneur or business owner, you probably have a network of friends and connections you can leverage.
The key to this step is giving people a reason to help you out.
I don't have a massive email list, but I know they love Amazon gift cards so I made things simple. I told my audience that if they liked and commented on the article, they would be entered to win one of four $10 Amazon gift cards.
Around 210 of them clicked the link in the email. Let's say that 75% followed the instructions. That lands me ~158 likes and comments. Definitely enough to get started, but only a tiny fraction of the eventual 3,500 people who would interact.
If you don't have an online audience, put together a list of 50 people in your network who might be willing to help you out. Hold a raffle like I did, or offer to buy them a cup of Starbucks. You'd be surprised at how many people will be willing to help with a small task if you ask them directly.
These initial 50–100 likes are going to do three things for you:
They are going to tell the LinkedIn algorithm, "Hey, people are starting to really take an interest in this article. Maybe we should show it to more people."
The interaction with your article is going to push it into the networks of every single person who interacts with it. The average LinkedIn user has about 930 LinkedIn connections. So, every 5 likes will get you in front of ~2,000 people.
Social proof. People are much more likely to click on an article that already has 100 likes and a bunch of comments than an article with 1 like and 1 comment.
Step 4: Timing Is Everything
When posting your article, you want to make sure you hit the target audience at the right time.
My audience is mostly comprised of job searchers or people looking to level up their careers. I have been in that position so I know that Monday morning sucks. You're dreading going into the office, all you can think about is getting out of your current situation so you go and fire up LinkedIn.
My post went out at 6:00am EST on a Monday to ensure that all of the people browsing LinkedIn for a new opportunity would see it.
Your audience is probably different.
According to LinkedIn Marketing Solutions, the best times to post on LinkedIn are: Tuesday, Wednesday & Thursday between the hours of 7:30am — 8:30am, 12pm, 5:30pm — 6:30pm.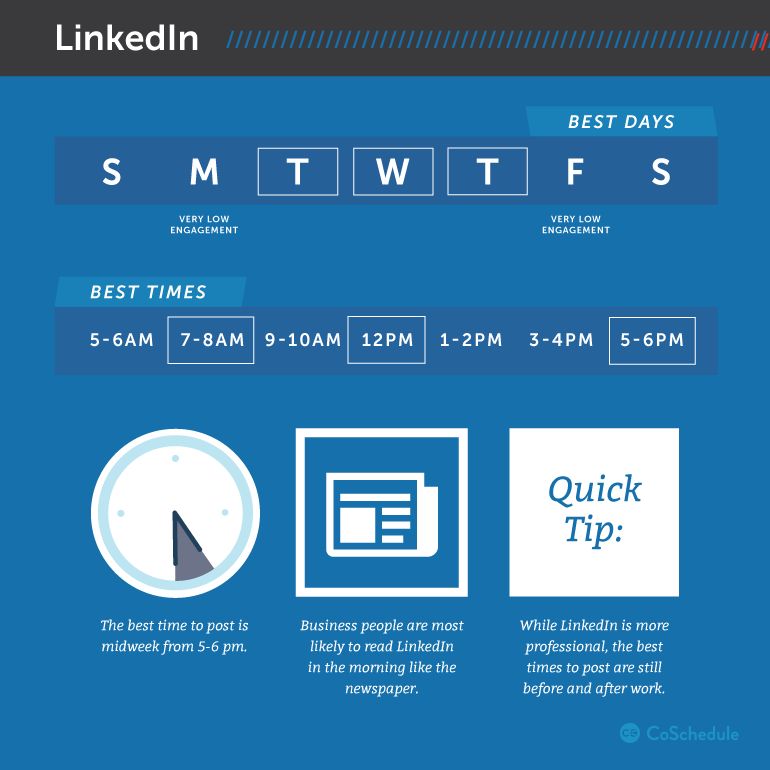 Wrapping Up
Content marketing isn't an easy game. There are so many articles, infographics, and social media posts out there, it can feel like you're playing a losing game.
This 4 step strategy will help your LinkedIn posts spread like wildfire.