Hey there! Welcome back to Cultivated Career Tips, a monthly newsletter where I share personal insights, job search advice, and updates from Cultivated Culture.
Can you believe it's May?!
I can already smell the NSYNC and Star Wars memes people are cooking up this week. I joined in on the action with a May The Fourth themed LinkedIn post today on interviews. You can read it here.
As for this email, if you want to listen to the audio version where I talk through the updates, you can do that right here (bonus points if you catch me goof saying "you'll have to know if you let me like this" at the beginning):

The past month was a big reading month for me.
I actually struggled to find time to read over the past few years, but after a lot of experimentation, I landed on a system that's helped me read more than I ever have before.
All it took was two changes which were, as the most effective ones tend to be, super simple:
1. After reading Atomic Habits, I decided to adopt two principles that James Clear recommended.
First, I set my goals super small. I committed to reading 5 pages per day.
Second, I stacked my new reading habit on top of a habit I do every day – shower!
As soon as I was out of the shower, I'd get dressed, grab my book, and hit the couch for my 5 pages. Then I upped the page count by an additional 5 every 30 days (I'm at 15 every morning right now).
2. I started reading books I'm excited about and I alternate fundamentals with fun.
In the past, I'd force myself to read these business books that people were recommending to me. After a while, they all became pretty similar and incredibly boring.
As Naval Ravikant says, "read what you love until you love to read."
Now I'm only reading books that are a "hell yes" on my list, which includes a LOT more fiction. Bouncing between business, non-fiction, and fiction has made things a lot more fun.
That's my update, onto to good stuff!
---
The Road Less Traveled: Finding A New Path To Land The Job [Podcast]
"What advice would you give to your younger self?" is a question I get a lot.
I'm jealous of all the college students out there today because there are SO many more people sharing effective career advice today, including Brad Minton and Cassie Spencer.
They had me on their podcast to chat through the advice I'd give to myself 10 years ago when I was just graduating college. This podcast was a blast, we covered a ton of ground including…
👉 The critical mistakes that most students and young job seekers make when starting their job search
👉 How to get away from "egocentric networking" and begin adding value to the people you're trying to meet
👉 Easy, actionable steps that students and young professionals can take to network and find opportunities
👉 How to overcome the dreaded feeling of "not having enough experience" when applying to jobs you want
👉 The best pieces of career advice I have for the next generation of job seekers
>> Click here to listen to the full episode
---
Ask Austin Anything (Live!)
In case you missed it, I went Live last week for the first time in a while!
It was an open ended Ask Me Anything with a couple thousand people who asked a ton of great questions like…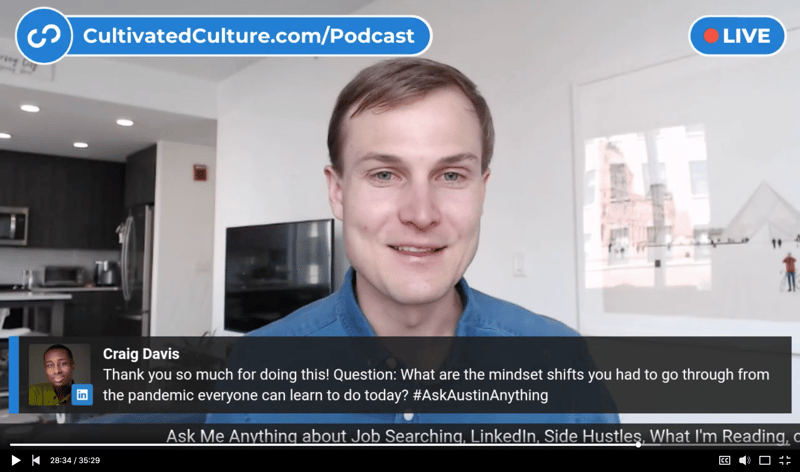 👉 Two LinkedIn activities that will get you results in <15 minutes / day
👉 How to access the 75% of jobs that aren't posted online (a.k.a. tapping into the "hidden job market")
👉 What advice I'd give myself if I was starting my business from scratch (how to validate your biz idea)
👉 The best type of content for generating leads and making money on LinkedIn
👉 The mindset shifts + mental ups and downs I went through during the pandemic along with my takeaways
>> Click here to watch the full Live
---
⚡Lightning Round ⚡
The lightning round is where we have a little fun! I'll share some links to things I'm reading, things I'm learning, things I'm loving, and things I'm testing:
LinkedIn Live Schedule For May
May 12th at 2:30pm EST – This will be a solo LinkedIn Live and I want you to pick the topic! Text me what I should talk about at 201-479-9511.
May 26th at 6pm EST – Selling With Love with Jason Marc Campbell, host of the Superhumans at Work podcast. He's shared stages with the likes of Gary V, Jason Silva, & Lisa Nichols. We're going to talk about how sales can help you when you're looking for a job, networking, or vying for a raise.
Book(s) I'm Reading: As mentioned earlier, this has been a BIG reading month for me. I finished up 5 books, some serious and some not so serious:
Note: I'm swapping out Amazon links for Bookshop.org links so we can help support local bookstores if you decide to pick up one of these titles!
Thing I'm Trying: Going beyond tree planting to offset our carbon footprint. For the past 3 years, I've committed to making Cultivated Culture a carbon negative business. I'd calculate our individual footprint along with the business's and then I'd invest in planting enough trees to exceed our footprint.
In reading Bill's book How To Avoid A Climate Disaster, he makes a very interesting case on how planting trees — despite their beauty and other obvious positives — doesn't make as large of an impact on emission as we'd hope. Bill says, "you'd need somewhere around 50 acres' worth of trees planted in tropical areas to absorb the emissions produced by an average American in their lifetime." At 620 trees per acre, that's 31,000 trees per person.
Armed with that info, I decided to keep our tree planting in place but add the addition of carbon offsets via Tradewater (a company that finds and removes refrigerants with 10,000x the warming capacity of CO2) and Climeworks (a company focusing on Direct Air Capture technology, which essentially sucks carbon out of the air). You can read more about our contributions here.
Song I'm Jamming To: He Said She Said – CHVRCHES
Best Beer I've Had Recently: Premium – Finback
Be well,
Austin