Many people think the best part of starting a business is making money.
It's not.
Outside of the people you help, the best part of being an entrepreneur is the people you meet.
From an early age, we seek out role models and emulate them – a habit that continues well into our adult life.
We read the stories told by iconic thought leaders – Elon Musk, Tony Robbins, Steve Jobs, etc. We learn about their journeys and try to replicate their success.
However, I find that it can be hard to fully relate to these people. They are larger than life.
The truly fascinating stories lie with the people who are on their way up. The ones who are destined for greatness, but their journey is just getting started. The true hustlers.
They don't have multi-six-figure audiences or businesses — yet.
They are solely driven by the prospect of turning their dream into a reality while navigating the same challenges that many of us face on a daily basis – finding time in our crazy lives to do what we love while struggling with the question of "if I died today, will I have accomplished everything I set out to do?"
A few weeks ago, I was lucky enough to find myself surrounded by a group of people living that story.
Silverstein Properties hosted an event aimed at highlighting entrepreneurs in New York City. Nine side hustlers were there to share what it means to build our dream after hours.
As we took our seats and picked up microphones, I looked around.
I was parked firmly in the middle of two Forbes 30 Under 30 recipients, a Grammy-nominated singer, a sports executive who raps on the side, a finalist on "The Voice," a former professional soccer player, a social media style influencer, and a high growth strategist for Fortune 1000 companies.
I felt like a kid in a candy store.
Tesa Lau, a creative growth consultant for Fortune 1000 brands and our MC for the evening, kicked us off:
Why do you side hustle? What motivates you to take on more when your plate is already full?
Your "why" is critical.
When you choose to go down the path of entrepreneurship, you make a lot of sacrifices. Instead of watching Netflix after work, you're sending cold emails. When everyone else is at happy hour, you're writing a piece and hoping it will get picked up. Your bedtime gets pushed back and your alarm is set an hour earlier.
Time become precious and if you don't have a damn good reason to make these sacrifices, it's not going to last.
Lisa Wang, founder of SheWorx and Forbes 30 Under 30 recipient for venture capital, led off:
"I'm here to empower the next generation of female leaders, to close the funding gap, and redefine the model of leadership. I imagine a world that is driven by empathy, collaboration, and impact, rather than greed, competition, and power; naturally, this kind of world will require more women at the top."
Preetam Sen, another member of the Forbes 30 Under 30 club, sports executive, and rapper (who has opened for Wiz Khalifa and Lupe Fiasco), followed:
"I'm a side hustler because it's what I have to do to pursue what I'm passionate about. Ever since I can remember, sports and music have always been a part of who I am and has always had my utmost interest. The emotion and energy that you have on the field or on stage is really one-of-a-kind."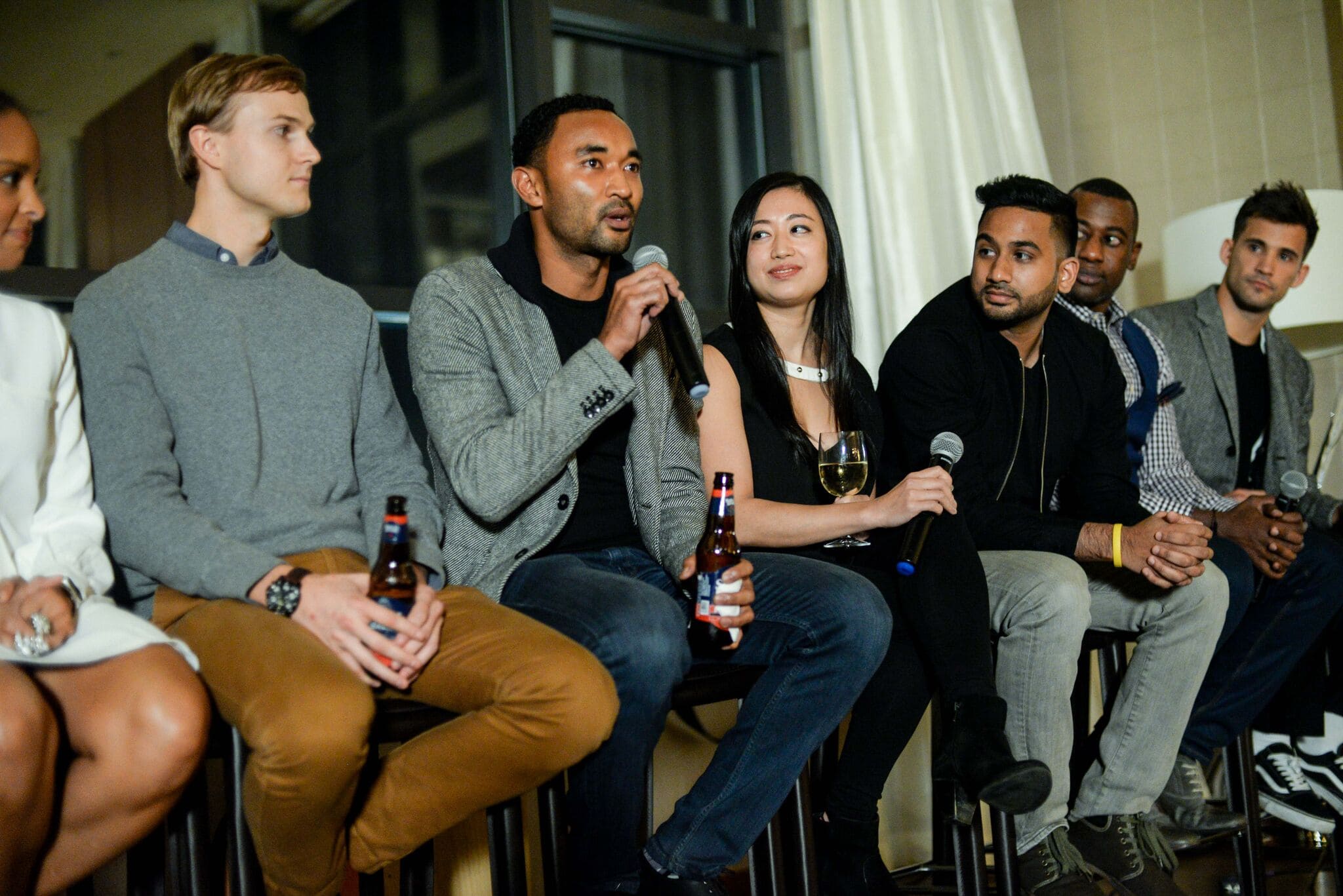 James Riley shares his "why" while Preetam, Lisa, and I look on.
Takeaways
Each entrepreneur cited a deep-rooted passion that tied in with a greater vision.
That is what makes the long hours after work and the weekend sacrifices bearable – the knowledge that they are taking one step closer to living their dream and making a greater impact.
In most cases, conventional professions pay the bills or act as funding. Their corporate employer is also their venture capitalist.
Full time gigs also serve to build experience that can be transferred into successful wins across projects.
Having breakfast with Preetam a few weeks later, he noted, "I could have gone into music full time at the age of 22 and given it everything I had, but I wouldn't be closer to achieving my goals than I am today. The side hustle has taught me invaluable lessons around building relationships and business acumen that contribute to my success across the board."
Tesa kept us moving with the next question:
How do you find time to stay focused and be productive across all of your projects?
I love this question because I get it all the time. How do I find time to create content, build relationships, and grow my business while working full time?
When you're an aspiring entrepreneur, time management is critical. I'll let Tesa share her secret to making it work:
"Some people say I don't sleep, but I do 🙂
You have to take care of you first so that you know your voice and stay true to it among the many voices that are out there. Follow that true north, that thing that drives your passion.
And, while the vision that drives an entrepreneur comes from within, it is constantly juxtaposed with a healthy frustration of what you are seeing in the market.
I have been pushed constantly on my willingness to stay true to a vision, my willingness to adapt a vision based on market feedback, as well as my willingness to persevere to fulfill that vision."
Tesa sharing the golden rule – pay yourself first.
Jennifer MacDougall, celebrity stylist and social media influencer, chimed in:
"Balance is key when you work on so many side hustles. It's equally important to know when to push through and when to take a break and recharge. Personally, I create a daily list of everything that I need to achieve and plan my day around accomplishing those goals."
Lisa closed out by adding her own advice for maximizing your productivity when you're in the zone:
"No matter what I do, I stay firmly focused on my purpose. By making sure all my projects are aligned with my life vision and purpose, I am always productive because I know I'm taking one step closer to creating the word I envision."
Takeaways
When you're hustling on the side, time becomes your top priority.
Not only do you need find ways to create more of it, but you're also focused on being as efficient as possible with your hours.
Planning is key to success and it starts with paying yourself first. I always do most of my side hustle work between 5am – 9am. My brain is fresh and no one else is up to distract me. Before I get started, I map out my day. I list out my goals and I write down three things I'm doing that day to take me closer to my overarching goals. Then I book time on calendar with hard stops to work on those things. By the time I walk into work at 9am, I've spent a few hours on my business and I've hit the gym. I paid myself first.
Planning isn't just for work either. It's important to block off time to relax and recharge so that you're operating at 110% when you get back to the grind.
As we closed out the panel, we decided to have a little fun and highlight a few accomplishments:
What is the best part about being a side hustler and working on multiple projects?
Antonique Smith, Grammy-nominated singer, actress, and activist, picked up her mic for this one:
"The best part is getting to express myself in so many different ways! It's allowed me to connect with so many different types of people and has brought so many different experiences that would not have been possible without the combination of my projects.
If I was a singer but not an activist, I wouldn't have been able to sing for the Pope at his climate rally in DC. If I was an actor but not a singer, I wouldn't have been in RENT on Broadway. There are so many examples like this. Not to mention the fun in having so much variety in my life! How could I ever get bored? I'm really grateful."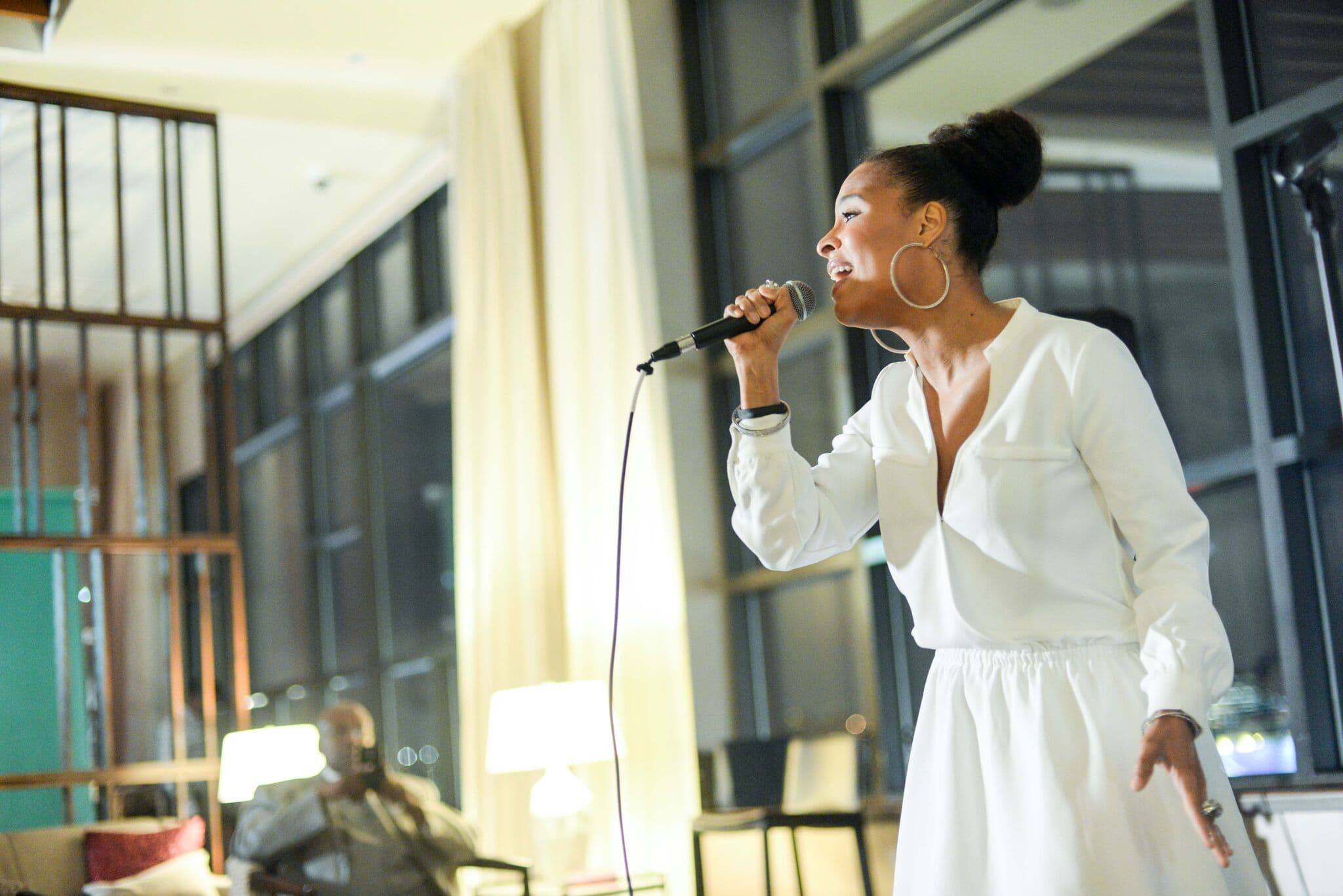 Antonique closed out the night with a stunning performance.
Preetam followed that up:
I feel that my projects complement one another. I'm required to be creative as a sports business executive and musical entrepreneur while also managing different types of personalities and egos unique to those industries. In the end, learning skill sets and acquiring knowledge from both industries allow me to excel in a unique way because I can apply learnings from one to the other.
Finally, Jennifer closed out the night with a total mic drop:
"The best part? That's easy. Being my own boss and living a life that is full of what inspires me."
Takeaways
Chasing your dreams isn't easy.
It usually doesn't pay well (at first), it requires sacrifice, and it can be exhausting. But the reward is totally worth it.
You're making a difference – a tangible impact you see on a daily basis that is solely driven by the decisions you make. There's no boss, policies, or corporate red tape. You set the schedule, you fix the mistakes, and you totally own the victories.
There's nothing else quite like it.