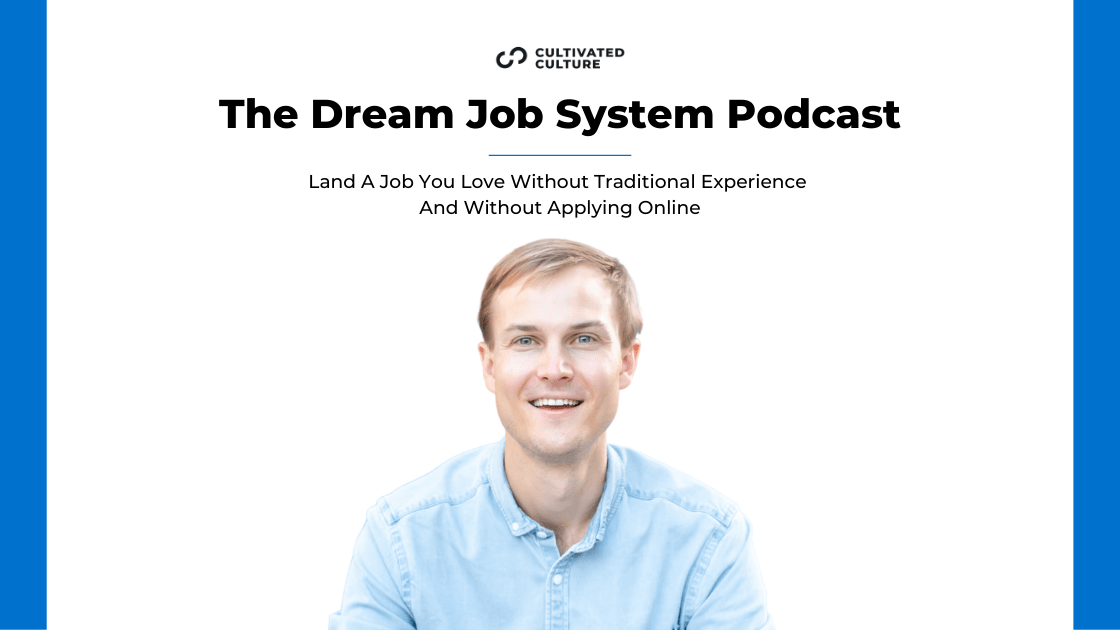 How To Leave A Review For The Dream Job System Podcast
Hey there, thanks so much for listening to the Dream Job System podcast! I'm so grateful that you're a part of our community and, if you're reading this page, I'm super excited that you're looking into leaving a review for the show.
Reviews are a huge help. They push us up the charts and they make it easier for people to find the podcast. As a thank you, I try to give back to our reviewers by offering a free resume or LinkedIn profile review. Here's how it works:
Every week, I look back through the reviews we got for the past 7 days. I choose one review at random and I have that person send me their resume or LinkedIn. Then I comb through it and send them a video with feedback and suggestions to help them get better results! All for free.
So, how do you enter to win a free resume or LinkedIn review? Easy, all you need to do is leave a review for the Dream Job System podcast! You can leave a review in 3 simple steps:
Find the Dream Job System podcast in Apple podcasts
Under "Ratings & Reviews" click on "Write A Review"
Share your thoughts about the podcast
That's it! If you want some more detail, here is a full breakdown of each step along with screenshots to make things easy to navigate:
Step #1: Find The Dream Job System In Apple Podcasts
In order to leave a review, you need to find the podcast page in Apple podcasts. You can do this a number of ways.
The easiest way is to click this link. That will take you right to the Apple podcasts page.
Alternatively, you can open the Apple podcasts app on your phone or desktop and search for "Dream Job System Podcast" or "Dream Job System Podcast Austin Belcak."
Then click on our show when it comes up to go to the show page.
Step #2: Find And Click On "Write A Review"
When you're on the Apple Podcast page for our show, you'll want to scroll down to the Ratings & Reviews section. You should see a link that says "Write A Review." Click on that: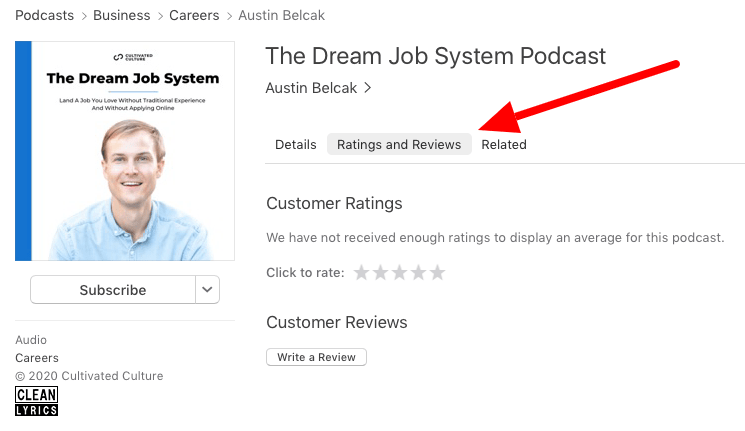 Step #3: Leave A Rating & Write Your Review
One the next screen, you'll be asked to leave a star rating (we always appreciate honest ratings, but 5/5 stars is our goal!). Then you'll see fields for Title and Review: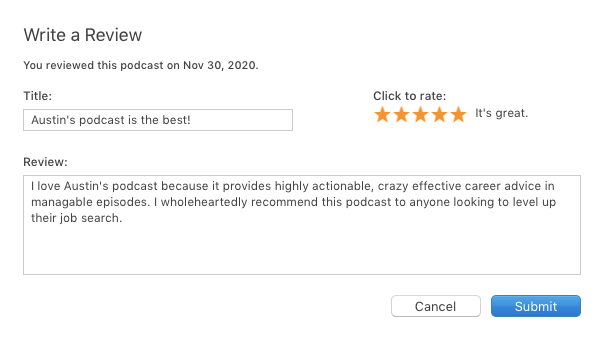 Feel free to title your review however you'd like and then use the review space to share your thoughts. If you're not sure what to say, the easiest thing to do is share one thing you learned from listening. Here's a template to work off of (please don't just copy and paste the template though, personalization really helps!):
Title: The Best Podcast For Efficient & Effective Career Advice

Review: I love this podcast because Austin shares such actionable tips that actually work! I was struggling with [Insert Problem or Challenge]. Austin helped me figure out how to get past that in the episode where he talks about [Insert Thing I Talked About].
If you're at a complete loss, you can just say something like "this show is the best!!"
Then you hit Submit and you are done!
You'll automatically be entered to win a free resume or LinkedIn profile review from Austin. We'll be in touch if you're selected. Thanks for listening!