Ready To Turn More Interviews Into Job Offers?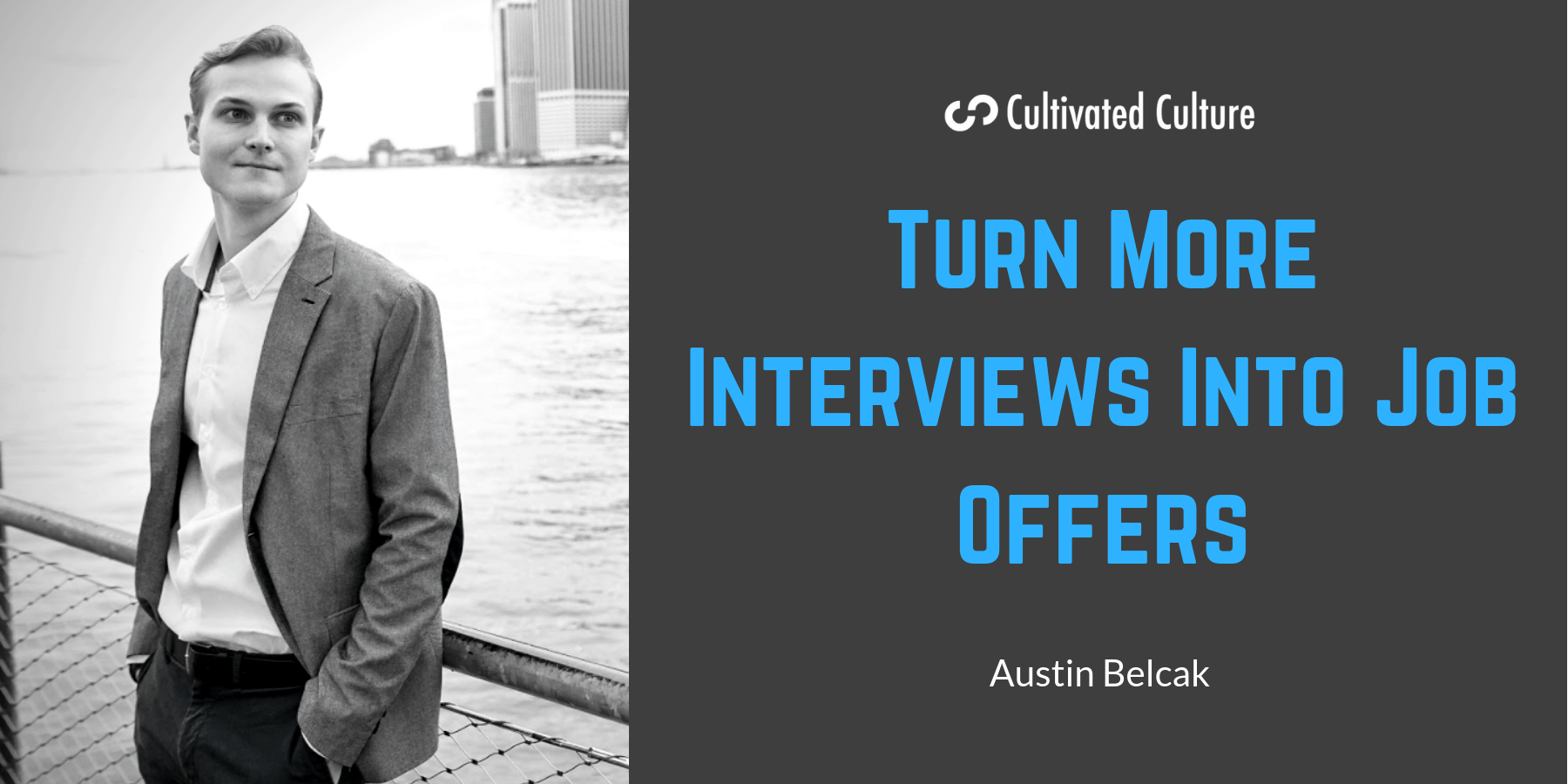 Hi there and welcome to Cultivated Culture!
My name is Austin and during my job search I interviewed with over 100 people at dozens of different companies across industries. That volume of interviews gave me an amazing opportunity to split test every single aspect of the process including preparation, psychology-backed strategies, the answers I gave, and the questions I asked.
I ran pseudo-scientific studies (controlling for variables where I could, logging/measuring the data I collected, etc.) to determine what ingredients created the most effective resume that landed interviews and offers at a consistent rate.
I used the tactics on this page to land jobs at Google, Microsoft, & Twitter – but that's not where this ends. After starting Cultivated Culture, I've applied the same principles of testing, analyzing, and tweaking across thousands of job seekers. The strategies that came out of these tests have landed people jobs at Amazon, Apple, Google, Facebook, Goldman Sachs, Sequoia Capital, Deloitte, ESPN, and more.
In this post (which is only available to CC subscribers), I'm going to share:
A 50 minute masterclass breaking down the interview preparation techniques and psychological strategies top performers use to beat out the competition and land more job offers.
How to capitalize on the most effective, and most under-utilized, part of the job interview to stand out from every other candidate
My masterclass on interviewing with Albert Qian, founder of Albert's List – a community of over 36,000 job seekers
Let's dive in!
How To Top Performers Prepare For Interviews
This video is a Masterclass I presented at my Virtual Career Mastery summit. It breaks down the science behind how top performers leverage psychology to prepare for their interviews, fast-track relationships with their interviewers, and beat out the competition to land the job offer:
If you're someone who learns better by reading, or would like a way to reference these strategies without repeatedly diving into the video, check out this article:
This Is How Top Performers Prepare For Interviews
---
5 Psychology-Backed Questions I Used To Stand Out From The Competition
One of the most effective, and overlooked, aspects of the interview is the Q&A section. This happens at the end of the interview when the hiring manager asks if there's anything you'd like to ask them.
Most candidates say no, which is a mistake. Others ask basic questions like, "what do they day-to-day responsibilities look like for this role" or "what is the culture like?" While those may seem good, the interviewer has heard them a million times and they usually don't lead to more information than you already know.
Instead of the same boring questions, try using this 5-question stack. The questions themselves will make you stand out, and you'll get a unique answer which will lead to more detailed information about the role and the company:
1 | What Is Your Favorite Part About Working For Company X?
This is the softball. It's a great lead off that accomplishes two things:
It gets the interviewer talking about something that's personal to them. This covers both of our psychological bases.
It gives you insight into the culture and the people who work at the company, both of which are huge factors
2 | What Is The Biggest Challenge Your Team Is Facing Right Now?
From the interviewer's perspective, this question shows them that you're interested in their problems – that's a great thing. On your side, this question is one of the most important in this list. It helps uncover information that you can later use to solidify your chances of landing the role and even negotiate a higher salary.
You want to dig deep here and get as much information as you possibly can:
How did the problem start?
What is it limiting?
Has any action been taken to fix it?
3 | Lets Fast Forward One Year – You're Looking Back On This Hire. What Did They Do To Exceed All Expectations?
In the eyes of the interviewer, this question is gold. You are essentially saying "I want to know what success looks like so I can come in and absolutely crush this role."
On your end, it will give you some great insight into the abilities you need to have mastered in order to perfect the role. I loved this question when I was interviewing because it let me know whether the role catered to my strengths (and thus would require less effort to succeed) or if I would need to learn new skills to excel.
4 | What Is The Most Unexpected Lesson You've Learned While Working At Company X?
This is the one that sets you apart. It's totally unique. Don't be surprised if you get a "wow, nobody's ever asked me that!"
According to my data, it's also the most "sticky." Almost every person I interviewed with mentioned this question in their feedback. It also led to multiple email conversations with executives at the above companies post-interview.
5 | Tell Me A Little Bit More About You, What Do You Like To Do Outside Of Work?
This is your closer. You've talked about business for 30 – 60 minutes, now it's time to get personal. The reason this question is so powerful is because it not only has people talking about themselves, but it also gets them talking about their interests – things that make them happy.
Click Here To Read The Full Article On Psychology-Backed Questions To Ask In An Interview
---
Live Interview Session With Austin & Albert Qian
As is true with anything in life, it's always great to get a second opinion. You heard a lot of my advice in the first video on this page. Now I want you to round out the picture with some advice from my friend Albert Qian.
Albert is the founder of a 36,000 person job search community in the heart of San Francisco. He's helped people like you land jobs at some of the most competitive companies in the world and he shares some of his best interview secrets in the video below:
If you have any questions as you're going through this content, I am always around to help. Don't hesitate to reach out to me: austin[at]cultivatedculture.com!